Ethereum Merge Trade Is "a No-Brainer": BitMEX Co-Founder Arthur Hayes
BitMEX co-founder Arthur Hayes has reiterated his bullish stance on Ethereum in the lead-up to "the Merge."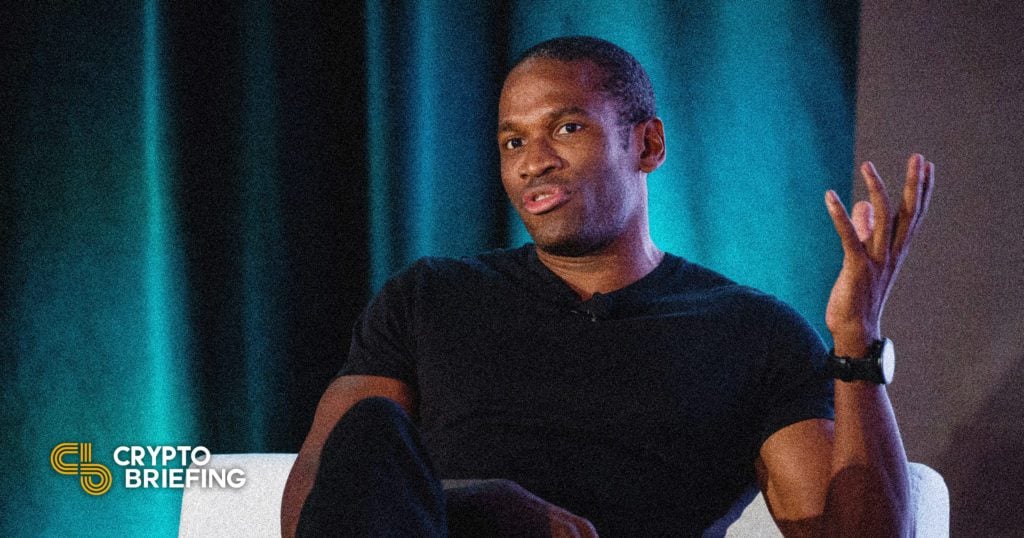 Key Takeaways
Arthur Hayes has described the Ethereum Merge trade as "a no-brainer."
Hayes said that Ethereum's ETH issuance cut following "the Merge" and ongoing demand to use the network bode well for ETH.
He said that if the upgrade is a success, ETH could hit $3,000 before the end of the year regardless of the macroeconomic climate.
Hayes thinks that ETH could hit $3,000 by the end of 2022.
Hayes Discusses Ethereum's Proof-of-Stake Upgrade
The Ethereum Merge trade is "a no-brainer," according to Arthur Hayes.
The BitMEX co-founder discussed the number two blockchain's upcoming Proof-of-Stake upgrade, dubbed "the Merge," in a Bankless interview Wednesday, confirming that he was long on ETH due to a major change the update is set to bring to the network.
Hayes said that ETH's post-Merge issuance cut could serve as a catalyst for upward price momentum, going as far as to argue that it was "more powerful" than the current macro environment, which has seen crypto and other asset classes enter a months-long slump due to the Federal Reserve hiking interest rates to curb inflation.
After the Merge, Ethereum's daily ETH emission rate is set to drop from around 13,000 ETH to 1,600 ETH. Hayes thinks that this drastic cut and the market's demand to use Ethereum should help ETH rise in the future. Hayes pointed out that Ethereum is currently DeFi's main hub and is still seeing usage despite ETH sitting at depressed levels. "Unless you're telling me that DeFi usage falls off a cliff with issuance as well, then you're saying demand is greater than supply, therefore the price has to rise in my opinion," he said.
Bankless co-host Ryan Sean Adams asked Hayes whether he saw the trade as "a no-brainer," to which Hayes said "yes" due to the structural change Ethereum is about to go through. Hayes is widely regarded as one of crypto's best writers and traders, and has become notorious for his bullish takes on ETH this year. He's made bold price predictions for the asset on his Medium blog on several occasions, repeatedly suggesting that it could hit $10,000 in 2022. On Bankless, Hayes revealed that he'd bought ETH call options with a $3,000 strike price and said that he thought $3,000 was a reasonable 2022 target. "Everybody's trading that strike… let's call it $3,000 later in the year," he said.
Will the Merge Ship?
Though the Merge is scheduled to ship less than a week from now, Hayes admitted that he thought it was reasonable to have doubts about the event, and that the market may still be skeptical that it will launch successfully. "I don't think people believe the Merge is going to happen still," he said. "If you've been around long enough you've heard Vitalik [Buterin] talking about it for, I don't know, five? Six? Years."
He added that the Merge narrative would likely be stronger if it hadn't been scheduled just weeks after crypto's liquidity crisis event in which several big players collapsed in the fallout from Terra's May blow-up. "Imagine the bullishness of the average trader if they hadn't just lost all their money to Terra and Three Arrows [Capital]," he said.
Despite his belief that the Merge will serve as a positive catalyst for ETH, Hayes said that the update itself could be a "sell the news" event that leads to a brief 20% price drop after the fact. However, he added that the narrative surrounding Ethereum will strengthen if the Merge is a success and issuance starts to drop. "[Ethereum developers] will have proven that they can get a very difficult technical thing done, and that speaks volumes to the quality of the team," he said.
Current estimates place the Merge to land early on September 14. ETH has been rising in the lead-up, currently up 7.7% on the day at $1,632 and sitting at a 2022 high of 0.084 against Bitcoin. Even after the recent rally, though, ETH is some way off Hayes' $3,000 target and about 66.6% short of its all-time high.
Disclosure: At the time of writing, the author of this piece owned ETH and several other cryptocurrencies.