Ethereum Miners Score Unexpected $400K Payday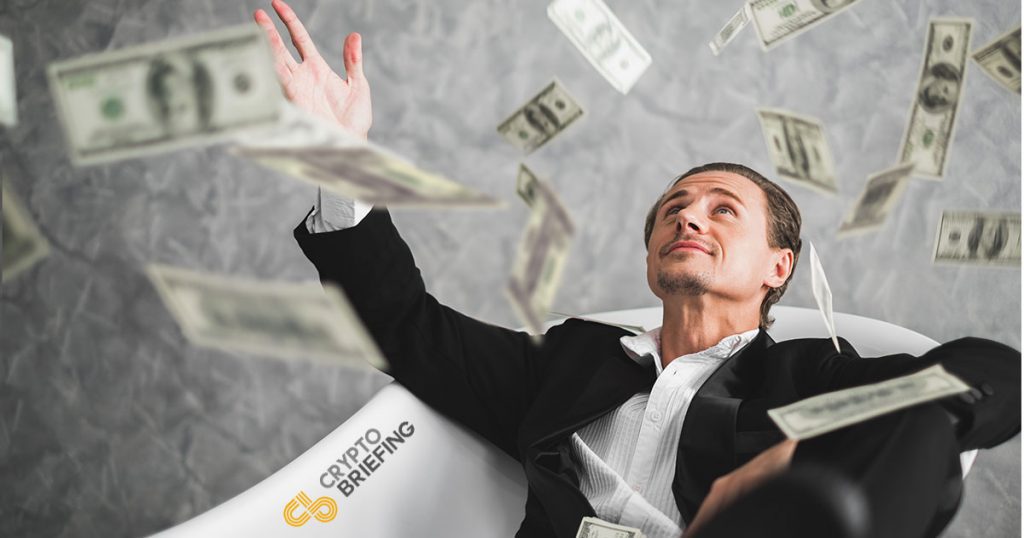 The crypto industry is abuzz about an extremely generous tip, left to Ethereum miners by an apparently high-rolling developer. Four transactions, all dated Feb. 19 and originating from the same wallet, spent 3,150 ETH in transaction fees. This amounts to approximately $467,000 for transactions whose combined value was less than $23. The median gas price based on the last 1,500 blocks on Ethereum is 13.2 gwei, or about $0.004.
A Reddit thread warned developers to be sure and perform adequate testing before their dApps touch the mainnet. Ethereum's Constantinople upgrade is days away, and the likely explanation, based on the community response, is that a developer building a smart contract skipped the testnet before deploying to the Ethereum mainnet, thereby incurring the gargantuan fees.
The other possible reason is that something more nefarious is going on, such as a miner washing profits. Based on popular opinion, that scenario is unlikely, especially considering the mix of miners involved across the transactions. A less sensational explanation is that the transaction fee and value fields got confused.
Meanwhile, Jimmy Zhong, the co-founder of IOST, whose scalable blockchain app platform is nearing its mainnet launch, pointed to one of the pricey transactions, which was worth less than $15 but which "tipped" miners more than $300,000.
A whopping 2,100 #ETH(~$300k) tip was just paid to the miners on the #Ethereum network. What a generous guest… or mistake. @coindeskevents @coindeskhttps://t.co/x5pZkE47tg pic.twitter.com/SjS6ZpmhvX

— Jimmy Zhong (@jimmyzhong_iost) February 19, 2019
---
Ethereum Is a Hot Mess
The developer's mishap places a brighter spotlight on Ethereum at a time when they cannot afford any more setbacks. The fact that the ETH price is leading the market rally, however, suggests that nothing unforgivable has transpired.
On the one hand, the network has never been closer to its goal of greater scalability and a better governance system as it moves towards adopting the proof-of-stake mechanism. This means that mainstream adoption could be on the horizon.
In fact, it is this optimism that has helped to position the second-biggest cryptocurrency atop the leaderboard for market gains in the last couple of days. A change in the supply/demand dynamic didn't hurt, either.
This is the chart that kind of started this whole rally.

New Ether coming online is less than 13,000 for the first time in history. Usually, it's between 20k to 30k a day but has been declining lately due to the delay of #ConstantinopleHardFork.

Less supply + steady demand = 📈 pic.twitter.com/PCibT7DXdI

— Mati Greenspan (@MatiGreenspan) February 19, 2019
On the other hand, the infighting within the Ethereum community has also reached new heights, as evidenced by one of the leading developers quitting the project. Afri Schoedon, whom Crypto Briefing has spoken to in the past, posted a meme in recent weeks that — because of its focus on a separate project, Polkadot — drew harsh criticism from his social media followers.
Things got out of control and before long Afri, a Parity Technologies Release Manager who was recently named Ethereum Hard Fork Coordinator, became the target of threats.
https://twitter.com/5chdn/status/1097786258976325632
Importantly, Afri hasn't quit crypto altogether and is willing to work on other projects, as long as there isn't a token involved.
Afri went on to explain that the lion's share of his contributions over the past four years was unpaid, with the exception of his work on the Parity client. Perhaps he should look into ETH mining, instead. We hear that pays pretty well.
---
The author is invested in digital assets, including Ethereum which is mentioned in this article.