Ethereum Plummets As Nothing Happens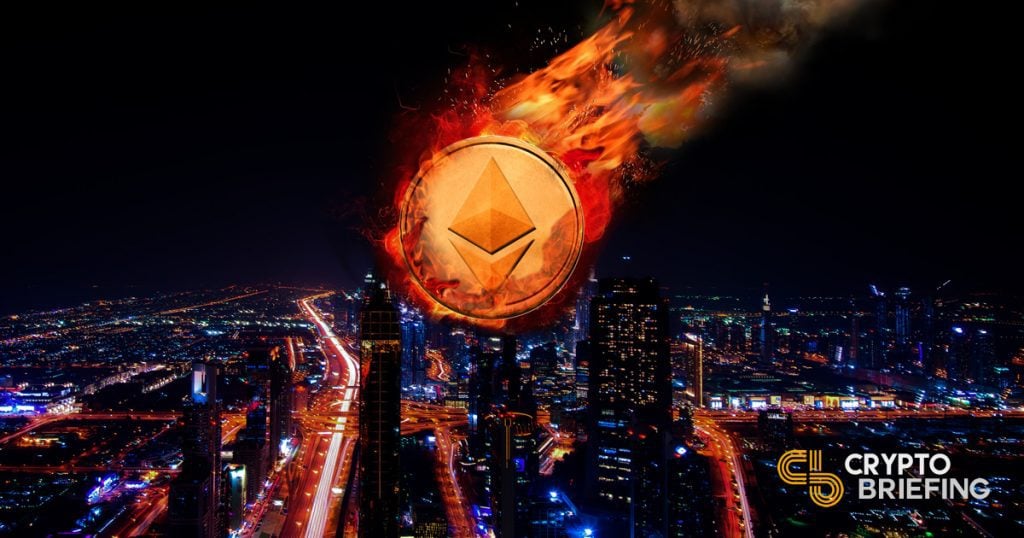 Markets trembled this weekend amid rumors of a regulatory crackdown on Ethereum, which may, or may not, be labeled an unregistered security. After two days of tense sell-offs and plummeting prices, investors woke up on Monday morning to learn that the US government had decided….nothing. The ticking time bomb was a dud.
There were no signs of a ruling or a hearing from either the SEC or CFTC on Monday morning, nor were any meetings planned relating to cryptocurrencies at either agency. Reports of an imminent crackdown were traced back to one line in the Wall Street Journal a week earlier, which reported that senior figures in the two agencies might meet to "discuss the matter."
It's nothing that major. A "working group" meeting, not a public meeting. How'd we find out about it? The way we find out about everything. We, like, talk to people.

— Paul Vigna (@paulvigna) May 7, 2018
Ether prices fell by nearly $100 in the days before the meeting, a drop of around 12 percent. Bitcoin fell by $700 after testing the $10,000 mark.
Based on Paul Vigna's off-the-cuff comment in a WSJ article, various crypto media outlets began reporting that decisions were imminent, Ethereum was on the block, Ripple might be too! The FUD spread. Crypto 'insiders' were fed Telegram tips suggesting that a 'friend of a friend' was in a meeting with the Feds, and knew that Ethereum was going to be declared a security. The FUD spread further.
Even exceptionally well-researched articles in competent media such as TrustNodes speculated on what the decision might be.
Crypto Market Devours A Giant Nothingburger
The result – so far – is a reminder that the crypto community is terrified of regulation, even as regulation is needed to help settle the market. The irrational fear of regulation causes crypto traders to flee, leaving red candles and confusion in their wake.
In reality, the SEC has already created a cryptocurrency task force and issued a flurry of subpoenas to noncompliant ICOs.
An unfavorable ruling would effectively have meant that the Ethereum Foundation has been violating securities laws since 2014.
Ripple, no. 3 by market cap after Ethereum and Bitcoin, would also be in hot water. The San-Francisco based company which created the currency is already facing a class-action suit from investors arguing that the XRP tokens are unregistered securities.
However, Bitcoin, Litecoin and other mining-only coins would probably escape SEC scrutiny. The CFTC has already ruled that these coins are commodities.
Is Ethereum A Security?
In the United States, brokers must either register securities or limit their sale to institutional buyers and the very rich, according to SEC regulations.
Securities are determined according to the Howey test, which comes from a 1946 Supreme Court Case. The ruling states that an investment is a security if ""a person invests his money in a common enterprise and is led to expect profits solely from the efforts of the promoter or a third party."
Ethereum's founders have tried to keep on the SEC's good side. "We spent a tremendous amount of time with lawyers in the U.S. and in other countries, and are extremely comfortable that it is not a security," said Joseph Lubin, who cofounded the Ethereum Foundation. "Many regulators that matter understand what Ethereum is."
Because the Ether currency is used to pay for computations on the Ethereum blockchain, it was hoped that the currency would not pass the Howey test.
However, this was not always the case. The first Ether tokens were distributed during the 2014 ICO, which raised $18 million. Because they had no use, other than the expectation of future value, the SEC may regard these early tokens as investment contracts.
"Simply calling something a "currency" or a currency-based product does not mean that it is not a security," announced SEC Chairman Jay Clayton at the beginning of the December bubble. "Merely calling a token a "utility" token or structuring it to provide some utility does not prevent the token from being a security. "
What Would It Mean For Exchanges, If It Were?
If Ethereum is a security, it's pretty bad news for exchanges, which must either register with the SEC or close their doors to Americans altogether. Some exchanges, notably Bitfinex, are already off-limits to US accounts to avoid regulatory headaches.
Others are well-prepared for the bad news. Coinbase, the country's largest cryptocurrency exchange, has already approached the SEC to register as a licensed brokerage, according to the Wall Street Journal. If approved, the billion-dollar exchange could expand into the token market while continuing to trade in Ethereum and other coins.
The consequences are hazier for Decentralized Exchanges, which run as autonomous programs on the Ethereum blockchain. Because DEXes operate with minimal human intervention, it's not clear what—if anything—the government can do to stop them from trading with American buyers.
What Would It Mean For Ethereum-based Tokens?
Ethereum may be a gray area, but ICOs are almost definitely securities—and almost none of them has ever taken the trouble to ask permission before selling tokens to US customers.
Some token issuers have tried to skirt the rules, either by offering utility-like functions or delaying the actual tokens for a future issuance. None of these evasions seem likely to convince anyone, and the SEC chairman has already stated that "Every ICO I've ever seen was a security."
Stiff penalties await brokers or promoters of unregistered securities in the US. By comparison, LPL Financial Group was fined $26 million for selling unregistered securities, and Merrill Lynch paid $1.3 million.
A decision could also mean jail time for Americans who knowingly sold or promoted fraudulent ICOs.