Experty ICO Review and EXY Token Analysis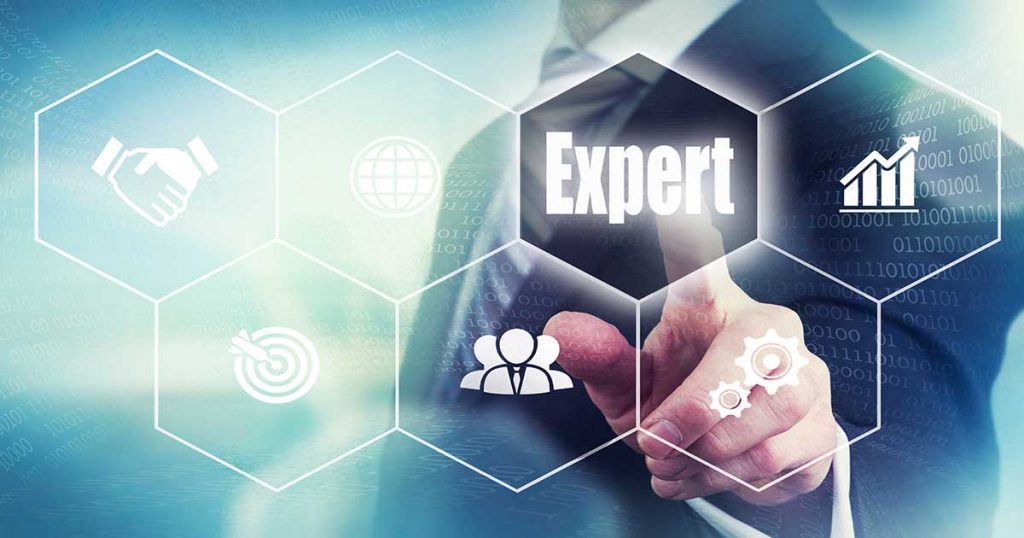 Experty ICO Overview
The blockchain industry has exploded this year, with a market cap reaching hundreds of billions of dollars. For the growth and efficiency of the industry, accessing expert knowledge is crucial. The Experty ICO seeks to create a tokenized business model by which blockchain experts will be rewarded for their time and contributions toward the development of the blockchain industry.
Experty ICO Value Proposition
The Experty ICO aims to bring the business of blockchain onto a decentralized platform. The project platform is designed for analysts, advisors, influencers, developers and consultants to compete in a single, decentralized ecosystem run on the EXY token. With this, the Experty ICO is out to improve the blockchain sector as a whole by creating an easier and more efficient means for users to access expert consultation and advice. The platform is primarily based on messaging, voice and video calls, with plans to integrate screen sharing and group calls later in 2019.
The EXY token itself is a utility token that will be used on the Experty platform in the following ways:
1. To facilitate payment from advice seekers to knowledge providers

2. Staking by users for access to premium features such as revenue reports, webinars etc.

3. Deposits for advance scheduling by users with blockchain experts
EXY will be available both for purchase on the platform with credit cards, ETH, BTC and other cryptocurrencies as well as on exchanges.
Experty ICO Team
The core team behind the Experty ICO comes primarily from React Poland, a Polish software development company. CEO Kamil Przeorski is a Co-founder of React Poland and has previous experience in the IT industry with web product development and programming on a freelance basis.
CTO and Co-founder Tom Dyl also holds the position of CEO with React Poland. His LinkedIn also does not indicate his past experience before founding React Poland and Experty.
Solidity Developer and Co-founder Grzegorz Kućmierz has previous experience as a software engineer at Cisco. Full-stack developer Anatolii Melnyk doesn't have any details of his past experience available on his LinkedIn profile, but his Github account is fairly active.
Notably, Nicolai Oster is on the advisory team. Nicolai is Head of ICOs at Bitcoin Suisse and a well-known figure in the blockchain community. Ethereum core developer Paweł Bylica is also an advisor to the project for blockchain development.
Experty ICO Strengths and Opportunities
One of the most important factors for a successful ICO is a strong community to support the project. With a Telegram community already close to 9k members and almost 6k followers on Twitter, there is a lot of buzz around the Experty ICO. Community support can make or break a project and as far as the Experty ICO goes the foundations are there. The team also stands out for their willingness to communicate directly with contributors and are consistent with their responses to questions posed by community members. CEO Kamil Przeorski maintains a near constant presence in the Telegram group.
One of the attractive aspects of the Experty ICO is the low market cap. We like what the prospects that the crowdsale cap and token distribution hold for ICO investors. In addition, the 3 year vested status of the token proportion allocated to the team demonstrates a real commitment to the project in the long term.
Experty ICO Weaknesses and Threats
There is no doubt whatsoever as the blockchain industry grows, so do the number of potential users of such a platform. But when it comes to use case, we question what incentive there really is for a blockchain consultation company or freelancer to move onto the Experty platform as opposed to continuing their operation offchain. Even in the freelance market, platforms like Upwork are teaming with blockchain experts available for hire. For each new decentralized app concept, there must be a tangible improvement that tokenization offers to the non-tokenized business model. When it comes to the Experty ICO, we don't see any significant improvements through tokenization and therefore, little incentive for mass adoption. Consultation calls and messaging make up the meat and potatoes of the project and are paid for with EXY- but there are already numerous platforms like Skype where calls and messages can be made for free, and subsequent payments can be simply made online without any need for conversion to a token.
From a business perspective, previous success building a mass consumer product is an indicator of future success. After digging deep into React Poland's portfolio, we only found one app with a notable user base, at 10k downloads. As we looked further into each project, we were unable to independently verify information on the larger projects like Kasra.com, which according to the document itself, had 1 million users and was the "Buzzfeed of the Middle East" (as per React Poland's site). When we inquired directly with the team regarding Kasra, we were directed to a LinkedIn page in Farsi with 89 followers and told the site has since gone out of business.
The Experty ICO team has no demonstrable track record of launching a mass consumer product. At present, only a pre-launch product is available to top tier contributors. With that, we are left with venture capital and partnerships as metrics to measure the progress of this ICO. As for partnerships, they remain an indispensable factor in both launching and scaling any product. In our discussion with CEO Kamil Przeorski, he indicated to us that neither of these fundamentals are yet in place. Below is a screenshot regarding partnerships:

The Verdict on Experty ICO
We will preface our verdict on the Experty ICO with several factors that must firstly be taken into consideration. Our final rating of the project reflects how the ICO would perform in a rational market. That said, with all of the hype and enthusiasm present in the industry at the moment, this is not a rational market. Furthermore, our rating system is generally designed to assess the long-term prospects of a project versus the short-term. Given the present market conditions, there are ICOs that have high short-term ROI but will not survive in the long run.
We make our own investment decisions based on the performance of long-term fundamentals. If the current exuberance of the market dies down, we don't want to be holding a bag of coins with a low chance of success thereafter. Given the ever present possibility of changing market tides, it's prudent to protect ourselves in the long-term.
That said, if we look past the red flags, the short term prospects of the Experty ICO may still be positive. The team's background in the software development sector, prominent advisors and community support indicate the possibility of a ROI in the short term. Will we be placing a bet on it ourselves? No. We make our moves based on fundamentals that predict success in the long term. We also like to take into consideration how riskier ICOs affect the overall state of the market- while there initially may be a decent ROI, launching ICOs without strong fundamentals could do more harm than good in the long run. However, as with any project that genuinely sets out to improve the crypto space, we always hope for the best- the Experty ICO included.
Learn more about the Experty ICO from our Telegram Community by clicking here.
---
EXPERTY ICO REVIEW SCORES
SUMMARY
The Experty ICO is missing the fundamentals of a promising investment. With little experience on the part of the team launching previous products and no partnerships to boot, we'll pass on this one.
Founding Team……………………….6.8
Product…………………………………..5.2
Token Utility…………………………..5.0
Market…………………………………..7.1
Competition…………………………..4.8
Timing……………………………………5.2
Progress To Date……………………1.5
Community Support & Hype…..9.5
Price & Token Distribution……..7.7
Communication………………………9.5
FINAL SCORE……………………….6.4
UPSIDES
Team has strong background in software development
Two well known advisors in the crypto space
Strong community support and hype
DOWNSIDES
Prior experience with successful products not there
Utility of platform/token and incentive for adoption are low
No VC, no partnerships
---
Today's Date: 12/30/17
Project Name: Experty
Token Symbol: EXY
Website: https://experty.io
White Paper: https://docsend.com/view/bqasgtq
Crowdsale Hard Cap: $9 million
Total Supply: 100 million
Token Distribution: 33% to crowdsale, 33% to company (vested for 3 years), 30% to partners, 3% airdrops and bounties, 1% to token sale costs
Price per Token: 1000 EXY = 1 ETH
Maximum Market Cap (at crowdsale price): $27 million
Bonus Structure: Based on Proof of Care-
Partner Tier  –  60% bonus + 5000 EXY (regardless of the contribution amount) and first access to testnet
Tier 1- 40% + 1000 EXY (regardless of the contribution amount)
Tier 2 – 20%
Tier 3 – 10%
Tier 4  -  Whitelisting for the ICO
Presale Terms: Proof of Care rewards-
https://medium.com/@experty_io/experty-pre-ico-rewarding-those-who-care-c0019f671b07
Whitelist: https://pre-sale.experty.io/
Important Dates: 1/15/18 deadline for Proof of Care submission 1/25/18 ICO
Expected Token Release: TBA
---
ICO Review Disclaimer
The team at Crypto Briefing analyzes an initial coin offering (ICO) against ten criteria, as shown above. These criteria are not, however, weighted evenly – our proprietary rating system attributes different degrees of importance to each of the criteria, based on our experience of how directly they can lead to the success of the ICO in question, and its investors.
Crypto Briefing provides general information about cryptocurrency news, ICOs, and blockchain technology. The information on this website (including any websites or files that may be linked or otherwise accessed through this website) is provided solely as general information to the public. We do not give personalized investment advice or other financial advice.
Decentral Media LLC, the publisher of Crypto Briefing, is not an investment advisor and does not offer or provide investment advice or other financial advice. Accordingly, nothing on this website constitutes, or should be relied on as, investment advice or financial advice of any kind. Specifically, none of the information on this website constitutes, or should be relied on as, a suggestion, offer, or other solicitation to engage in, or refrain from engaging in, any purchase, sale, or any other any investment-related activity with respect to any ICO or other transaction.
The information on or accessed through this website is obtained from independent sources we believe to be accurate and reliable, but Decentral Media LLC makes no representation or warranty as to the timeliness, completeness, or accuracy of any information on or accessed through this website. Decentral Media LLC expressly disclaims any and all responsibility from any loss or damage of any kind whatsoever arising directly or indirectly from reliance on any information on or accessed through this website, any error, omission, or inaccuracy in any such information, or any action or inaction resulting therefrom.
Cryptocurrencies and blockchain are emerging technologies that carry inherent risks of high volatility, and ICOs can be highly speculative and offer few – if any – guarantees. You should never make an investment decision on an ICO or other investment based solely on the information on this website, and you should never interpret or otherwise rely on any of the information on this website as investment advice. We strongly recommend that you consult a licensed investment advisor or other qualified financial professional of your choosing if you are seeking investment advice on an ICO or other investment.
See full terms and conditions for more.
Founding Team
This category accounts for the leaders, developers, and advisors.
Poor quality, weak, or inexperienced leadership can doom a project from the outset. Advisors who serve only to pad their own resumes and who have ill-defined roles can be concerning. But great leadership, with relevant industry experience and contacts, can make the difference between a successful and profitable ICO, and a flub.
If you don't have a team willing and able to build the thing, it won't matter who is at the helm. Good talent is hard to find. Developer profiles should be scrutinized to ensure that they have a proven history of working in a field where they should be able to succeed.
Product
What is the technology behind this ICO, what product are they creating, and is it new, innovative, different – and needed?
The IOTA project is a spectacular example of engineers run amok. The technology described or in use must be maintainable, achievable, and realistic, otherwise the risk of it never coming into existence is incredibly high.
Token Utility
Tokens which have no actual use case are probably the worst off, although speculation can still make them have some form of value.
The best tokens we review are the ones that have a forced use case – you must have this token to play in some game that you will probably desire to play in. The very best utility tokens are the ones which put the token holder in the position of supplying tokens to businesses who would be able to effectively make use of the platforms in question.
Market
There doesn't have to be a market in order for an ICO to score well in this category – but if it intends to create one, the argument has to be extremely compelling.
If there is an existing market, questions here involve whether it is ripe for disruption, whether the technology enables something better, cheaper, or faster (for example) than existing solutions, and whether the market is historically amenable to new ideas.
Competition
Most ideas have several implementations. If there are others in the same field, the analyst needs to ensure that the others don't have obvious advantages over the company in question.
Moreover, this is the place where the analyst should identify any potential weaknesses in the company's position moving forward. For instance, a fundamental weakness in the STORJ system is that the token is not required for purchasing storage.
Timing
With many ICO ideas, the timing may be too late or too early. It's important for the analyst to consider how much demand there is for the product in question. While the IPO boom funded a lot of great ideas that eventually did come to fruition, a good analyst would recognize when an idea is too early, too late, or just right.
Progress To Date
Some of the least compelling ICO propositions are those that claim their founders will achieve some far-off goal, sometime in the future, just so long as they have your cash with which to do it.
More interesting (usually) is the ICO that seeks to further some progress along the path to success, and which has a clearly-identified roadmap with achievable and reasonable milestones along the way. Founders who are already partially-invested in their products are generally more invested in their futures.
Community Support & Hype
Having a strong community is one of the fundamental building blocks of any strong blockchain project. It is important that the project demonstrates early on that it is able to generate and build a strong and empowered support base.
The ICO marketplace is becoming more crowded and more competitive. While in the past it was enough to merely announce an offering, today's successful ICO's work hard to build awareness and excitement around their offering.
Price & Token Distribution
One of the biggest factors weighing any analysis is price. The lower the price the more there is to gain. But too low of a price may result in an under capitalized project. It is therefore important to evaluate price relative to the individual project, its maturity and the market it is going after.
The total supply of tokens should also be justified by the needs of the project. Issuing a billion tokens for no reason will do nobody any good.
Communication
Communication is key. The success of a project is strongly tied to the project leaders' ability to communicate their goals and achievements.
Things don't always go as planned but addressing issues and keeping the community and investors in the loop can make or break a project.