Fed Hikes Rates by Another 75 Basis Points
The U.S. central bank has further increased interest rates to combat soaring inflation.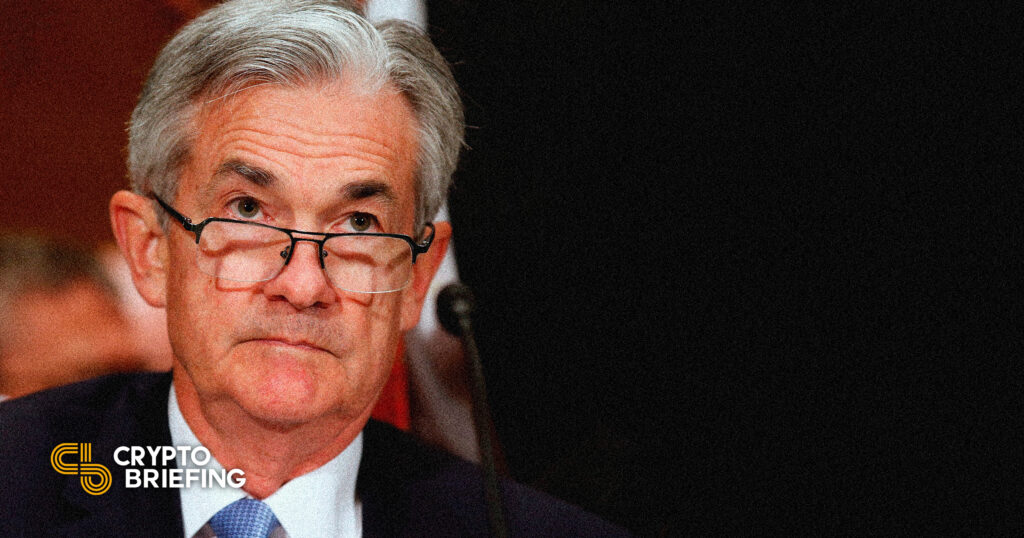 Key Takeaways
The Federal Reserve has increased interest rates by another 75 basis points.
The U.S. central bank's funds rate is now 3% to 3.25%.
As the Fed remains committed to curbing inflation and crypto has no fresh narratives on the horizon, the market could continue to suffer for some time yet.
The latest rate hike from the Fed comes after the latest Consumer Price Index registered a higher than expected inflation rate of 8.3% in August.
Fed Announces Another Rate Hike
The Federal Reserve has announced another 75-basis point interest rate hike.
The U.S. central bank revealed the rate increase at the latest Federal Open Market Committee Wednesday.
The rate hike follows four previous 75-basis point increases earlier this year, bringing the Fed's funds rate to 3% to 3.25%.
Today's move was widely expected, particularly after inflation rates came in hotter than anticipated on September 13. The latest Consumer Price Index data showed that inflation hit 8.3% in August, 20 basis points higher than estimations of an 8.1% print. Fed chair Jerome Powell made it clear that the U.S. central bank was committed to raising rates in Jackson Hole last month when he warned of further "pain" ahead for markets.

Global markets have been rocked by the Fed's moves throughout 2022. As Powell has announced new rate hikes, markets have panicked in both directions. While July's hike led to a surge as the 75 basis point call was lower than initially feared, rate hikes typically hit risk-on assets because the cost of borrowing money becomes more expensive. Crypto assets like Bitcoin and Ethereum have traded in close correlation with traditional equities following the Fed's prior funds rate changes.
The crypto market has responded steadily; the total cryptocurrency market cap increased by 1.6% over the last 24 hours, but Bitcoin and Ethereum are down 1.2% and 1.4% on the day, respectively.
The Fed's Impact on Crypto
Crypto assets have had a rough year since the market hit a $3 trillion peak in November 2021. While the market had already reached exhaustion after over a year of bullish price action late last year, the Fed has been a major influence in the ongoing winter phase.
Per CoinGecko data, Bitcoin and Ethereum currently sit over 70% down from their highs, with many lower cap assets faring even worse. Inflation, meanwhile, is still at 8.3%. While inflation is down from the 40-year highs recorded in June, it remains significantly higher than the Fed's 2% target.
Powell reiterated in Jackson Hole that the bank was targeting a 2% rate, indicating that it would remain hawkish for some time yet. If Powell sticks to his guns, the Fed's funds rate could increase further over the months ahead, which would potentially rock markets once again.
The crypto market had shown signs of a possible revival over the summer, propelled mainly by the anticipation for Ethereum's landmark "Merge" event. However, ETH took a nosedive as the CPI print dropped last week, then tumbled further even after the Merge shipped without a hitch. It is down roughly 15% in the week since the update.
Bitcoin, too, has put in a dismal September performance, sliding below $19,000 on multiple occasions. It suffered alongside Ethereum in the wake of the Merge. Both assets are trading above their lows in June when the market tumbled due to an industry-wide liquidity crisis stemming from the collapse of the Terra ecosystem. Bitcoin posted a record 11 weekly red candles, erasing its 2021 gains as it hit 18-month lows. Still, it's unclear whether June's chaos marked a bottom or if prices could slide further.
The crypto market is known for its cyclical nature, but narratives play a key role in the famously volatile space. Crypto is currently almost a year into a downward trend, which has historically indicated that a recovery could be on the horizon. However, with the possibility of further rate hikes from the Fed and no established narratives like the Merge doing the rounds, crypto hopefuls may have some waiting before sentiment shifts and the trend reverses.
The global cryptocurrency market capitalization is currently $982 billion, down more than 67% from its all-time high.
Disclosure: At the time of writing, the author of this piece owned ETH and several other cryptocurrencies. This story is breaking and will be updated as further details emerge.