World's First Crypto Sculpture Unveiled in London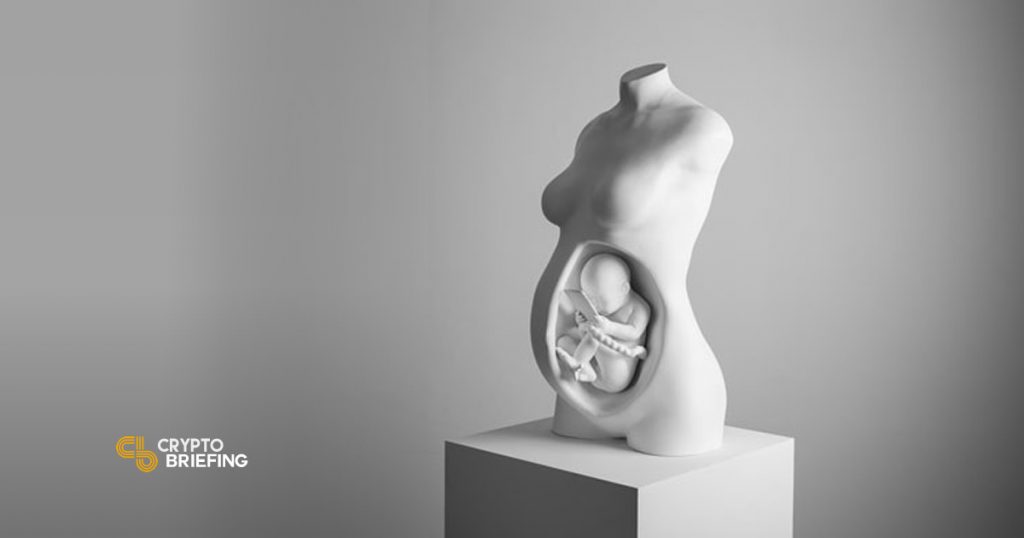 A cryptocurrency sculpture (pictured) was unveiled at a ceremony in central London yesterday.
Made entirely of bronze and standing at three meters high, the sculpture which depicts a baby holding a tablet in its mother's womb, is reported to be the first work of art dedicated towards cryptocurrency.
Called Crypto Connection, the sculpture, which took over three months to make, was created by Italian artist Frederico Clapis and sponsored by the multi-currency wallet-app, Eidoo.
Speaking at the ceremony, Clapis explained to Crypto Briefing that the sculpture was a culmination of various themes he had wanted to express for some time:
"This is a subject I had in my mind for a while and when Eidoo approached me I saw a combination to represent the future in many aspects, not only cultural but also social, technology and the economy.
"I am passionate about cryptocurrency and blockchain and the way I see it, the baby in §the statue represents a generation being born into a world where blockchain is normal and useful for all."
Unveiled on the south bank of the river Thames the crowd was mostly comprised of passers-by enjoying the end-of-the-week sun, as well as those attracted to an enterprising vegan pizza-stand set up just a few meters away.
The Group CEO of Eidoo, Lars Schlichting, was also present, giving a speech at the ceremony where he heralded the coming of a "digital revolution" which will enable people to claim back control of their money and data.
Speaking to Crypto Briefing after the ceremony, Schlichting said that the crypto sculpture was designed to raise awareness of cryptocurrency for everybody.
"We want society to become aware of the digital revolution and this statue is intended to represent how a new era is coming. London's a very cosmopolitan and multicultural place and it's where we want to present our vision to the world."
---
Cryptocurrency is notoriously esoteric. At Consensus this year, one of the opening speakers joked that the number of people who can now explain blockchain has gone from two to four over the past year.
Entry-level cryptocurrency apps, which claim to make buying and selling cryptocurrency easy, have an clear market to tap into. Although Coinbase continues to dominate the market, a sponsored crypto sculpture can help to draw new users to the Eidoo platform.
No one was willing to divulge how much the statue was worth but considering that it reportedly weighed in at over a metric tonne and was made entirely of bronze, it presumably set Eidoo back by quite a bit.
Will it prove to be worth it?
For London-based readers, the statue is located at the Southbank Observation Point.