Grayscale Has Launched a Solana Trust
Institutions can now gain indirect exposure to Solana via Grayscale.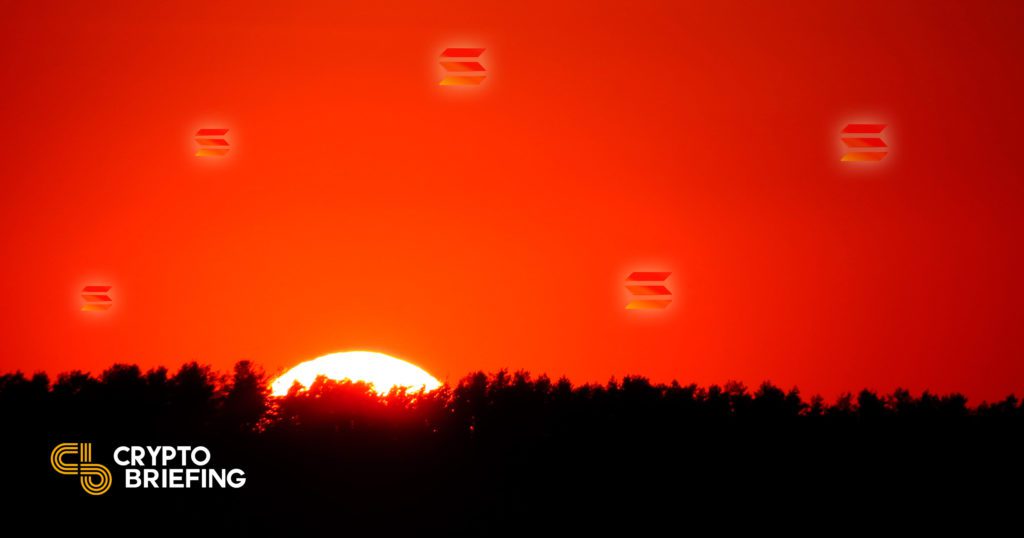 Key Takeaways
Grayscale is now offering investors exposure to Solana through its latest trust.
The Grayscale Solana Trust is Grayscale's 16th single-asset product offering.
Solana has had a big year despite some issues. Its SOL token is up over 14,000% year-to-date.
The world's largest digital asset management firm, Grayscale, has announced the launch of the Grayscale Solana Trust, a new single-asset investment product offering institutional and high-net-worth individuals indirect exposure to Solana's SOL currency.
Grayscale Offering Solana Exposure
Grayscale has just made it easier for institutional investors to get exposure to Solana.
The asset management giant announced the launch of its Grayscale Solana Trust Tuesday, a new product offering indirect exposure to Solana's native SOL token. It's the 16th single-asset product in the company's suite of investment offerings. The trust will solely give exposure to SOL, and its shared will be traded on the secondary market.
The product launch was exclusively revealed to Forbes and later confirmed in a press release. Commenting on the product launch, Grayscale CEO Michael Sonnenshein told Forbes that its new offering comes in light of growing interest in Solana. He said:
"In many investors' minds, there's a continued appetite to invest in Solana. In some sense, it is a more cost-effective blockchain [than Ethereum], and today we are seeing over 500 decentralized apps and about 1.2 million monthly active users on the network. When you kind of take a step back, and you see how quickly it has been able to ramp up, it's certainly pretty impressive."
SOL has been one of the best-performing cryptocurrencies on the market this year, surging over 14,000% from roughly $1.50 at the beginning of the year to $210 at press time. Solana is currently the world's fifth-largest cryptocurrency with a market capitalization of just above $62.9 billion.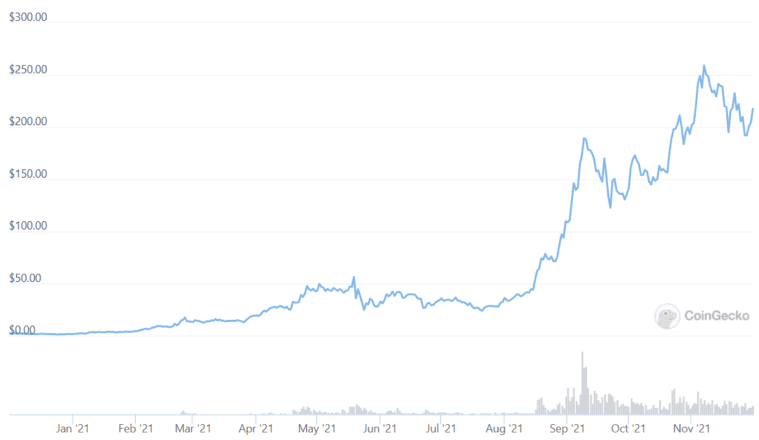 Throughout this year, Ethereum's scaling pains and high transaction costs have pushed retail investors and less wealthy power users to flock to alternative Layer 1 blockchains like Binance Smart Chain, Fantom, Avalanche, and Solana. Most of the so-called "Ethereum killers" are compatible with Ethereum Virtual Machine, apart from Solana. Its apps are built in Rust rather than Solidity, which has acted as something of a moat for the high-speed blockchain in recent months.
While several blockchains have seen their DeFi and NFT ecosystems thrive in recent months, Solana has emerged as one of the winners and biggest competitors to Ethereum, boasting more than 1.2 million monthly active users and roughly $14.7 billion in total value locked in DeFi applications on the network. Despite touting promising technology, most notably high transaction speeds and low costs, Solana has also faced several issues of its own. In September, the network suffered a 18-hour outage due to transaction load management problems. Many Solana critics say that the blockchain is more centralized than the likes of Bitcoin and Ethereum.
Grayscale, too, has had with its own fair share of problems in recent months. The firm has seen most of its trust trade at significant discounts to net asset values over the past year, thanks partly due to a range of competing products offering investors new alternatives. Grayscale trusts are closed-end funds, meaning they cannot easily add or remove shares in response to real-time demand. From an investor's perspective, closed-end funds can be less attractive investment vehicles when compared to exchange-traded funds, which offer an effective way to track the value of the underlying assets under management.
Disclosure: At the time of writing, the author of this feature owned ETH and several other cryptocurrencies.