Hadron ICO Review - Decentralized AI Marketplace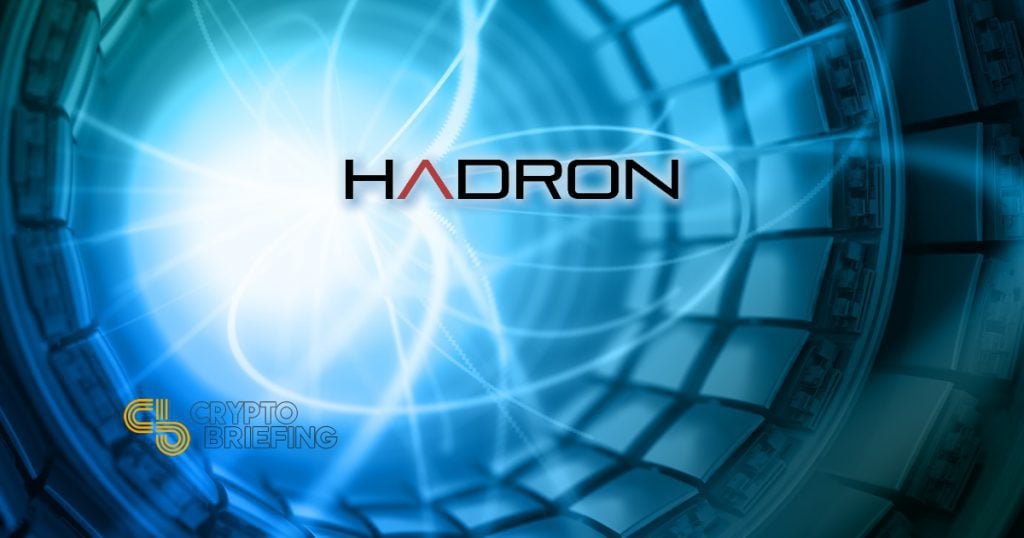 Hadron ICO Overview
The Hadron ICO is raising funds to launch a decentralized, open marketplace for distributed machine learning. Through the marketplace, the unutilized computing power of any devices can be put to work in exchange for tokenized rewards. Enterprises or other customers that require resources for training AI models can access a potentially limitless pool of compute power through the decentralized network of users.
Hadron ICO Value Proposition
The Hadron AI Marketplace provides an means to conduct both machine-powered and human AI training. Users who wish to passively earn rewards for unused compute power download the Hadron Workforce App to their devices and connect to the marketplace. Active earning is also enabled through completion of human intelligence tasks for AI training through a game-like interface. Monetized datasets will also be available on the platform which can be bought or rented to train AI models.
The platform is built atop the Hadron Workforce Chain, maximized for unlimited scalability of user load and tasks. Scalability is achieved through the Unbounded Payments Protocol, enabling millions of tasks per second to be performed on the platform. Payments, disputes, staking and reputation are recorded on an open modular chain while work tasks are dedicated their own stateless, trustless ledger.
The Unbounded Payments Protocol is designed to accommodate the continual increase of tasks and payments without slowing down the blockchain and scales with the number of users.
Hadron tokens are used both for staking and value transaction. Workers are rewarded for their compute contribution, while customers will pay for services and datasets using the token. The token is also utilized for the governance of the network.
The Hadron blockchain employs a provably secure Delegated Proof of Stake (DPoS) model for governance-based modular evolution of the blockchain, allowing for modification of all network parameters as threats arise or adaptation of the system is required. The Hadron token will initially be released as an ERC20 token.
Hadron ICO Team
Cliff Szu: Cliff has achieved success in leading companies to scale from the bottom up. He is the former CEO and Co-founder of Loanback, a p2p lending service. Prior to Loanback, he was CEO/Co-founder of Fanpop, a fan club networking site that receives millions of visits per month.
Darick Tong- Darick was previously a Principal Engineer at Google, where he played an instrumental role developing Gmail and has been building large-scale distributed systems since 2003. He is a recipient of the Google Founders Award for his contribution to the development of Gmail. Darick is a graduate of Stanford University.
David Papandrew: David has 20 years of product management experience. He is also a Co-founder of Fanpop, where he served as CPO. He holds a graduate degree from Harvard.
Michael Chu: Prior to Hadron, Michael served as COO at both Fanpop and Loanback. Michael has 7 years of experience as an engineer at Intel, where he helped develop Intel Centrino. He holds a BSc in Computer Science from UC Berkeley
Evan Szu: Evan has 10 years of experience with tech product development in Silicon Valley. He is also an experienced developer and holds a PhD from Stanford.
Simon Ilra Wei: Simon is an accomplished designer both in visual arts and UI/UX design. Through his previous experience as a Visual Designer at 3Q Digital, he worked on products for major tech companies like Facebook and Instagram.
Among notable advisors to the Hadron ICO are Chief Engineer at Hyperloop One, Rob Ferber, and VP of Business Development for Mastercard, David Galvan.
More information on the team and advisors is available here.

Hadron ICO Strengths and Opportunities
The alpha version of the Hadron AI Marketplace dashboard is currently live, and has so far received 300k signups to test the distributed computation system for rewards. Over 800 million images have been processed by test miners running the module.
With a working alpha and user base to test the mining, Hadron have produced a core component of their product that serves the dual function of demonstrating product viability and building an initial user base.
For more information on how to sign up as a test miner, please visit the Hadron Telegram channel.
The team's previous success with Fanpop not only lends credence to their ability to build and scale a product; their work on producing a native AI module for image classification laid the groundwork for the development of Hadron.
After finding other AI-based photo recognition services were too expensive, the team built their own, using Fanpop as a sandbox for development. With their own AI product in hand, the team have exploited image recognition as a strategic starting point for testing Hadron Workforce.
Hadron ICO Weaknesses and Threats
In the realm of competition, Hadron are up against the likes of Clarifai and Amazon, among other established industry players. Hadron propose their platform offers several competitive advantages to these giants, which the team aims to leverage in their bid to onboard customers.
Firstly, Hadron estimate the cost of training AI on the platform to be 10x less expensive than competitors. By utilizing user devices for compute power, there is no need to recoup the costs associated with maintaining data centers and hardware upkeep that enterprises must factor into their pricing.
Secondly, Hadron aim to outcompete centralized cloud service providers through the very scale of the user base itself. Because the actual computation happens on worker devices, their decentralized framework has the potential to create a massive pool of computing power that surpasses existing providers.
While these prospects are tantalizing, they are of course no guarantee for success. The prospect of drastically cheaper compute power at a massive level is contingent on the technical viability of the platform and the strategies Hadron choose to scale.
Scaling usage of the AI Marketplace cannot happen without strong enterprise partnerships. With an actual alpha product to show to potential enterprise customers, Hadron are well poised to attract the interest of those seeking an alternative to the current AI training services available on the market at present.
While we have received information efforts are underway at securing enterprise partnerships, Hadron have yet to make any official announcements on this front.
The Verdict on Hadron ICO
The Hadron ICO offers one of the most exciting projects targeting the AI market in the blockchain space. The team's ample experience scaling mass consumer products and building distributed systems fits the bill for such an ambitious project.
With the release of the alpha AI Marketplace, the project has not only reached an important technical milestone but managed to garner interest from a significant number of prospective users. We will be watching the Hadron ICO closely, particularly for any news on noteworthy partnerships, which would further increase our confidence in the project.
Additional Information
We have been in discussions with the Hadron ICO team and our ratings are based on conversations and information that they have asked us to keep confidential. While it may seem premature to rate their ICO highly, we have been made privy to insights that suggest a strong project, and we will update this review when the Hadron ICO team is ready to share further data.
As a Top 10% rated ICO, we will look to make a small bet on the Hadron ICO.
Learn more about the Hadron ICO from our Telegram Community by clicking here.
---
We have rated hundreds of projects to unearth ICOs in which members of our team intend to invest.
We won't often go into further depth on projects that we don't consider as candidates for our investments after the initial rating process, which is why you will usually see our stamp on our detailed ICO reviews – they are the best we have found. However, on occasion, we might also rate a well-hyped project that does not meet our personal investing criteria. Please see our detailed disclaimer to the right (on desktops) or below (on other devices).
The Crypto Briefing Top 10 stamp is awarded to ICO projects that we rate in the top 10% of all projects.
HADRON ICO REVIEW SCORES
SUMMARY
The Hadron ICO is addressing one of the few use-cases in blockchain that almost every talking-head in the industry agrees upon. While there have been several decentralized computing plays so far, the Hadron advantage may be their specific focus on the AI marketplace. If, as expected, the global market for machine learning and artificial intelligence expands dramatically… and if, as expected, a decentralized network can lower costs dramatically… then Hadron would seem to be at the confluence of two highly advantageous business drivers. High demand and low cost have been the factors behind some of the largest companies in the world – and even national economies. Hadron may be in a position to leverage these, if the technical solution is strong enough and AWS doesn't get there first.
Founding Team……………………….9.3
Product…………………………………..6.6
Token Utility…………………………..9.2
Market…………………………………..9.8
Competition…………………………..3.2
Timing……………………………………8.5
Progress To Date……………………6.4
Community Support & Hype…..7.5
Price & Token Distribution……..4.9
Communication……………………..9.4
FINAL SCORE……………………….7.6
UPSIDES
Team has both technical and business experience building and scaling products

Alpha product is up and running with 300k+ signups

Solid level of community support for an early stage project
DOWNSIDES
Scaling strategy for mass adoption still unclear at this stage

Competition from tech giants looms large
Today's Date: 6/9/18
Project Name: Hadron
Token Symbol: TBA
Website: https://hadron.cloud/
Additional Information: Hadron Telegram Channel
---
ICO Review Disclaimer
The team at Crypto Briefing analyzes an initial coin offering (ICO) against ten criteria, as shown above. These criteria are not, however, weighted evenly – our proprietary rating system attributes different degrees of importance to each of the criteria, based on our experience of how directly they can lead to the success of the ICO in question, and its investors.
Crypto Briefing provides general information about cryptocurrency news, ICOs, and blockchain technology. The information on this website (including any websites or files that may be linked or otherwise accessed through this website) is provided solely as general information to the public. We do not give personalized investment advice or other financial advice.
Decentral Media LLC, the publisher of Crypto Briefing, is not an investment advisor and does not offer or provide investment advice or other financial advice. Accordingly, nothing on this website constitutes, or should be relied on as, investment advice or financial advice of any kind. Specifically, none of the information on this website constitutes, or should be relied on as, a suggestion, offer, or other solicitation to engage in, or refrain from engaging in, any purchase, sale, or any other any investment-related activity with respect to any ICO or other transaction.
The information on or accessed through this website is obtained from independent sources we believe to be accurate and reliable, but Decentral Media LLC makes no representation or warranty as to the timeliness, completeness, or accuracy of any information on or accessed through this website. Decentral Media LLC expressly disclaims any and all responsibility from any loss or damage of any kind whatsoever arising directly or indirectly from reliance on any information on or accessed through this website, any error, omission, or inaccuracy in any such information, or any action or inaction resulting therefrom.
Cryptocurrencies and blockchain are emerging technologies that carry inherent risks of high volatility, and ICOs can be highly speculative and offer few – if any – guarantees. You should never make an investment decision on an ICO or other investment based solely on the information on this website, and you should never interpret or otherwise rely on any of the information on this website as investment advice. We strongly recommend that you consult a licensed investment advisor or other qualified financial professional of your choosing if you are seeking investment advice on an ICO or other investment.
See full terms and conditions for more.
Founding Team
This category accounts for the leaders, developers, and advisors.
Poor quality, weak, or inexperienced leadership can doom a project from the outset. Advisors who serve only to pad their own resumes and who have ill-defined roles can be concerning. But great leadership, with relevant industry experience and contacts, can make the difference between a successful and profitable ICO, and a flub.
If you don't have a team willing and able to build the thing, it won't matter who is at the helm. Good talent is hard to find. Developer profiles should be scrutinized to ensure that they have a proven history of working in a field where they should be able to succeed.
Product
What is the technology behind this ICO, what product are they creating, and is it new, innovative, different – and needed?
The IOTA project is a spectacular example of engineers run amok. The technology described or in use must be maintainable, achievable, and realistic, otherwise the risk of it never coming into existence is incredibly high.
Token Utility
Tokens which have no actual use case are probably the worst off, although speculation can still make them have some form of value.
The best tokens we review are the ones that have a forced use case – you must have this token to play in some game that you will probably desire to play in. The very best utility tokens are the ones which put the token holder in the position of supplying tokens to businesses who would be able to effectively make use of the platforms in question.
Market
There doesn't have to be a market in order for an ICO to score well in this category – but if it intends to create one, the argument has to be extremely compelling.
If there is an existing market, questions here involve whether it is ripe for disruption, whether the technology enables something better, cheaper, or faster (for example) than existing solutions, and whether the market is historically amenable to new ideas.
Competition
Most ideas have several implementations. If there are others in the same field, the analyst needs to ensure that the others don't have obvious advantages over the company in question.
Moreover, this is the place where the analyst should identify any potential weaknesses in the company's position moving forward. For instance, a fundamental weakness in the STORJ system is that the token is not required for purchasing storage.
Timing
With many ICO ideas, the timing may be too late or too early. It's important for the analyst to consider how much demand there is for the product in question. While the IPO boom funded a lot of great ideas that eventually did come to fruition, a good analyst would recognize when an idea is too early, too late, or just right.
Progress To Date
Some of the least compelling ICO propositions are those that claim their founders will achieve some far-off goal, sometime in the future, just so long as they have your cash with which to do it.
More interesting (usually) is the ICO that seeks to further some progress along the path to success, and which has a clearly-identified roadmap with achievable and reasonable milestones along the way. Founders who are already partially-invested in their products are generally more invested in their futures.
Community Support & Hype
Having a strong community is one of the fundamental building blocks of any strong blockchain project. It is important that the project demonstrates early on that it is able to generate and build a strong and empowered support base.
The ICO marketplace is becoming more crowded and more competitive. While in the past it was enough to merely announce an offering, today's successful ICO's work hard to build awareness and excitement around their offering.
Price & Token Distribution
One of the biggest factors weighing any analysis is price. The lower the price the more there is to gain. But too low of a price may result in an under capitalized project. It is therefore important to evaluate price relative to the individual project, its maturity and the market it is going after.
The total supply of tokens should also be justified by the needs of the project. Issuing a billion tokens for no reason will do nobody any good.
Communication
Communication is key. The success of a project is strongly tied to the project leaders' ability to communicate their goals and achievements.
Things don't always go as planned but addressing issues and keeping the community and investors in the loop can make or break a project.