Perfect Harmony: Blockchain Gaming For Speed Freaks Takes Pole Position
Blockchain games beyond Ethereum?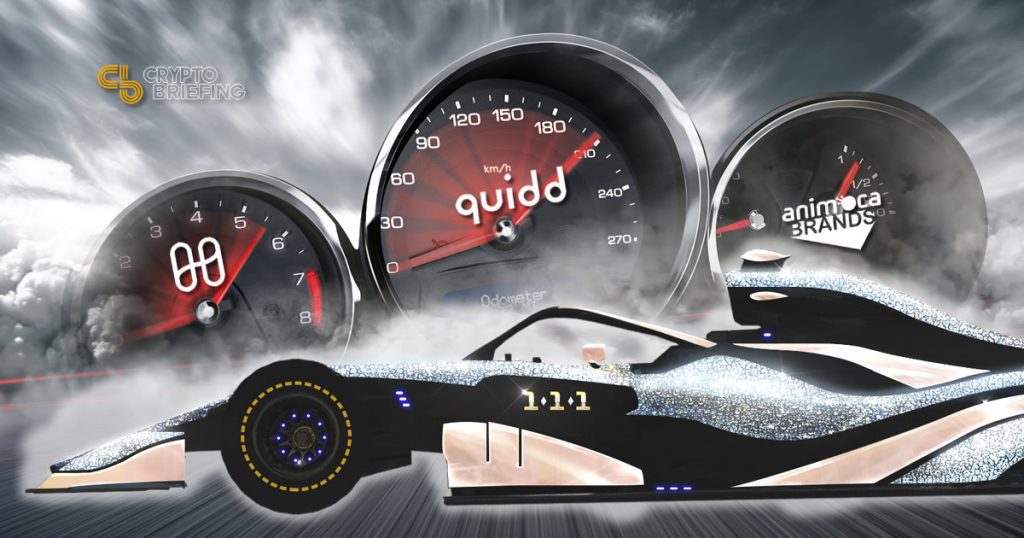 When a bidder paid $106,428 for the 1-1-1, a Formula 1 digital collectible and the first vehicle for sale in a new blockchain-based trading game, the crypto community barely blinked.
After all, if a digital cat can be worth over $176,000, a mega-hyper-ultra-super-car may represent a bargain at $70,000 less.
The world of digital collectibles has long been a target for startups; but a triumvirate of companies could be seeking to pave the way for the kind of mass adoption that has so far eluded most emulators of CryptoKitties.
Animoca Brands has been quietly licensing brands for blockchain-based gaming ever since investing in Dapper Labs – the company behind CryptoKitties.
But their roster is about to grow dramatically, as Animoca has now teamed up with strategic technology partner Harmony as it acquires Quidd, a $13 million Sequoia-funded digital collectible startup.
Quidd has so far secured 325 brand licenses, including:
Game Of Thrones
Marvel Superheroes
Breaking Bad
Star Trek
Elvis (yes, that Elvis)
Despite some success – it has seen five million trades involving a total of 60 million individual items, with a combined value of over $10m – Quidd's ecosystem has not grown in concert with the technology needed to power these global brands.
Yat Siu, Chairman of Animoca Brands, described the acquisition as a breakthrough, noting that "We are incredibly excited to welcome the highly talented team behind Quidd, who will assist us in the execution of our vision for branded digital collectibles. Our brand portfolio will grow substantially through this acquisition, and we look forward to working with even more of the world's most powerful intellectual properties."
---
World's Slowest Cats
The scalability issues inherent in the current version of the Ethereum network became a cornerstone of media humor at the height of the CryptoKitties frenzy, as costs soared and the network was brought to its virtual knees. With a maximum transaction capacity of around fifteen per second, Ethereum simply wasn't able to cope with mass interest in blockchain gaming in 2017 – and despite repeated promises, it's not a whole lot closer today.
Reading between the lines, this is where it seems the three companies hope to form the cornerstone of a new crypto-collectible ecosystem. Animoca already has experience in both gaming and blockchain; Quidd has licensed some of the top brands in the world; and Harmony would likely play the speed demon card if these games were ever to make it to the blockchain.
Quidd currently has 200,000 users – more than enough to put the 1-1-1 Formula 1car into semi-permanent pit lane mode – but according to Harmony co-founder Nick White, his company's sharded blockchain has been tested under carefully-controlled conditions at over 118,000 transactions per second. He is, however, careful to acknowledge that a real-world example of its speed supports 9,184 transactions per second currently.
"Few blockchains could provide the throughput required to handle Quidd's user base of 200,000. Over the coming years, we plan to scale Harmony's throughput far beyond 9,184 transactions per second into the hundreds of thousands as more use cases come on board."
Fortunately sharded blockchains can scale up their throughput to match demand for the applications running on them.
While there no current plans for an Avengers trading game on the blockchain, for example, it's easy to imagine such a thing going viral in the future. White claims, "The advantage of sharded blockchains is that you can scale your throughput to meet an increase in demand. If a game goes viral, you don't clog up the network, you just add more nodes to handle the extra transactions."
Harmony was one of eight cryptocurrencies Coinbase named recently as possible additions to its exchange.
While blockchain gaming may have been put on paws due to CryptoKitties, mass adoption could be on its way if, for example, a Rick and Morty game goes viral: but this time, the tech will need to prove it's not going to get Riggity Riggity Wrecked again.