Ethereum Is Winning The Platform War
"Ethereum Killer" found dead, suspect still at large.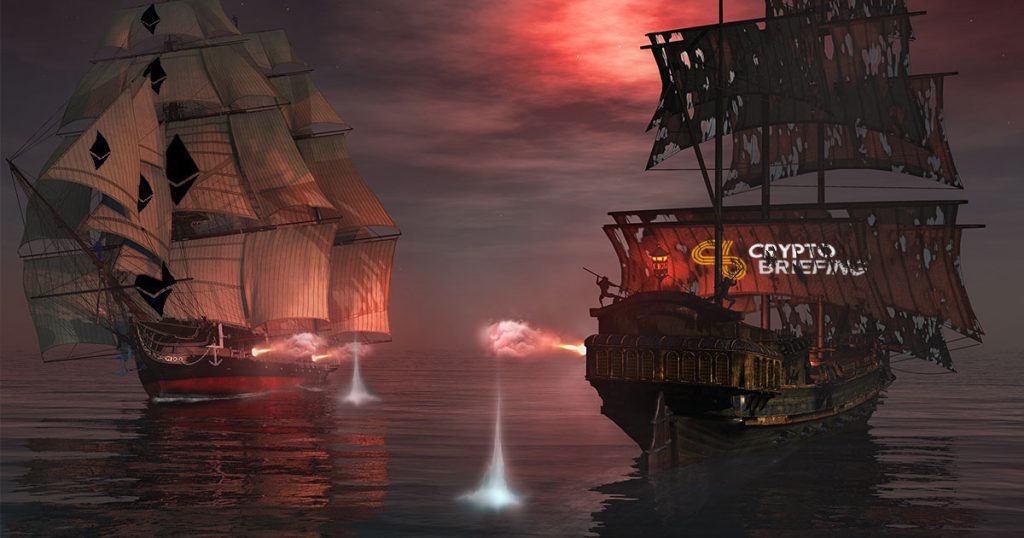 Ethereum (ETH) turned four last week and it's astounding to think how much has changed. In August 2015, when Ethereum launched, Bitcoin traded at under $300, and Dogecoin (DOGE) was the fourth largest digital asset.
If imitation is the most sincere form of flattery, Ethereum has certainly acquired many admirers. Dozens of new platforms have launched since 2015, all planning to steal Ethereum's lunch: NEO, Cardano (ADA), EOS, Tezos (XTZ), TRON (TRX) and even crypto exchange Binance, are all hoping to become the eventual 'Ethereum Killer.'
But promises of faster transactions and better financing appear to have little impact. According to DappRadar, there are nearly 2,500 dApps live across the industry, 62% of which are based on Ethereum. Despite the plethora of new platforms, none have become effective challengers to the big beast.
In fact, judging by recent events Ethereum's market share may be increasing as established players move over to the ETH platform. Bittrex announced yesterday it would now only support and accept Tether based on the ERC20 protocol, and Huobi announced in mid-July that it would move its native HUSD stablecoin from a separate blockchain to Ethereum. Sometime in Q3, dApp game Blocklords is moving from NEO to Ethereum.
Ethereum also has the lion's share of users on cross-chain applications. Approximately 90% of Blockchain Cities players use it through Ethereum, while TRON counts for just under 10% and EOS less than 1%.
Comparing Ethereum with dPoS networks like EOS and TRON is difficult, says Jon Jordan, Communications Director at DappRadar. "The dApps on these chains are very different products and work in different ways," he said.
But judging by the most popular dApps overall "we start to see some trends," Jordan says. While EOS is primarily used for gaming applications and TRON practically dominated by them, Ethereum has a good mix of DeFi and exchange dApps, as well as several popular games.
"Ethereum remains the most mature ecosystem," Jordan says. While EOS and TRON are maturing, they are doing so "very slowly." Both platforms have geographically-specific audiences in Asia, unlike Ethereum which has much wider distribution.
One of the main issues with Ethereum is a lack of scalability, creating bottlenecks during periods of intense usage. TRON and EOS were promoted as solutions to Ethereum's sluggish 15 tp/s, promising immeasurably faster platforms with a more centralized architecture.
But while scaling on Ethereum's base-layer has been gradual, development on Layer 2 has been faster. Developers can leverage the Matic Network (MATIC) for faster transactions, while keeping the security of a fully-decentralized network.
"They're getting the best of both worlds and don't need to use EOS or TRON," Jordan adds. The Ethereum ecosystem continues to grow and mature, with developers even beginning to build on top of existing dApps. InstaDApp, for example, launched their decentralized bank on top of the Maker protocol earlier this year.
2018 was a bad year for Ethereum: EOS had just finalized its $4bn token sale, and the decline in the ICO market caused prices of ETH and ERC-20 tokens to hit rock bottom. Some Ethereum dApps were preparing to move elsewhere.
But some dApps rallied around Ethereum, as the most familiar and secure platform. Despite numerous rivals, no other platform has been able to match Ethereum in development or network effects.
That could always change. EOS's $4bn war chest is nothing to sniff at – even if they do drop $30M on a domain name. Meanwhile, Binance's own chain has only just got started; it's still not certain how exactly it can rival other platforms in the broader ecosystem.
For the time being, Ethereum's dominance seems safe and secure. Whether that will still be the case in another four years is yet to be seen.