Hedera: Chainlink Collaboration Major Step Forward For Smart Contracts
Smart contract writers will be able to use real-world data and information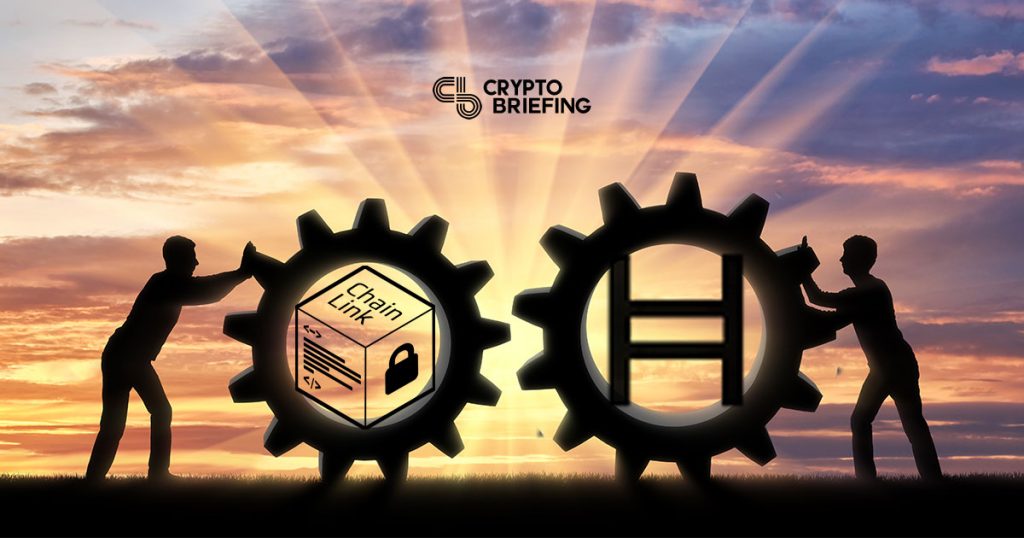 The creators of Hedera Hashgraph (HBAR) believe their newly announced collaboration with Chainlink (LINK) has the potential to overhaul smart contract writing and herald the next generation of autonomous contracts that can be adopted by mainstream businesses.
In a statement released today, Hedera announced it will be incorporating Chainlink's oracle network into its distributed platform, allowing developers to write smart contracts that can access real-world data feeds and sources of information.
"Chainlink and Hedera are setting the standard for trust and enabling the next generation of smart contracts to become the primary method for establishing digital agreements," according to a Hedera press release.
---
Hedera is designed for businesses. It uses a DAG consensus mechanism to allow the network to scale as transaction volume increases. Mance Harmon, Hedera Hashgraph CEO, says this architecture makes the network suitable for micro-payments, processing potentially thousands of transactions every second.
"Achieving micropayments through Hedera will lead us to a future where personal data is no longer exchanged for online services and where monthly subscriptions are no longer the norm," said Harmon.
"Enormous industries are on the brink of change," he added.
Hedera has implemented legal and technical controls to prevent unauthorized forks from disrupting applications that run on top of it. "[We] made a commitment to the market that Hedera will have one platform and one cryptocurrency," the press release reads.
Hedera will also be joining Hyperledger, an open-source community for companies looking to develop DLT technology for business.
Businesses will soon be able to begin building dApps on top of Hedera as the platform approaches the release of the beta version of its mainnet, expecting to go online sometime in Q2 this year.
Hedera also announced today that the second phase of its community testing programme – allowing developers and selected users to test different network capabilities – will launch next Monday, May 13th. 200M HBAR tokens will be made available for those testing Hedera.
---
Chainlink allows providers to supply data and information which can be used by smart contracts to its oracle network. In order to incentivise accurate data reporting, providers have to stake LINK tokens, which are forfeited if the supplied data is found to be incorrect.
Chainlink's collaboration with Hedera forms part of a trend, with many blockchain projects adopting the oracle network as effective middleware that enhances their offering. IOST, Hedera's competitor, announced yesterday that it would be using Chainlink so as to connect its own dApps to real-world information.
Jordan Fried, SVP of Hedera's Global Business Development, said the new collaboration with Chainlink was a significant step towards taking smart contract technology into the mainstream.
"Smart contracts have already started to change the world, and how organizations and individuals do business," he said. "We see Chainlink's oracle network as a key piece of infrastructure to improve smart contract capabilities even further."