What Is Chainlink? Introduction to LINK Token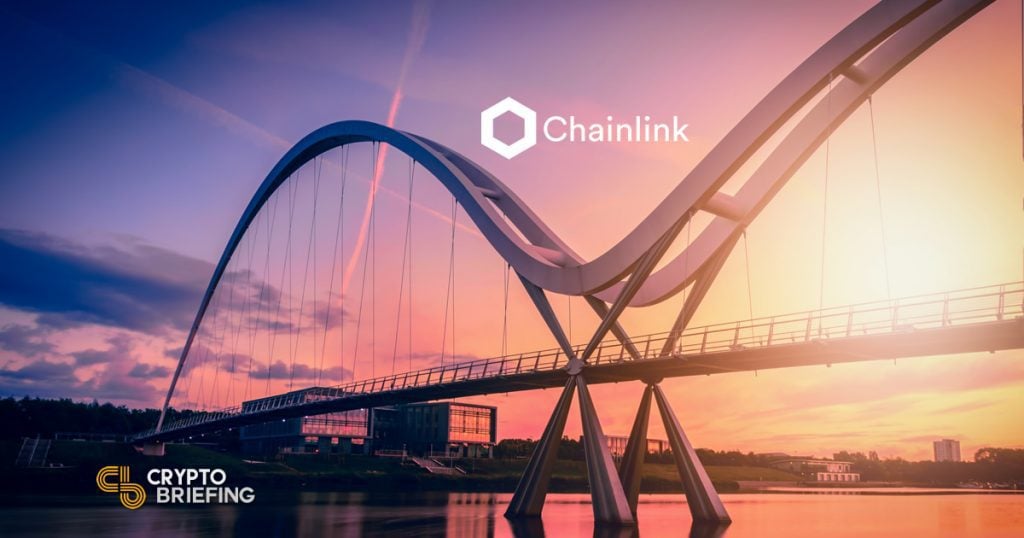 What Is Chainlink?
Chainlink is a blockchain project that aims to build bridges between payment services like PayPal and Visa, banks like HSBC and Wells Fargo, and blockchains like Ethereum and Bitcoin. It was created in 2015, and its ERC-20 LINK tokens were offered to the public during an ICO token sale in 2017.
---
Chainlink is a blockchain oracle platform that connects to real-world applications and data and an API. Chainlink was initially called SmartContract and aims to bridge the gap between blockchain and legacy systems. On-chain processing includes smart contracts with parameters specified in a Service Level Agreement (SLA). Oracle data is aggregated and verified to prevent tampering, and oracles are rewarded with LINK, Chainlink's native Ethereum token.
Chainlink currently resides on the Ethereum blockchain and supports connectivity to other Ethereum dApps. It will soon support more blockchains, as interoperability is the focus of the entire project. Sergey Nazarov is the founder and he's already working with the SWIFT payment network on the SWIFT Smart Oracle.
Oracle markets like Chainlink and Augur combine real-world data with blockchain technology to open new possibilities. Some believe it's the natural evolution of cryptocurrencies and smart contracts.
Before examining whether there's money to be made from being the glue holding everything else together, let's review LINK, the proprietary Ethereum token for Chainlink's platform.
---
LINK Token's Crypto Market Performance
The peak price of Chainlink's token so far was $1.28, which occurred on January 9, 2018. There's a total supply of 1,000,000,000 LINK.
The price of LINK has increased steadily over the last couple of months (Dec 18/Jan 19) and has more than doubled as the rest of the market has continued to drop in value.
Chainink's ICO crowdsale happened in September 2017, at which time 350 million LINK tokens were distributed, representing 35 percent of the total supply. Another 350 million will be distributed to node operators, and the remaining 300 million (30 percent) is withheld by the company for further development.
LINK is "mined" by selling off-chain services and data through an API connected to the Chainlink Network to become an oracle node.
LINK is traded on a variety of cryptocurrency exchanges, including Binance, Bitthumb, Huobi, CoinBene, Bitrue, Mercatox, and OKEx. Over $10 million worth of LINK is traded on a daily basis, and its trading pairs include BTC, ETH, XRP, and USDT.
As it currently exists in beta as an ERC-20 token on the Ethereum blockchain, LINK is supported by any ERC20-compatible wallet, including MyEtherWallet and Nano's hardware wallets like the Nano S.
This may change upon the mainnet launch, as LINK will use a custom token standard blending elements of ERC-20 and ERC-223.
---
Oracles Can Build a Better Blockchain
We keep pounding it into the ground, but blockchain interoperability is the key to blockchain's future success. Some blockchain projects resolve this issue with parent and child chains, while others use sidechains. Chainlink uses oracles, which act as agents to verify real-world data and prepare it to be recorded in a smart contract on the blockchain.
The smart contracts initiate this based on specific criteria, such as a payment transfer or price fluctuation. Once the threshold is reached, the block is processed by a mesh network of oracle nodes that reach a group consensus.
Oracle reputation is built by processing transactions, and reputation is a factor that can be selected as an SLA. This process of selecting oracles, gathering and presenting data, then verifying it among oracles is the on-chain smart-contract processing that occurs on Chainlink.
This means everything from investment market data to bank account balances, product purchases, election results, and more can be recorded to the digital ledger.
In fact, anyone with an API can connect it to Chainlink to begin earning LINK based on usage of this data.
Because it's designed to run off API queries based on smart contractual SLAs, the possible use-cases of Chainlink are endless. Of course, we won't know for sure how well it works until the mainnet launches, which isn't likely until sometime in 2019.
---
Linking up to Chainlink
Being the glue that holds everything together is only useful when there are things to hold together. Chainlink needs enterprise buy-in for its network to be successful. As mentioned at the beginning of this article, its biggest partner so far is the Society for Worldwide Interbank Financial Telecommunication, or SWIFT.
The SWIFT network is used by retailers to verify account balances for retail card transactions. When you swipe your card to buy something and it's approved or denied, the SWIFT network is what transmitted that data.
Chainlink isn't SWIFT's only blockchain partner, but the announcement does give hope to the project when its mainnet finally launches. Visa, Discover, MasterCard, and American Express are all connected to SWIFT, so it doesn't need to be an exclusive partnership. Instead, it's one of many gateway certifications needed to service the financial industry.
Other Chainlink partners include Zepelin_os, a smart contract development OS, and Request Network, an up-and-coming cryptocurrency exchange platform. It also partnered with the Accord Project, a smart legal contracts platform, and Bodhi, a prediction market originally launched on Qtum.
The more partnerships it secures, the stronger the network will become, and it has endless cryptocurrencies, exchanges, and legacy tech projects to connect to, so the sky is the limit.
Even organizations building their own blockchains could hypothetically use Chainlink to connect to their other proprietary platforms.
---
Chainlink Summary
Chainlink hopes to be the glue that holds together all other blockchains and other technologies. Using oracle nodes to connect external APIs to the blockchain allows for interconnectivity between data, financial, and other platforms. Chainlink currently exists as a beta on the Ethereum blockchain, and its success depends on these key components working in the mainnet.
Oracles can be created from any API to create a node. Node operators are compensated in LINK for providing offchain services and data.

Chainlink is partnered with the SWIFT network to eventually integrate payments into its blockchain platform. Swift connects over 11,000 businesses worldwide.

Chainlink is currently in beta, so none of its functionality (nor that of the LINK token) has been verified. Its mainnet is expected to launch in 2019.
If the mainnet delivers as promised, it'll be a lean and powerful blockchain. It doesn't need to be an Ethereum killer – in fact, the more cryptocurrencies and blockchains on the market, the more useful Chainlink theoretically becomes.