SEC Emails Reveal: Hinman Wasn't Only Official Deliberating ETH Security
In 2022, the SEC stated that Hinman's views on Ether being a security were not those of the SEC, while emails show the contrary.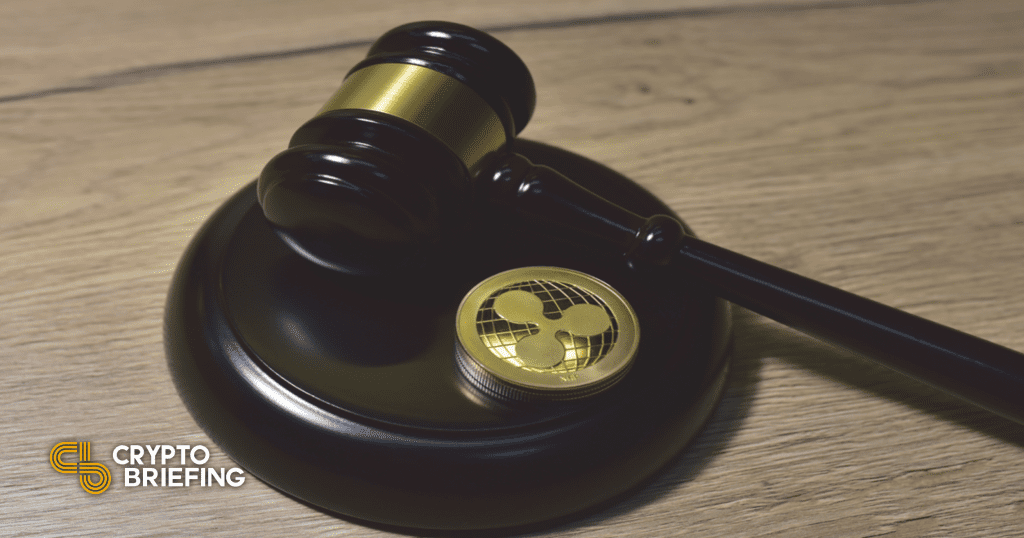 Key Takeaways
After giving the green light to use Bill Hinman's speech in court, Ripple revealed SEC emails surrounding Hinman's speech.
The deliberation about ETH being a security suggest that other SEC officials were used as guidance.
Recently released email exchanges from 2018 reveal that multiple U.S. Securities and Exchange Commission (SEC) officials were in deliberation over Ether's status as a security. These emails were published by Ripple in its legal battle with the SEC, which accuses Ripple of illegally selling XRP for more than seven years as unregistered securities.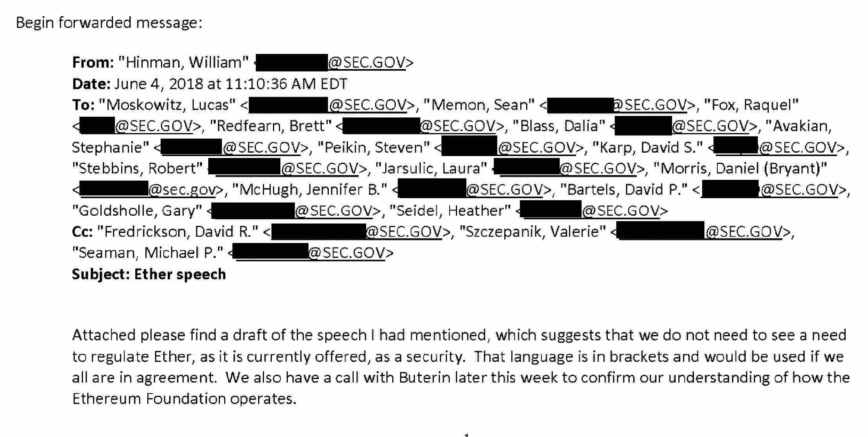 The communications shared indicate that there were internal debates within the SEC regarding the clarity of a speech given by then-director of corporation finance William Hinman in 2018. The speech suggested that Ether might not be viewed as a security:
"And putting aside the fundraising that accompanied the creation of Ether, based on my understanding of the present state of Ether, the Ethereum network and its decentralized structure, current offers and sales of Ether are not securities transactions."
Before Hinman's speech, former SEC director of trading and markets Brett Redfearn expressed concerns that Hinman's speech was vague about Ether's status. He suggested that if the aim was to make an affirmative statement that Ether is not a security — which he did — the language should be stronger, "i.e., just say it," but if the contrary, to use the language similar to Bitcoin's "disclosure regime" to ensure consistency.
Redfearn's comments, left on a draft of the speech, further highlighted that the draft's language could potentially create more confusion about Ether's status.
The SEC's FinHub group head, Valerie Szczepanik, suggested in a May 2018 email that the speech should have less detail, allowing room for further discussions:
"This is introducing a concept […] and so leaving room for that discussion is good I think."
Ripple's legal team brought these emails to light as the crypto platform battles with the SEC regarding XRP as a security. On May 17, Ripple scored a win in court when the judge denied the motion to seal the Bill Hinman speech.
The SEC stated that this speech was not necessarily the thoughts of the SEC, while these emails released on June 13 reveal that multiple officials of the SEC deliberated over calling Ether a security.
Stuart Alderoty, chief legal officer of Ripple, took to Twitter to detail how the SEC "touted it [Hinman speech] as guidance:"
4/Although Hinman claimed that the speech was his personal view, he and the SEC touted it as guidance. Then SEC Chair Jay Clayton publicly pointed to it. Despite the SEC repeatedly flip-flopping on the significance of the speech in litigation, it remains on the agency's website.

— Stuart Alderoty (@s_alderoty) June 13, 2023