The Internet Of Trusted Things: IoTeX To Power Privacy-Focused Consumer Goods
Privacy or convenience? Is there even a choice?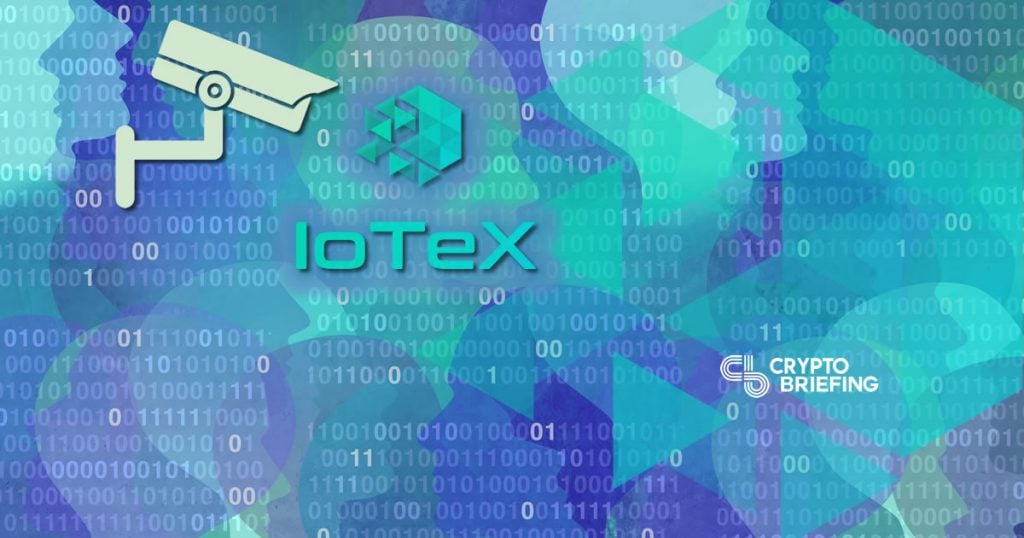 In our deeply connected society, we are witnessing attacks on individual privacy on a daily basis. It seems like achieving true privacy might require a return to old tech, a rejection of social network connections, and at the extreme, a move toward living off-the-grid entirely.
The hermit lifestyle has an appealing ring for those who desire privacy, but it requires a sacrifice: giving up all the advantages and conveniences of living in a connected world.
In an interview with Crypto Briefing, Larry Pang of IoTeX explained it doesn't have to be this way. He works at a company that emphasizes security, data ownership, and privacy integration with the Internet of Things, and discussed these issues with us as IoTeX moves toward a Mainnet beta launch later today.
---
Mainnet Beta Milestone
About six months ago, the IoTeX mainnet departed from the restrictions of living on Ethereum, spreading its wings as a native blockchain network, consisting of a series of interconnected chains and sub-chains.
Over those six months, Pang explains, the team has been working at a furious pace, readying for Mainnet beta. He points out that IoTeX is among the top 20 most active products in the industry by developer and user activity, with a dynamic team that has been working at "hyper-fast" speeds developing the IoTeX blockchain.
"The Mainnet beta code is done," Pang explains, "…delegates have to install the latest software updates, evolving from alpha to the current beta stage." The latest version should be installed by delegates by the end of this week and activated by the end of October, he says.
Pang points out that the move to native IOTX staking marks an important milestone in the progress of IoTex, "expressing our independence."
The network is past the bootstrapped stage now, leaving behind robo-delegates with about 70 organizations vying for 36 delegate spots in the delegated proof-of-stake consensus system. Pang explains that staking and voting will take place on both the IoTeX and Ethereum blockchain for now, eventually migrating fully to the IoTeX mainnet once the transition is complete.
The new mainnet update includes the establishment of native IOTX staking, an upgraded virtual machine with more cross-chain support, faster block times of five seconds, optimized data storage, a new XRC20 token standard for creating tokens on the IoTeX network, and many other incremental improvements, Pang says.
Importantly, he states, real-world products using IoTeX technology are just around the retail corner, with an early line-up of products to be launched within the next few months.
---
Coming To Retail
It won't be long now before you will see IoTeX-enabled devices for sale at online retailers like Amazon, Pang explains.
Up until now, the idea of extending privacy to IoT privacy use-cases has been theoretical, but by the end of this year consumers will begin to see new products launching to market. These products all place an emphasis on privacy and personal ownership of data, built in from the start.
Many users have become accustomed to having the watchful eyes of security cameras in and around their homes, but it can cause one to wonder, just who has access to all this video footage?
IoTeX is launching a fully private home IP camera called Ucam, designed from the ground-up with privacy in mind. The camera has all the latest features like 1080p streaming to mobile devices, advanced motion detection, and night vision; but importantly, it preserves privacy by being powered by IoTex.
Pang explains the advantages of an IoTeX powered home IP camera, operating on a blockchain in unison with a secure, decentralized identity system:
Rather than being tacked on as an after-thought, Pang says privacy is at the foundation of the technology, "The camera encrypts data immediately on the device and will remain encrypted, guaranteeing that the content remains private."
---
A Template For Personal Privacy
While the Ucam is not the be-all, end-all for IoTeX, Pang says "it serves as a template for this whole 'Powered by IoTeX narrative' where you own your device, you own your identity, you own your data, and you own the derived value from all of those things."
This works hand-in-hand with the IoTeX decentralized identity system, which works a lot like Google Authenticator, Pang says.
Consumers authorize specific devices to decrypt the data, which maintains the security of the data throughout its circulation from users to devices and back again. "Only an authorized device can decrypt this data. It's beyond two-factor authentication, all done on blockchain."
Consumers have been pitched the idea that they must face an ultimatum, Pang says, "… either you want to live a connected lifestyle, or you want to have full data privacy. We're proposing you can have both."
Pang goes on to mention other devices that can take advantage of this technology, such as smart locks and other consumer devices. He points out that, without the technology, we just don't know who we're trusting with the smart devices in our homes. "Who knows if they can be trusted today?"
---
"Consumers Are Starting To Care More About Privacy"
Pang has observed a change in the sentiment of consumers when it comes to privacy. "Consumers are just starting to care about privacy because there are more serious implications now." With so many connected devices like wearables, smart locks, vehicles, and homes, consumers are starting to see that privacy affects more than just a credit score.
"If those things start to get breached," Pang says, "you can have an immediate physical impact, where your physical well-being may be harmed."
In addition to the Ucam, IoTeX is powering a number of devices to be launched at retail. The Pebble Tracker is a privacy-focused device for tracking GPS location, temperature, humidity, air quality, motion, and vibration. "The difference is," Pang explains, "you fully own that data with built-in secure hardware."
Pang talks about a range of potential future devices, but emphasizes, "It's not our end goal to focus on selling hardware," he explains, "but to work with hardware manufacturers and companies, helping them see that by powering devices with IoTeX, they can add enhanced levels of security and privacy."
---
Decentralized Identity (DID) Framework
Among the foundational IoTeX products is DID, a decentralized identity solution. Blockchain is the root of trust but the goal of bringing privacy and trust to the internet of things requires more than just blockchain. It requires a full stack of foundational products. "One is definitely blockchain, the second is around decentralized identity" Pang says.
Pang went on to discuss the unique approach IoTeX takes with identity: "What's different with our approach to decentralized identity is that it's not just for people and businesses, but also devices." Devices can interact with humans, humans with businesses, and devices with devices, allowing everything to be on the same playing field.
"We're not trying to enhance trust in the existing internet of things. We're trying to build a new internet of trusted things." Humans, machines, businesses, and dApps can securely exchange information and value "at a global scale" with the technology.
It comes down to a system of trusted computing where data is secure throughout its circulation and cannot be compromised as it might be in legacy methods of transaction.
With this technology, Pang explains, "We can compute encrypted processes over each other's data without ever seeing the individual data sets. That's the next evolution of our project."
---
The Internet of Trusted Things
Products often preach privacy, Pang explains, but often, it's just theoretical. "IoT today hasn't lived up to its promise," Pang says, "We've connected everything to the internet and forgotten about privacy and security. We need a fundamental redesign to create an internet of trusted things."
There is a growing movement to demand privacy, but also want a convenient and enjoyable user experience with connected devices, Pang says.
"If your content is decrypted in the cloud or on the end device, that makes all the difference when it comes to security and privacy."
The uniqueness of truly end-to-end trust is nuanced, but crucial, Pang says: "The consumer might not notice the difference, but it's important… Consumers deserve to have these security features built into their devices and to live with an internet of trusted things."