IoTeX Scales Up: Privacy-Focused IoT Mainnet Within Weeks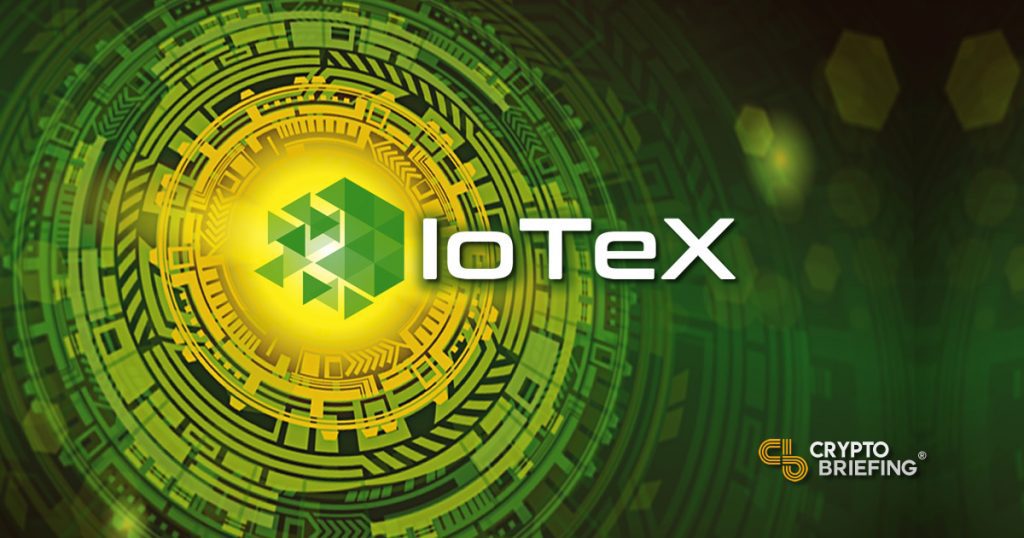 IoTeX… oh yeah, that's an IoT project, right?
Not quite. That's not even the half of it.
Discussing IoTeX with Head of Business Development Larry Pang immediately results in a friendly, but firm, redirect from a conversation exclusively about the Internet of Things. "IoTeX has a focus on how to make IoT and privacy work on the blockchain," he says.
Throughout the conversation, that word keeps cropping up where you don't quite expect it. Privacy. And it's crucial, because the combination of the IoT industry and the concept of privacy is at the core of everything IoTeX stands for, as it launches its mainnet in the near future.
"People talk about this Holy Trinity of technologies – IoT, blockchain, AI – and we see IoT as generating the data, blockchain as adding trust, and AI as extracting perspectives. And what we're building will enable not only direct uses for IoT dApp developers, but also use-cases that have all of these components – whether it be wearables, or agriculture, or supply chains."
And that leads to an awkward question for blockchain architects. How can the technology be deployed such that some information is permissioned, other information is permissionless, some is gated to approved recipients, and the whole endeavor can pass muster across another seemingly insoluble trilemma – scale, security, speed? And are blockchain, IoT, and AI really a compatible complement of technologies?
Those are the twin challenges facing IoTeX – and it has been tackling them for almost two years, as it built out its own blockchain from scratch.
"How do we give people the ability to protect their data… while also being able to use it," as Pang neatly encapsulates the problems.
---
Why Do We Need A Scalable, Privacy-Focused IoT Blockchain?
Using the example of data collated from vehicles, Pang suggests that there is some information that the primary players in a market may be willing to share – it's not mission-critical to keep it proprietary, so they may wish to open-source data such as accident reporting. Perhaps the manufacturer has a partner in the industry with whom they are willing to share other information. But the same reporting vehicle may also be providing data to the manufacturer that must remain completely private.
This hybrid requirement is just the kind of use-case that makes blockchain designers tremble.
IoTeX's focus on privacy and the internet of things make the project a tall order, at least cryptographically, he explains. "It's well known that adding privacy to a transaction makes the transaction more heavyweight," he explains. This increases the computational burden of participating in the network—hardly ideal for a network of lightweight IoT sensors.
However, privacy is an essential feature of IoTeX's value proposition, and it's not one that can be left for later. "Our vision for IOT is it needs to be private by default," Pang explained. "If you want something to be private, you have to start it from day one."
In order to ensure that private transactions will be able to scale with the IoTeX protocol, engineers carefully designed the system with built-in tradeoffs to maximize the efficiency of privacy computations. Some features, like zero-knowledge proofs or ring signatures, were borrowed from other protocols.
"Monero users this stealth address protocol to mask a receiver," says Pang. "We've made tradeoffs to their already state of the art protocol, to tailor-fit it to IoT…. With more storage requirements, but reducing computational overhead by 45%."
This tradeoff is ideal for IoT sensors, he explains, since computation will be the major limiting factor for IoT sensors, while storage is becoming cheaper.
---
Chains Within Chains Within Subchains
That's not the only innovation to the protocol, whose engineers have sought additional efficiencies in the network's design. The first is in the network's architecture: rather than a single chain, "IoTeX's network is a collection of blockchains." Pang explained. "We have a root chain, which is an orchestration layer, it connections all the subchains and enables sub-chains to talk to each other, via cross chain communication."
Another layer, the "gravity chain," is used for governance and voting in IoTeX's delegated proof-of-stake consensus model. This incurred another set of tradeoffs.
"The tradeoffs between choosing DPOS is that you're sacrificing decentralization for scalability," he admits, but it's not one which IoTeX simply accepts. Instead, Roll-DPOS introduces an element of randomization: at the beginning of every epoch, 24 delegate nodes are randomly selected to enforce consensus rules.
"That adds an extra layer of randomization, and an extra layer of decentralization," he says. "We're trying to minimize the impacts of the tradeoffs that we've made."
---
Isn't The IoT Space Crowded Enough?
IoTeX isn't the only blockchain company looking to bring multi-party trust solutions to the IoT. A market that could generate $11 trillion in economic value by 2025, according to McKinsey, attracts plenty of projects with aspirations. And it's no surprise that just like IoTeX, other companies have had to come up with clever solutions to the unique set of problems inherent in connecting billions of devices with billions of people.
IOTA is perhaps the best-known of the specialists, but commercial success of The Tangle (its non-blockchain Directed Acyclic Graph) continues to prove elusive despite years of development. Nano occasionally looks as though it will take off, but there's often a downside (and not just BitGrail).
IBM markets an 'add-on' to its Watson IoT Platform for blockchain, and plenty of other major companies in the space are focused on verticals that are worth hundreds of billions of dollars – think VeChain, Ambrosus, or Waltonchain just within the supply chain industry, or Enigma, Oasis Labs… the list goes on.
But Pang believes there's plenty of room for multiple participants in the market:
"I believe we're jump-starting this whole privacy movement [in the IoT business]. Blockchain, and this decentralized, peer-to-peer, Web 3.0 kind of mentality is going to be what drives new ways for people to do what they do today, but in a more private fashion."
"We're launching a privacy-preserving subchain that allows people to execute private smart contracts within the next couple of months. It's only going to grow from there."
IoTeX did not raise money through an ICO – it was an accredited investor private sale – and marketing the project has never been about hype and short-term gains, says Pang. Instead the team fixated on securing strong delegates ("We have about 50 very high-quality folks, who share our vision") and making progress on technology and partnerships.
Perhaps that's why Pang claims that "We were missing that initial visibility, but for the technological sophistication of our project, and the traction we've made on the business side, I'd say we were one of the best-kept secrets in the crypto space."
IoTeX will announce its mainnet launch date within the next week.
---
The author is invested in digital assets, but none that are mentioned here.