Is Ethereum a Security? Gensler Stutters Over Question Again
Gary Gensler refused to confirm or deny whether he thought Ethereum was a security in a CNBC interview today.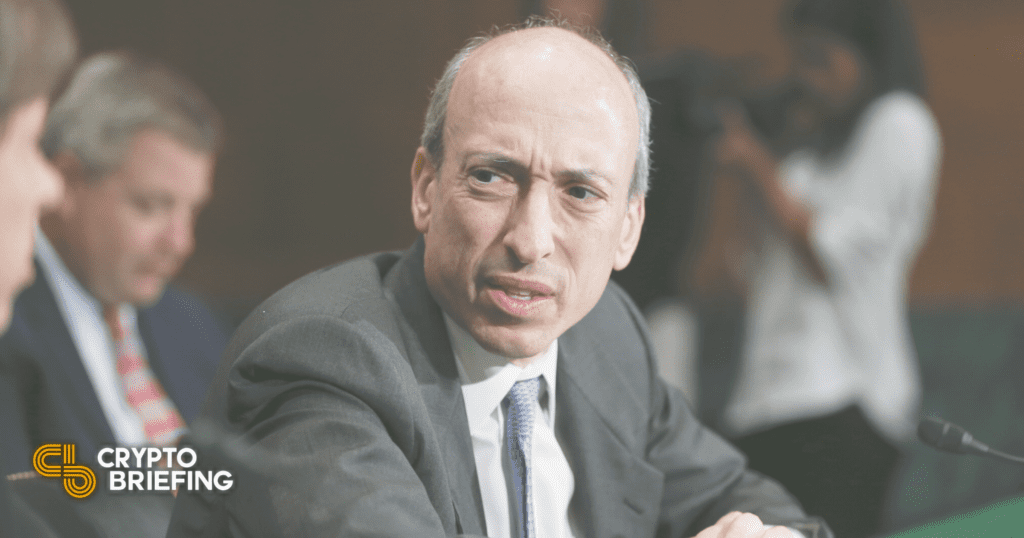 Key Takeaways
Gary Gensler has declined to comment on whether Ethereum could be classed as a security in a CNBC interview.
The SEC Chairman reiterated the need to bring crypto tokens under the purview of securities regulations.
The SEC has been criticized for its unclear guidelines on cryptocurrencies in recent months.
SEC Chair Gary Gensler declined to comment on whether Ethereum could be classed as a security in a CNBC interview today.
Gensler Avoids Ethereum Security Question
Gary Gensler has shown his reluctance to clarify Ethereum's regulatory status again.
In a Monday interview with CNBC Squawk Box, the SEC chairman discussed securities laws surrounding cryptocurrencies with Andrew Sorkin. When Sorkin challenged him about whether he thought Ethereum could be classed as a security, he swerved the question, remarking that he would not speak on a specific crypto asset. "Can you explain your view of whether Ethereum is a security or not—I think you've actually suggested it isn't, but then while you believe that Ripple is a security, and I know there's an ongoing lawsuit related to Ripple, but could you speak to the Ethereum issue?" Sorkin asked.
"I'm not going to speak to any one matter," Gensler told CNBC. He added that the SEC doesn't "get involved in public forums talking about any one project."
Gensler's public stance on the number two crypto marks a stark contrast to his predecessor Jay Clayton, who stated that Ethereum was not a security during his tenure at the helm of the SEC.
Securities are instruments that represent ownership in a common enterprise with an expectation of a profit. The issue of whether crypto assets like Ethereum can be classed as a security has been a hot topic in recent years as the space has grown. While the SEC has been criticized for its unclear guidance on cryptocurrencies, Gensler has stated on several occasions that DeFi tokens could be categorized as securities. The SEC has also been in a widely publicized legal battle with Ripple after it accused the firm of selling unregistered securities since late 2020; it's due to come to a close sometime this year.
Commenting further on the regulatory environment surrounding cryptocurrencies, Gensler remarked that many crypto tokens could be classed as securities and should register with the SEC. He said:
"Unfortunately, way too many of these [projects] are trying to say 'well, we are not a security, we are just something else.' I think the facts and circumstances suggest that they are investment contracts, they are securities, and they should register."
"Crypto tokens–are raising money from the public, and are they sharing with the public the same sets of disclosures that helps the public decide and are they complying with our true in advertising?" says @GaryGensler. "It's about bringing them into the securities laws." pic.twitter.com/8mvFimxzXV

— Squawk Box (@SquawkCNBC) January 10, 2022
While Gensler did not elaborate on his current views on Ethereum's regulatory status, he told an MIT class that he thought it would pass the test as security when lecturing at the university in 2018. At the time, Gensler explained that he thought Ethereum would pass the Howey Test–an official framework under the U.S. Constitution to determine whether a particular investment is a security offering.
"I think Ether, when it was done in 2014, would pass this [Howey] test. When I say 'pass,' it means it's a security," he said. He added that the SEC decided that it had become sufficiently decentralized by 2018 and therefore decided to "let it go the other way." In 2014, Ethereum raised $18 million in Bitcoin in the first Initial Coin Offering to kick off the project.
Despite Gensler's lack of clarity surrounding Ethereum, he has maintained that Bitcoin is not a security back then and today. "Bitcoin came into existence as mining began as an incentive in validating a distributed platform," he said in 2018. The SEC has since approved the first Bitcoin-related exchange-traded funds tied to the Chicago Mercantile Exchange's Bitcoin futures prices under Gensler's leadership.
Gensler's refusal to confirm or deny his thoughts on how other crypto assets would be classified could cause concern for believers in the technology. It also suggests that assets built on top of Ethereum—such as the DeFi tokens Gensler has called out in the past—could be subject to regulatory action in the future.
It is also noteworthy that the SEC's decision on whether a token is a security is subject to change. In Dec. 2020, the Bitcoin-focused project Stacks said that the SEC had changed its classification from a security token to a non-security once it had demonstrated that it was sufficiently decentralized.
Disclosure: At the time of writing, the author of this piece owned ETH and other cryptocurrencies.