Is Justin Sun About to Bail Out FTX? TRON Boss Swoops in as SBF Faces Ruin
Justin Sun has said that his team is "putting together a solution" with FTX.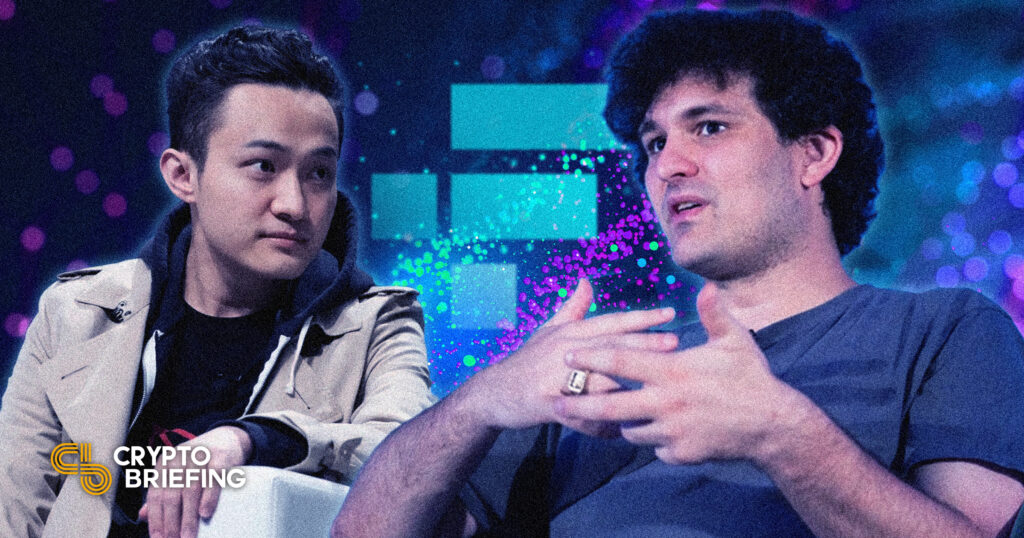 Key Takeaways
TRON founder Justin Sun is reportedly looking at ways to help FTX.
The news comes less than 24 hours after leading crypto exchange Binance backed out of a potential FTX bailout.
FTX is also allegedly planning to raise money to plug the hole in its balance sheet per a leaked Slack post from CEO Sam Bankman-Fried.
It comes after a new report has alleged that Sam Bankman-Fried moved $4 billion worth of FTX funds to save Alameda Research.
FTX Reportedly Seeking New Raise
Things are going from bad to worse for FTX, but the troubled exchange may have found a white knight in Justin Sun.
It's been a disastrous week for FTX and its chief figurehead Sam Bankman-Fried after it emerged that the exchange was facing a "liquidity crunch." Binance shocked the industry when it announced its intention to help bail out the exchange Tuesday, but the firm has since published a statement confirming that it is walking away from the planned deal citing due diligence checks and reports of misappropriation of customer funds. It's rumored that FTX could have a hole of up to $10 billion in its balance sheet, though the full extent of the damage is unknown.
Hours after Binance announced it was stepping away, TRON founder Justin Sun surfaced on Twitter to say that he was looking at ways to help FTX. Though he didn't share the full details, he wrote that he and his team were "putting together a solution together (sic) with #FTX to initiate a pathway forward." Sun said that he was stepping in as part of a commitment to TRON community members and to "avert further deterioration" in the crypto industry.
UpOnly podcast co-host and key industry figurehead Cobie tweeted a draft of a Slack message that Bankman-Fried allegedly sent to FTX employees on Slack early Thursday, which appears to show that the exchange is seeking an additional raise. "For the next week, we will be conducting a raise," an excerpt from the note reads. "We have had talks with Justin Sun." Cobie claimed that he had verified the note as genuine with another source.
While Sun is known for his large crypto holdings and sometimes controversial endeavors, his announcement will likely come as a surprise to some given the severity of the allegations leveled against FTX. A Thursday report from Reuters alleges that Bankman-Fried moved $4 billion worth of FTX funds to save Alameda Research after the trading firm suffered losses in the wake of Three Arrows Capital's collapse, which would place the disgraced 30-year-old executive in a tight spot if confirmed. Crypto sleuths have pointed out that Bankman-Fried confirmed on Twitter that FTX was "rotating a few FTX wallets" in September, which has raised suspicion that he was fraudulently moving assets over to Alameda. Bankman-Fried famously rose to prominence in the crypto space at the helm of Alameda before stepping away as FTX grew, but the tight-knit relationship between the two entities has remained a point of contention and concern in the crypto community.
On Wednesday, it emerged that the Department of Justice and SEC were investigating the FTX situation, and the exchange's employees have reported that Bankman-Fried has gone silent over the past 24 hours. It's speculated that he may have fled the Bahamas, though those rumors are unconfirmed.
While the situation is developing quickly and there are still many unknowns to the ongoing saga, for now there seems to be little doubt that FTX and Alameda are in serious trouble, with possible legal ramifications to follow. Whether Sun can save FTX, and what that would mean for Alameda, remains to be seen.
Additionally, in a year that's seen many ego-driven crypto thought leaders suffer huge falls from grace, the crypto community has overwhelmingly decided it has a new public enemy number one: Sam Bankman-Fried.
Disclosure: At the time of writing, the author of this piece owned ETH and several other crypto assets.