Justin Sun Gambles On A Big Mouth For TRON dApp Adoption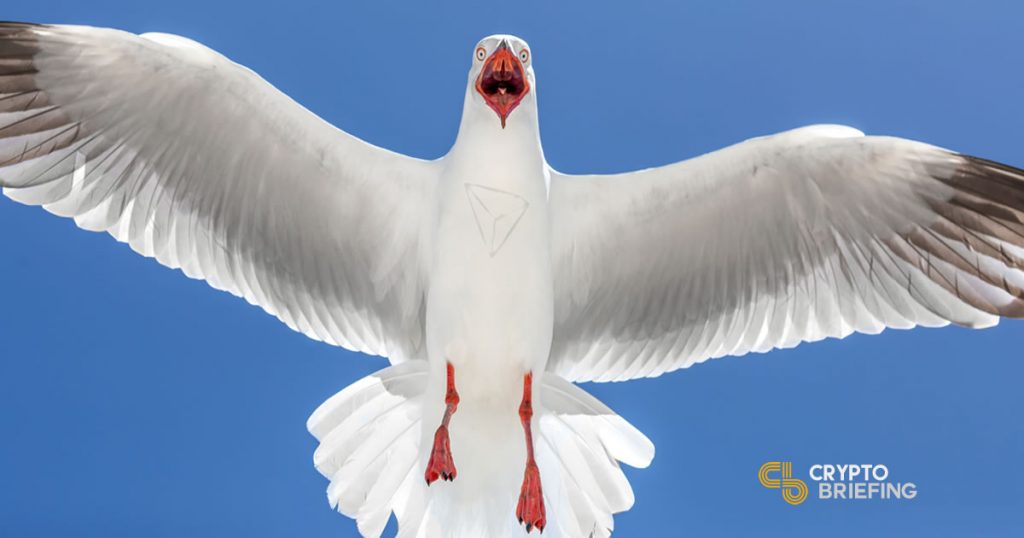 Justin Sun of Tron has given the blockchain community many things, from Twitter wars with Ethereum Co-Founder Vitalik Buterin, to the fastest and most transactions of any other network in the universe. Ever.
No really, he said so.
Despite his ongoing publicity-seeking antics, Tron developers have filled Sun's stocking with some of the most popular decentralized apps (dApps) that crypto has to offer.
Ten trillion gazillion of them to be exact, and they're all better than anything else that ever existed.
Joking aside, Sun's project has been gathering pace and the high-profile nature of its leader seems to be paying dividends.
Sun may be gambling on a tactic that has increasingly defined communication between rival parties these days – act like a jackass on Twitter, stir up the base, reap the rewards.
Developers are undoubtedly coalescing around the business, and dApps are popping up all over the place. – so something's working. Here are a few of the leaders in the TRON space today.
---
TRONDice
It's not shocking that gambling apps take the lead for most blockchain platforms, including Tron, considering that the crypto community has many speculators.
TRONDice, which was created by developers in China and the U.S., bills itself as "the most popular dApp on Tron." They're right, based on the number of users. With nearly 2,600 users, TRONDice is neck-and-neck with rival gambling app TRONbet. One of the popular features on TRONDice is the Dice Token, which distributes 70% of profit dividends to users.
TRONDice is a cross between a slot machine and Russian Roulette. First, players must place a bet with TRX tokens and predict a number range, after which time a smart contract-fueled roll of the dice will begin. If the number lands within your range, you win. While we can't promise it will go your way, Justin Sun suggests your odds are pretty good and recently tweeted: "Trondice now reaches 200 million TRX total won!"
---
Tronbet
Tronbet is another leading gambling dApp on the Tron network, boasting nearly 2,500 users. TRONbet has incorporated familiar features like dividends, dice and moon into the gaming platform, which they say was the "first-ever dApp on TRON."
One of the notable stats for TRONbet is the number of transactions, which for the last 24-hour period hovers at 760,819. Based on this metric, TRONbet is the leading dApp on the network. But that's nothing. According to Dapp Review, TRONbet reached an "amazing milestone" when it generated nearly 1 billion in TRX volume in the 24-hour period leading up to Dec. 12.
Meanwhile, on social media, one Reddit member illustrated how important TRONbet volume is to the network itself. Evidence of the game's impact on Tron spilled over into other Reddit threads, too, where one member asked, "What happened to volume and transactions on TronScan??????", pointing to transaction volume that was nearly halved.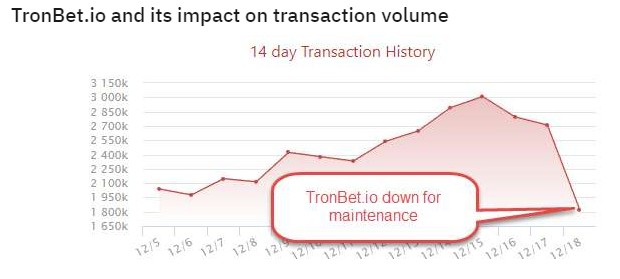 ---
TRON Anthills
Even lazy ants have a key role in the longevity of their colony. TRON Anthills (also known as TronAntsFarm or Ant Farmer) is an "idle game" that lets users accumulate ants and make anthills that can then be converted into TRX.
The dApp launched in mid-December and Anthills is already the leading high-risk dApp on the Tron network. Anthills boasts 750,000 TRX on the platform. The price per ant adjusts based on supply and demand dynamics within the game, and 1 ant is currently trading for 3 TRX, according to the dApp's Twitter feed.
Just watch out for transaction fees, as Twitter followers have run into some issues converting their ants into anthills without enough funds in their TronLink or Scatter wallet.
---
TRXMarket
TRXMarket is the self-proclaimed maiden decentralized exchange of TRC20 tokens on the TRON network. It is currently jockeying for position with GOC DEX, the latter of which is currently ranked as the second most popular exchange dApp on the Tron blockchain.
TRXMarket shot up to the No. 3 spot on Dapp Radar only days after being launched. One of the top features is zero transaction fees.
TRXMarket currently boasts 162 users and volume of 16.7 million TRX in the last 24-hour period across more than 1,000 transactions. To start, users must download the TronLink wallet.
Among the trading pairs that TRXMarket currently supports are DICE/TRX and FUN/TRX. TRXMarket has already suffered one delisting, BET/TRX, but they say they're adding the KAOS/TRX pair. The newest coin to be added will be gaming token ANTE on Christmas Eve.
---
Chibi Fighters
No wonder there is a rivalry between Justin Sun and Vitalik Buterin. Crypto game Chibi Fighters, which features a collectible trading token, became popular on the Ethereum blockchain.
Now it's launching a TRX version. While the game's website says Chibi Fighters will debut on Tron in early 2019, they have already attracted nearly two-dozen users on the network, according to Dapp Radar.
Chibi Fighters is in the midst of a pre-sale of the FCF token, which appears to be 75% complete. The game features Chibi fighters, who are "fierce little warriors that know no mercy."
Justin Sun won't let all this success stop him from taking swipes at rival blockchains, however, and in recent days he Grinchily urged developers not to "go down with the [Ethereum] ship."
Ethereum and @ConsenSys are slowly imploding. The 60% layoff and 90% price drop is just the beginning. That's what happens when u can't keep up with DApps & no funding! Developers leaving & project shutdown will be next. Don't go down with the ship! #TRON #ETH @VitalikButerin

— Justin Sun (@justinsuntron) December 23, 2018
Happy holidays to you too, Justin…
The author is invested in digital assets, but none mentioned in this article.