K-Pop Group BTS Adds to NFT Hype With First Collection
K-pop megastar band BTS joins a growing list of musicians to enter the NFT space.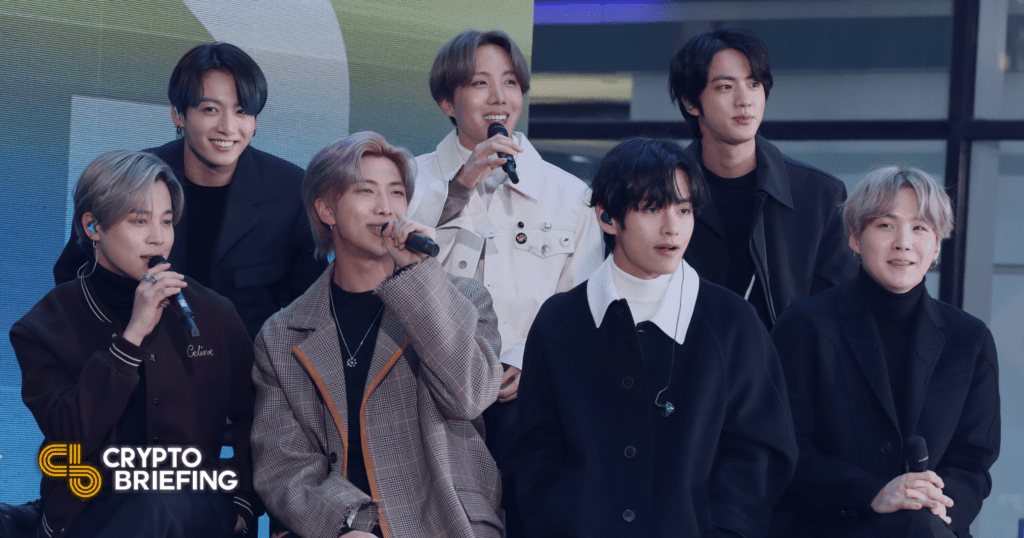 Key Takeaways
Hybe, the agency managing K-pop sensation BTS, has partnered with crypto exchange Upbit to launch an NFT photo card collection.
Hybe also plans to release original stories in web cartoon and novel formats starring BTS members, and a video game co-produced by the band.
Many other musicians including Doja Cat, Katy Perry, Eminem, and Aphex Twin have issued their own NFTs this year.
BTS, the world's most popular K-pop group, has partnered with South Korea's largest crypto exchange, Upbit, to release a set of NFT photo cards.
The Bangtan Boys Enter the NFT World
Fans of the megapopular K-pop boy band BTS will soon be able to collect and trade digital photo cards of their favorite band members in the form of NFTs.
Hybe Co., the managing agency behind BTS, will partner with South Korean crypto exchange Upbit to sell NFT photo cards related to the band, the company announced Thursday. The agency also plans to release original stories in web cartoon and novel formats starring the Bangtan Boys starting January, as well as a video game co-produced by the band members coming at a later date.
The deal will see Hybe purchasing a 2.5% stake in Dunamu, the company behind the Upbit exchange, for $423 million, while Hybe will issue new shares worth roughly $590.5 million to Dunamu. In a press release, Hybe said BTS is venturing into NFTs to expand the fan experience of its massive global audience. BTS has fans spanning seven continents. The group has sold millions of records worldwide and has won hundreds of awards from music institutions like Grammy and MTV.
Hybe founder Bang Si-hyuk said in an online briefing that the goal of issuing NFTs is to provide secure photo card ownership and "allowing them to be collected, exchanged, and displayed in a global fan community where instead of a single photo, it can be turned into a digital photo card with moving images and sound."
The K-pop megastars are only the latest in a growing list of major musicians to mint their own NFTs as the technology increasingly pervades the mainstream. In September, rap superstar Doja Cat issued her own NFT collection on the Tezos blockchain. Other artists to release their own NFTs include Katy Perry, Eminem, The Weekend, Grimes, Kings of Leon, and Aphex Twin.