Kraken Invokes The Fatal Attraction Defense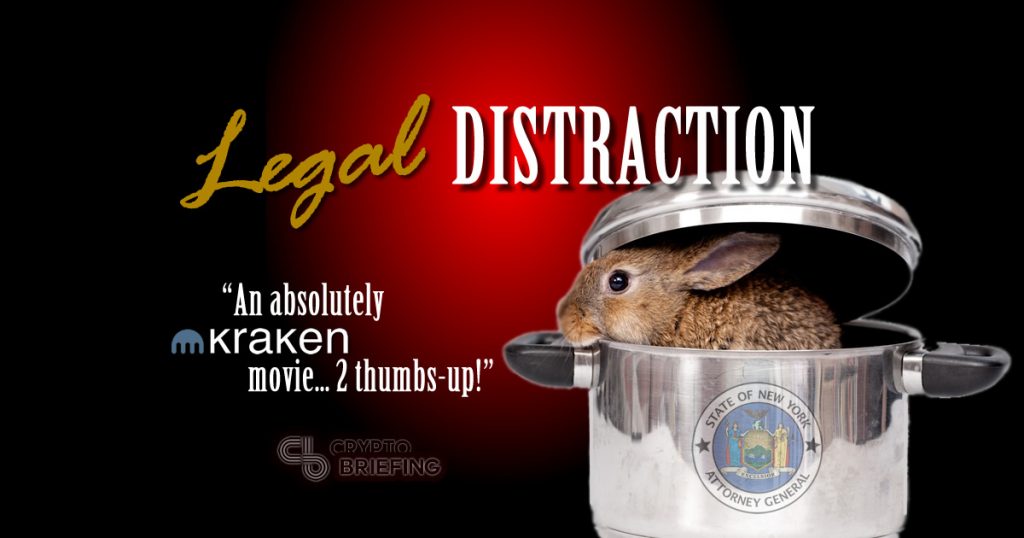 We're not lawyers, but there are a couple things we learned from watching legal dramas: First, never talk to the cops without an attorney. Second, never consent to a search. And third—this should go without saying—don't call attention to yourself by sending passive-aggressive tweets to an Attorney General who's already out for your blood.
---
Staffers at the Kraken Exchange do not seem to watch many legal dramas, based on their reactions on Twitter. In response to a report from the New York Attorney General, which raised the possibility that Kraken was in "potential violation of New York's virtual currency regulations," the exchange responded with a flurry of angry tweets.
Thanks to the NY taxpayer for funding this research — saved our Product team a lot of time, and we got some interesting non-public info on our competitors. Excellent overview of issues, and a nice list of 'Questions Customers Should Ask' on pg 32. https://t.co/S5XxopBEyC

— Kraken Exchange (@krakenfx) September 19, 2018
In a separate thread, Kraken CEO Jesse Powell compared the Empire State to an "abusive, controlling ex." Yikes.
NY is that abusive, controlling ex you broke up with 3 years ago but they keep stalking you, throwing shade on your new relationships, unable to accept that you have happily moved on and are better off without them. #getoverit https://t.co/DC5S1WyRnp

— Jesse Powell (@jespow) September 19, 2018
The spat was prompted by a report on the "Virtual Markets Integrity Initiative," issued by the Office of the Attorney General.
Kraken isn't New York's only jilted ex…change. Although New York was formerly a center for Bitcoin entrepreneurship, tight regulations around BitLicense issuance forced crypto-enterprises to leave the state. Many crypto exchanges do not allow registrations from New York IP addresses, including Poloniex, Bitfinex, and, yes, Kraken.
---
Slapfight on Social Media
If New York is a bad ex, the OAG report is the bunny boiler. Although the report sought "voluntary participation" from exchanges, the report is peppered with unsubtle warnings against the four which chose not to respond.
"Based on this investigation," the report says in its opening paragraphs, "the OAG referred Binance, Gate.io, and Kraken to the Department of Financial Services for potential violation of New York's virtual currency regulations."
The OAG does not publish the reason for suspicion, and the responses of these three exchanges has not been publicized. However, based on how the OAG phrased its responses, at least one exchange poked the bear in the eye:
….the Kraken platform's public response is alarming. In announcing the company's decision not to participate in the Initiative, Kraken declared that market manipulation "doesn't matter to most crypto traders," even while admitting that "scams are rampant" in the industry.
There are certainly concerns here that the OAG may be overstepping: what are 'potential' legal violations? Is it a 'potential' legal violation if I have a driver's license and I'm not wearing a seatbelt… even if I'm watching Hill Street Blues in my living room?
---
New York Targets Exchanges, Again
Ostensibly to protect New Yorkers from "unfair and deceptive practices," the Office wrote to thirteen major exchanges. The OAG report is based on their responses.
Some parts of this story are familiar. The OAG enjoins New Yorkers to "be wary of platforms that allow new customers to on-board without adequate safeguards," and to watch for ""hidden" or non-obvious charges [that] may be associated with trading activity." The office also also found "no rhyme or reason" in the way exchanges chose new assets to list.
Others might be new. Contrary to Kraken's objections, market manipulation does matter to serious crypto traders, as does the preponderance of scams. You might not be so eager to day-trade on the five exchanges which have no formal manipulation policy, or that some make no bones about trading on their own platforms.
---
Still, it's disappointing to see Kraken getting into a catfight, even if the Attorney General started it.
When Kraken struck back at Bloomberg for the organization's usual crass coverage of crypto, there was strong support in the community for a major player that stood up to Bloomberg's bullying.
But on this occasion, it's possible that their stance may attract negative regulatory attention to cryptocurrency, for which there is such a thing as bad press. In which case it's likely to slow issuance of BitLicenses in a state which has only recently has started to open up.
So is their reaction a good thing or a bad thing for cryptocurrency? Perhaps it's too Close to call.
The author has investments in digital currencies.