Charlie Lee Dumped His LTC: Litecoin Should Return The Favor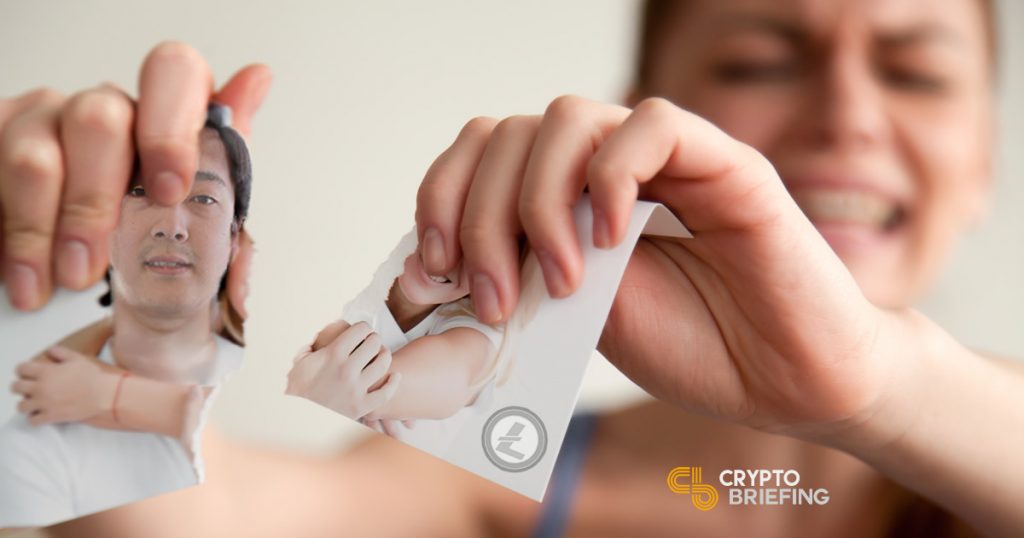 Charlie Lee is in the news, again. This time the founder of Litecoin (LTC) has taken to Twitter to dispel negative rumors and add in some of his own for good measure.
In a thread spanning 11 tweets published earlier this morning, Lee argues against rumors spread about Litecoin. He claims the LTC price has been 'suppressed' because a cabal of funds and interested parties are shorting the coin as they see it as a 'threat'.
1/ Recently, there has been a concerted effort to suppress Litecoin price by people/funds that are shorting LTC and by groups that see Litecoin as a threat. I will clear up this FUD and show why Litecoin has tremendous value.

— Charlie Lee (@SatoshiLite) September 20, 2018
Lee's tweets also refute claims that the LTC network is unprofitable to mine; that it is just a testnet for new technology ultimately designed for Bitcoin (BTC); and that it's current $3bn market cap is an unjustified valuation. One of his tweets refers to claims that Litecoin has lost its technological edge in a saturated market, something this author has suggested in the past.
---
Charlie Lee: The Founder.
Charlie Lee developed Litecoin in 2011, while he was working as a software engineer at Google. He moved to Coinbase in July 2013 as an engineering manager, and only left to work on Litecoin in June 2017, leaving his position as the exchange's Director of Engineering. Despite Litecoin's market cap being mostly worth over $150m since spring 2013, Lee has spent just over a year working full-time for the project.
Lee is the leader of the LTC network; Vitalik Buterin holds a similar sort of position in the Ethereum (ETH) community. As the sole creator, Lee is a unique position of considerable authority and influence over the project's development and long-term future. It also means that his persona is closely tied to that of his creation.
"Litecoin…has a well-recognized leader and figurehead whose persona acts as the ultimate decision authority in matters relating to vision and development," a recent report by the crypto investment and research firm CoinShares said.
A project having a figurehead is not necessarily a bad thing. They can give much-needed guidance and long-term direction to a community spread thinly across the world. Projects that rely heavily on their communities can splinter easily. Would some of the Bitcoin community have fractured off to create Bitcoin Cash (BCH) had Satoshi Nakamoto remained active and continued to define what his vision was?
The problem is they can become a point of vulnerability. The fate of the project is tied up with that of the leader. A market meltdown can occur if news gets out that they're sick or dying. A hoax that Buterin had died in a car crash caused a near $10bn overnight wipe-out for Ether's market cap in June last year.
A wrong decision or slip of the tongue can be embarrassing for the project's lead, but it will ultimately hurt investors more. This isn't just restricted to cryptocurrency. Tesla's stock price has tanked over the summer following a series of Elon Musk-related blunders, including being sued for defamation after repeatedly calling a British diver a 'pedo' and smoking cannabis live on air.
---
Does Litecoin (LTC) need him?
Since moving to work full-time on the project last year, Lee has made some notable blunders. He endorsed and bankrolled the LTC payment application LitePay at the beginning of 2018, admitting that their due diligence was not sufficient in figuring out if the company could deliver on its promises (it turned out that it couldn't).
When LTC prices peaked at over $350 each in mid-December, Lee completed liquidated his entire Litecoin holdings. Although he claimed this enabled him to work on the project with sufficient detachment, the move was strongly criticised by the wider community.
Some wonder whether Litecoin can continue, if its creator has sold out completely.
Lee's conspiratorial tone in his tweet thread today is another example of his shortcomings. This publication has suggested that cryptocurrencies need to be able to demonstrate their wider utility and the unique problem they address. It is simply not enough for the leader to argue that mysterious agents are dragging the price of an asset down because it's a 'threat'. Who are these unnamed parties? How does Litecoin pose a threat to their interests?
LTC is fighting for its survival in a market saturated with peer-to-peer cryptocurrencies. The project has rested on its laurels for far too long, venerability can only get you so far before vulnerability defines you.
Litecoin doesn't need Lee's leadership. The core-team and fellow board members of the Litecoin Foundation could provide direction with more initiative coming from its still considerably-sized community.
Lee said in an interview back in April that selling his holdings was the 'first step' for him to remove himself completely from the project.
Charlie Lee dumped his LTC at the best possible time; maybe Litecoin should return the favor.
The author is invested in BTC and ETH, which are mentioned in this article.