Bitcoin's Lightning Network Is Still Struggling To Spark
Large node operators report returns at just three decimal places.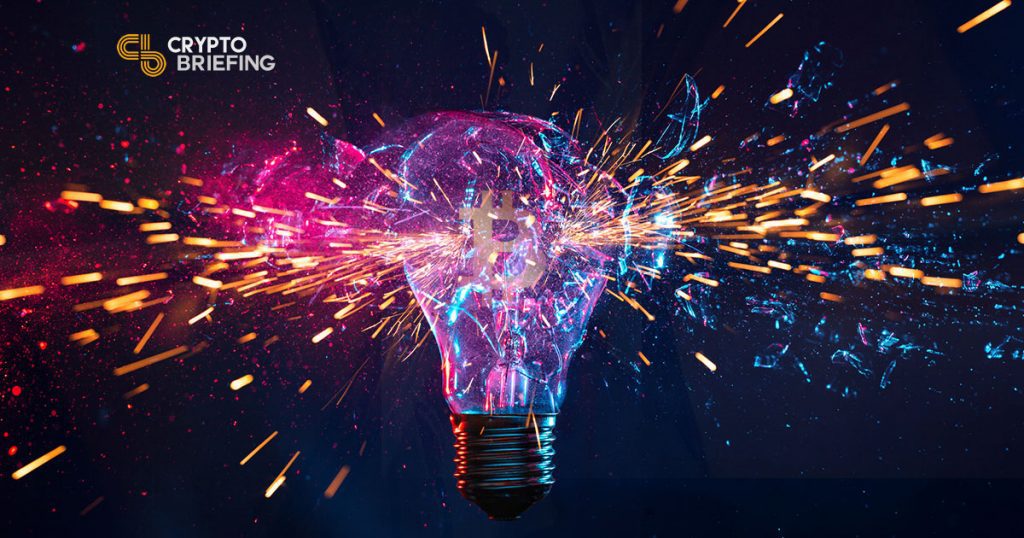 Poor returns could put a damper on Bitcoin's scaling solution, the Lightning Network. A report by crypto investment firm ID Theory found that the number of active Lightning Network channels fell by nearly a quarter since the beginning of this year.
As the graph below highlights, the number of unique channels – which connect nodes for the first time – increased significantly in the first three months of the year. The number of unique channels between nodes rose from nearly 15,000 in December to more than 36,200 by the middle of March.
But the number of channels has since fallen, with just over 28,000 unique channels at the beginning of this week. That's a drop of 23% since the all-time high.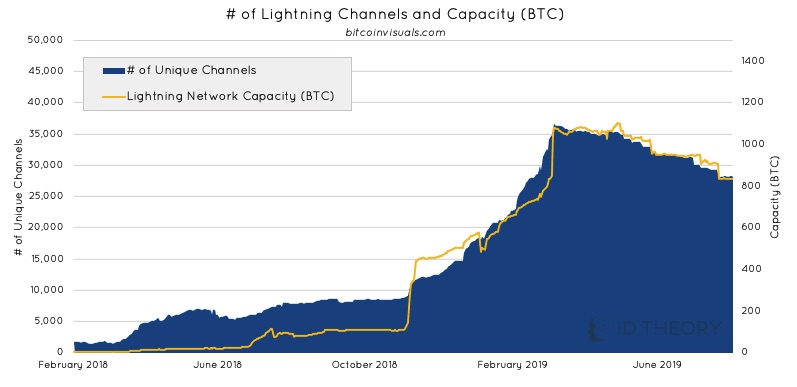 Meanwhile, the capacity of those channels has steadily decreased, both in dollar and BTC valuations. After reaching nearly 1100 BTC on May 11th, total channel capacity has fallen to less than 830 BTC, as Crypto Briefing previously reported.

At the same time, the number of Lightning nodes has slowed but continues to increase. At present there are 4,760 nodes with channels, double the figure at this time last year.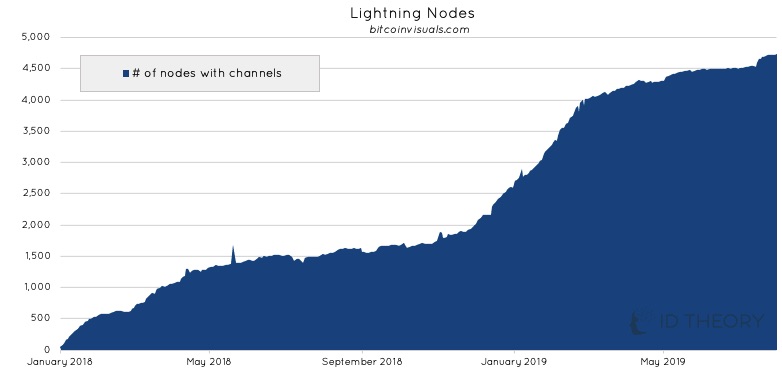 Source: ID Theory
The Lightning Network is a layer-two payments solution that launched in January 2018 to facilitate small bitcoin payments, which are currently impractical due to fees and block times. Rather than transacting on the blockchain, each channel acts as an IOU between neighboring nodes, whose balance changes as the nodes route payments.
These balances are only settled on the ledger once the channels are closed. For the end-user, that practically creates near-instant transaction times with very low fees.
"A lot of [existing] nodes are closing out their underutilised channels," said Lewis Harland, the ID Theory analyst who collected today's results. "Opening and closing of channels require on-chain transactions and so it becomes expensive to use as a system if only single-transactions are made in LN channels simply because it's capital intense, structurally."
Although it's difficult to know for certain, the findings point to a worrying trend of new nodes opening with only one or two new channels. Some aren't opening any at all.
In some respects, this could be a consequence of the network's success. Becoming a Lightning node has never been easier, and hardware merchants like Casa offer plug-and-play boxes designed to allow anyone, even non-technical people, to set-up and run a node.
The uninterrupted growth in Lightning nodes could be a sign that amateurs or enthusiasts are joining the network without intending to launch full-time nodes or set up numerous channels. It's worth noting that the number of nodes without any channels has gradually increased, from practically zero at the end of Q1 to roughly 70 this week.

But the more salient point is that there are few incentives to open multiple channels. Lightning routing fees are too tiny to justify the risk of storing large amounts of bitcoin in online channels.
Even a large-scale node operator like LNBIG, who claims to run approximately 40% of the entire Lightning Network and has $5M worth of BTC locked up, has had little choice but to close underused channels in order to remain economically viable.
LNBIG's official twitter account highlighted just how uneconomical it is to run an LN node in the current climate. Statistics released last week found that for the sum total of 0.057 BTC – approximately $520 at August 18 prices – transferred across the network, LNBIG collected routing fees of just 0.06%, less than one cent.
In a Reddit post a few months ago, LNBIG said their total routing fees over an entire month added up to barely $20. On an annualized ROI that works out as $48 per million dollars of BTC; LNBIG is making a whole $240 return – 0.0048% – for locking millions of BTC in the scaling protocol.
For example today stats (last 24 hours)
Amount transactions: 256
The sum of transfered BTC: 0.05725352
Fee earning: 3535 sat (0.00003535 BTC) #LightningNetwork

— ⚡️LNBIG⚡️ (@lnbig_com) August 18, 2019
Opening channels requires locking up additional capital. With such a poor rate of return, some nodes could be closing channels in order to release their crypto for more profitable uses.
Unless routing fees improve, the scaling protocol could consolidate into the hands of just a few node operators. If they go, the Lightning Network might be gone in a flash.