MakerDAO's DAI Heads to Ethereum Layer 2 StarkNet
Ethereum's "blue chip" stablecoin protocol has announced a four-phased integration with the rollup-based Ethereum Layer 2 scaling solution StarkNet.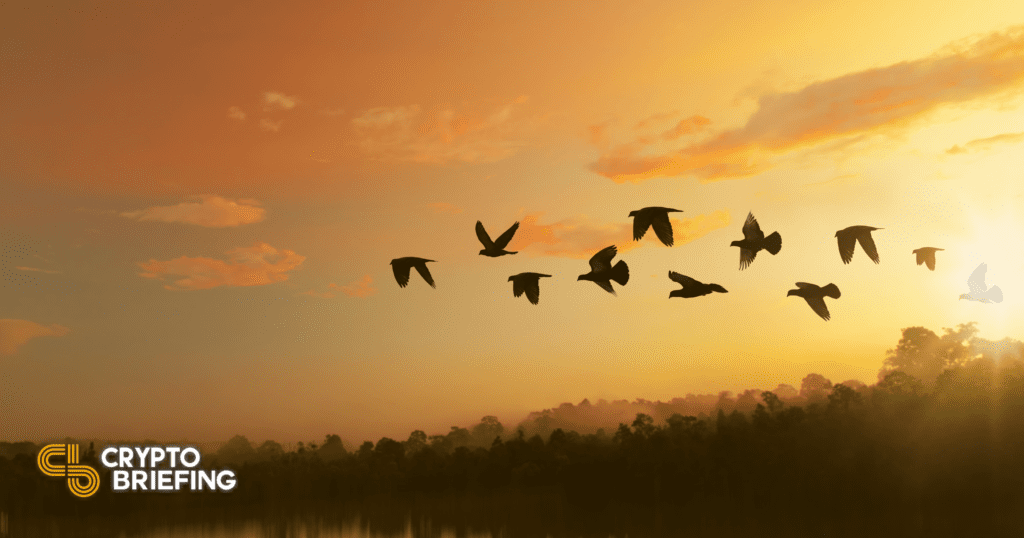 Key Takeaways
MakerDAO has announced a multi-phased integration with the Ethereum Layer 2 network StarkNet.
The first of the four planned phases will include a DAI bridge between Ethereum and StarkNet. It's due to go live on Apr. 28.
MakerDAO plans full protocol integration with StarkNet by early 2023.
MakerDAO, the DeFi project behind the second-largest decentralized stablecoin on the market, DAI, has announced its plans to start an integration process with the Ethereum Layer 2 network StarkNet this month as part of its long-term multi-chain expansion strategy.
MakerDAO Announces StarkNet Integration
MakerDAO is expanding to another Ethereum Layer 2 network.
The pioneering Ethereum DeFi protocol, best known for creating the decentralized stablecoin DAI, has revealed its plans to expand to the Ethereum Layer 2 network StarkNet. The integration process will involve four phases, starting with a simple bridge between the two networks scheduled to go live on Apr. 28. The second phase, planned for Q2 2022, will allow fast withdrawals from the Layer 2 to the Layer 1, followed by an upgrade including a "teleportation" feature to allow instant DAI movement between different Layer 2 networks. Finally, in late 2022 or early 2023, the fourth phase will feature a full-scale integration of MakerDAO on StarkNet.
StarkNet is an Ethereum Layer 2 scaling solution built by StarkWare, an Israeli crypto startup reportedly valued at $6 billion. It leverages Zero-Knowledge Rollups to help scale Ethereum by several orders of magnitude while benefiting from the security of the base chain. MakerDAO's integration with StarkNet means that users will be able to bridge DAI from Ethereum mainnet to the overlay network and transact with the stablecoin there with faster settlement times and cheaper costs. According to StarkWare, StarkNet should offer 100 to 200 times cheaper fees than Ethereum. The number two blockchain's inventor Vitalik Buterin has previously stated that the rollups like StarkNet could help the network achieve 100,000 transactions per second, which would be a significant increase from the current average of about 15. Furthermore, the second and third implementations of the integration should turn DAI into a truly multi-chain stablecoin, letting users move it between different Layer 2 networks and back to Ethereum mainnet at high speeds and low costs.
MakerDAO has said that once the fourth phase of the implementation is finalized by the first quarter of 2023, users will be able to mint DAI natively on the StarkNet network using different cryptocurrencies as collateral. According to StarkNet, this should make the borrowing or minting costs about ten times cheaper than on Ethereum, improving DAI's chances of becoming the preferred stablecoin of choice in the multi-chain crypto ecosystem.
MakerDAO, which integrated the Ethereum Layer 2 solutions Arbitrum and Optimism last year, has faced criticism from the crypto community and rival stablecoin projects for its alleged centralization problem and refusal to expand to new ecosystems. According to data from Dai Stats, roughly half of DAI's collateral is in the centralized stablecoin USDC as collateral, which is where much of the criticism stems from. Terra's co-founder, Do Kwon, recently pledged to end DAI by announcing a new, heavily-incentivized liquidity pool for UST on the largest decentralized exchange, Curve Finance. Kwon is hoping that the new pool, dubbed "4pool," will starve DAI of liquidity and help Terra's UST thrive. Due to higher capital efficiency and more expansive multi-chain adoption, UST has grown to double the size of DAI, which has put significant pressure on MakerDAO to innovate and compete.
While Ethereum DeFi users will likely welcome the MakerDAO news, the announcement of the forthcoming integration with StarkNet has failed to move the needle in MakerDAO's governance token MKR, which is currently trading around the $1,850 mark, 1.5% up on the day and 70% down from its all-time high price of $6,292.
Disclosure: At the time of writing, the author of this piece owned ETH and several other cryptocurrencies.