Miami Mayor Reveals Plans for "Bitcoin Yield" to Residents
The move is one of several Suarez has made this year to promote Miami as a crypto and blockchain hub.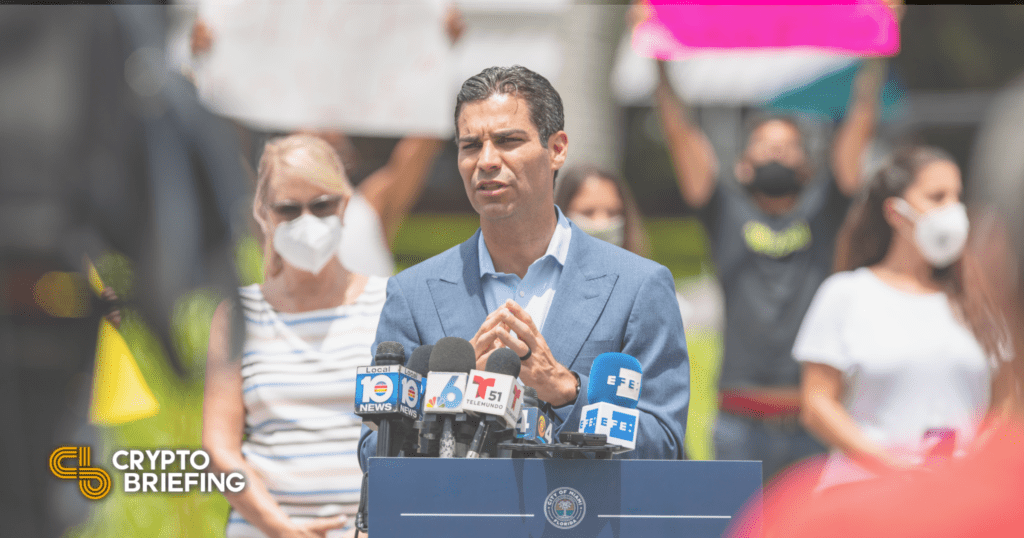 Key Takeaways
Miami's Mayor has revealed the city is planning a "Bitcoin yield" for its residents.
According to the mayor, the funds will derive from the staking of the city's own cryptocurrency, MiamiCoin.
The initiative is part of the city's larger plans to become at top crypto hub in the U.S.
Francis Suarez, Mayor of Miami, suggested in an interview this morning that a "Bitcoin yield" for city residents may soon be on the way. The initiative is part of Suarez's larger plan to make Miami the blockchain hub of the United States.
Miami Mayor Teases Bitcoin Yield
Miami Mayor Francis Suarez broke news this morning on CoinDesk TV by announcing plans to distribute a "Bitcoin yield" to its residents. The yield derives from the staking of Miami's own cryptocurrency, MiamiCoin, launched earlier this year. According to the mayor, the plan would involve setting up digital wallets for all residents to receive the distributions.
According to the mayor in the interview, MiamiCoin has already earned more than $21 million for the city since it launched in August. Mayor Suarez explained that if that revenue were annualized, it would amount to approximately one-fifth of Miami's annual tax revenue. The mayor speculated that, should the city manage to multiply that figure by five, it may be theoretically possible to eliminate the need for city taxes.
Suaraz has positioned himself as a staunch crypto advocate in an effort to brand Miami as a hub for blockchain business and innovation. Earlier this month the mayor announced that he would accept his next paycheck in Bitcoin, and advocated investing a portion of the city's reserves in Bitcoin as early as January of this year.
"We're trying to create a comprehensive Bitcoin and crypto ecosystem so that we can grab the mantle of the most crypto-friendly city in the U.S.," he said.
Mayor Suarez has drummed up a friendly rivalry with New York City Mayor-Elect Eric Adams, who also seeks to promote his city as hub for crypto business and innovation. Soon after Suarez announced his decision to accept a paycheck in Bitcoin, Mayor-Elect Adams countered by announcing he would accept his first three checks in the cryptocurrency.
Disclaimer: At the time of writing, the author of this piece owned BTC, ETH, and several other cryptocurrencies.