Nash Exchange: The Compliant Crypto DEX Of The Future Arrives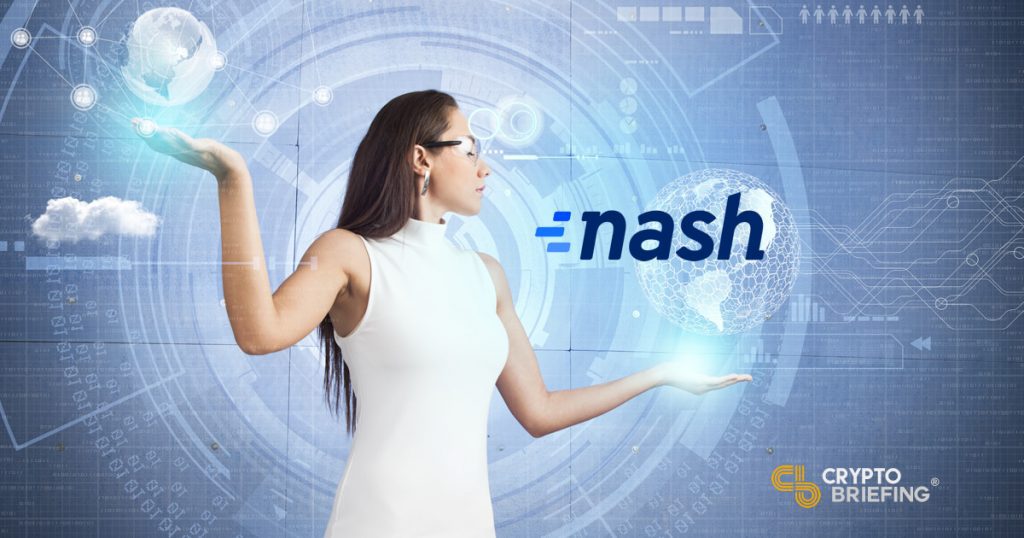 Nash Exchange is a non-custodial exchange that will soon launch its beta platform among core community members. Upon its launch, the exchange aims to offer trading pairs with NEO and Ethereum, providing fiat gateways for United States and international-based investors.
As decentralized exchanges (DEX) and liquidity protocols launch in 2019, Nash co-founder Fabio Canesin doesn't believe a true DEX exists today. In a conversation with Crypto Briefing, Canesin stated a DEX "is an exchange that has no custody, which means that no central agency can manipulate the market."
In the decade since Bitcoin's inception, templates for centralized exchanges have become common. These cookie-cutter templates provided ample reason for Nash Exchange to set out to create a non-custodial exchange from scratch, even though it is a much more difficult task to accomplish.
---
Nash's meticulous approach to the exchange design
Today, exchanges do not need to design their trading protocols or infrastructure. There are markets where this architecture is bought and sold. According to Canesin, a "very decent exchange" can be bought for around $200,000. Though he said, "I would not vouch for the security of those systems, but [entities can] do that."
At the time of the Nash's inception in late 2017 as NEX (it has rebranded since), the particular exchange protocols the team sought to build into their platform did not exist. So, Nash designed their own unique set of protocols for smart contracts.
One protocol is specific to funds; one is specific to trading; and, one communicates between the two other protocols.
The five founders of the Nash Exchange opted to take their time and slowly build the three protocols critical for the non-custodial chain, as opposed to first launch a centralized exchange to derive a source of revenue.
Had the team first launched a centralized exchange, following other exchanges such as Binance, Canesin believes the non-custodial exchange would've taken longer to launch.
He says this is "because it creates a situation where you have a company that's generating income from a service, but is trying to build something to replace it." There would be friction in determining how much to invest in each project.
As a non-custodial exchange that offers a variety of trading pairs, Nash Exchange has incorporated development processes for not only the NEO blockchain (where the projects raised its fund for the public token sale) but for Bitcoin and Ethereum as well.
---
Multichain development
Nash's five co-founders met through their participation in City of Zion (COZ), a community developer group that builds tools within the NEO ecosystem. In COZ, many of the five co-founders contributed open source code to core developer tools for the NEO ecosystem.
Canesin said the team's early contributions to the NEO ecosystem had a "very important role. We showed our capacity; thousands of people use products that we worked on. People know we can deliver good and secure [code]."
Though NEO was a significant part of Nash Exchange's beginnings, Canesin iterates "the product is not dependent on the NEO network." In scripting protocols, the Nash team incorporated other blockchain protocols such as Ethereum and Bitcoin.
Recently co-founder Ethan Fast tweeted, "we've finalized the protocol spec for Bitcoin trading on Nash this week. What we've come up with will provide significant improvements in security and performance over any of today's exchanges."
Further, Canesin stated, "it has been a pleasure to work with Ethereum. They have a much bigger community of developers." In designing smart contracts for tokens, Nash Exchange has also been hard at work on their own NEX token.
---
Uses of the NEX Token
The NEX ICO was one of the most highly-anticipated of the 2017/18 boom. (The project received the highest rating Crypto Briefing has ever given to an ICO.) In addition to the private sale, 25,000 lottery winners were each given the chance to invest $1,000 in the token, thereby preventing the sale from being dominated by a few rich players.
But Canesin and his team recognized that a DEX is one thing: a compliant decentralized exchange is another. To that end, they expended massive efforts to secure a remarkable accomplishment: they can now claim to have the first digital token fully registered as a European security.
As they explain on their website, "This protects Nash investors from market manipulation, fraud and insider trading. It also establishes the legal basis for us to offer investors a share of exchange revenue, giving the token itself sound economic fundamentals."
With the NEX token, users will be able to claim fees that have been accumulated from trading on the Nash Exchange via a staking mechanism. The fees are calculated in proportion to the number of assets traded or transferred on the exchange.
Users stake their NEX tokens in a smart contract that pays a portion of fees incurred on the platform. According to the white paper, the exchange collects fees of 0.25% on each transaction.
Participants have the option to stake tokens from one to 24 months. NEX token holders who commit to staking their tokens for more extended periods will receive a more significant proportion of fees.
The team believes it has made enough progress on its multi-chain development in preparation for the launch of the exchange: and that's imminent.
---
Community beta testing will focus on the user experience
The Nash Exchange is now conducting a community beta test of its trading platform, to gain feedback from those who follow the project most closely.
Canesin and the team anticipate about 1,000 people will participate in the testing, which will help project leaders learn about the general user experience.
To be competitive with larger exchanges like Coinbase in the next few years, Canesin believes "it's all about the service that you provide. So, [Nash Exchange] needs to provide better service."
---
Correction: An earlier version of this article incorrectly suggested that BTC is tradeable on Nash. This article has also been edited to reflect details of the NEX sale.
The author invests in BTC, ETH, NEX, and NEO, which are mentioned in this article.