NEX ICO Review and Token Analysis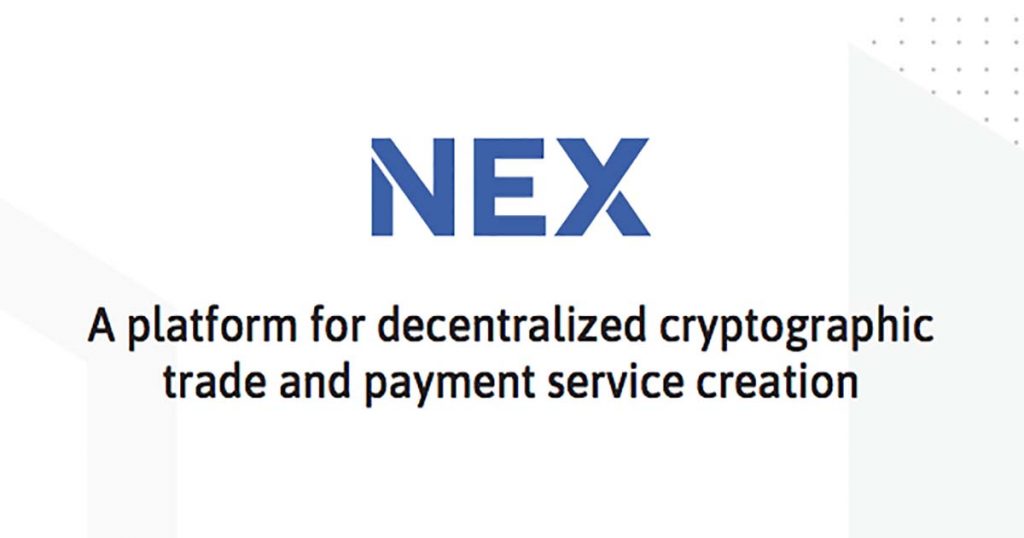 NEX ICO Overview
Cryptocurrency trading infrastructure is at a crucial crossroads in its development. Trading primarily occurs on centralized exchanges where user funds are exposed to the risk of hacking and lack of access to liquidity. Exchanging fiat for digital currency itself remains a barrier to wider adoption that is yet to be addressed on a broad level.
These issues are both major barriers to the growth of cryptocurrency as an asset. Within the crypto space, the benefits offered by decentralized exchanges (DEXs) are beginning to catch on. DEXs allow users to retain control of their funds, as trades are mediated by smart contracts on a blockchain; but on-chain computation is generally too slow to keep up with high volume order books.
As for the development of NEO itself as an emerging smart contract platform- the infrastructure needed to reach the scale envisioned by the project founders is still in its infancy. Enter the NEX ICO. (Update – news on token sale is coming on Feb 25th.)
Next Sunday, 25th February, we will release our Token sale information at https://t.co/jqH4mLSCeD and https://t.co/fshIB1SyU2 with all the details we have up to date. Read it carefully and get ready! pic.twitter.com/rMEeHv3tWJ

— neonexchange (@neonexchange) February 19, 2018
NEX ICO Value Proposition
Neon Exchange (NEX) is a decentralized platform on the NEO blockchain that applies a publicly verifiable offchain matching engine to handle trading volume and support complex orders (such as limit orders) that are not possible on existing DEXs. NEX will be the first exchange to utilize NEO, NEO Gas and its own NEX token as base pairs to trade NEP-5 tokens.
Designed to harness the combined benefits of both on/offchain solutions, NEX will receive orders from an offline wallet, match bids offchain and fulfil orders onchain. In addition to the exchange platform, NEX also introduces a payment service and funds management layer that enables third party smart contracts on NEO to send and receive assets.
Yet another feature of NEX will be the new, user-friendly smart wallet Chrome extension to store currencies off of the exchange while simultaneously allowing for instant trading. Co-founder Fabio Canesin described the wallet extension as a "MetaMask + NEON Wallet" application allowing users to access exchanges while safely maintaining custody of tokens.
Underlying the Neon Exchange is the NEX token. 50 million tokens will be issued that give holders a share of the profits generated by the payment service and exchange features of NEX. In this way, token holders who stake NEX benefit directly from the success of the exchange services: as more fees are generated, holders will receive larger rewards.
NEX ICO Team
Fabio Canesin is at the helm of the NEX ICO. Fabio is the originator of the City of Zion concept and a Co-founder of the project. He  holds an MSc in Computational Mechanics and Variational Multiscale Modelling. He has a breadth of business experience including the Oil and Gas sector. He is also Co-founder and CTO of Lemonaid Learning Analytics, a tech startup in Brazil.

Fabian Wahle, Co-founder and Developer  of NEX holds a PhD in Machine Learning and AI from ETH Zurich. Fabian is a co-founder and CTO of Augmented Reality med-tech company Altoida and also a Co-founding member of City of Zion.

Ethan Fast, Co-founder and Developer , holds a  PhD in HCI and AI from Stanford. Ethan is the founder of a Y Combinator backed startup, Proxino, in addition to being a Co-founding member of the City of Zion and a creator of Neon Wallet.
Advising the team are NEO Council founders Da Hongfei and Erik Zhang. The blessing and oversight of two NEO founders in the NEX ICO lends a large degree of credibility to the project and includes the backing of the project by Onchain.
NEX ICO Strengths and Opportunities
The proposed improvements NEX brings to the NEO ecosystem are wide in scope. The NEX wallet extension is planned for release before the ICO, which will provide a much anticipated alternative to the Neon Wallet.
One key advantage to the wallet extension is that NEX users will not have to worry about transferring their NEP-5 tokens on and off of the platform. In Q1 2018 as well, a native ICO platform for NEP-5 tokens is planned for launch, allowing for a more streamlined ICO process that initially got off to a rocky start. Further down the line on the roadmap, NEX will implement its decentralized banking platform, allowing users to use fiat to directly purchase NEP-5 tokens.
The roadmap is truly comprehensive, in that every crucial piece of the NEX ecosystem is included in the vision. Purchasing NEP-5 tokens with fiat, storing them safely and trading on a decentralized platform are all elements that comprise the vision of the NEX ICO project. This is by all means no easy feat to achieve, but the team behind the project have an exceptional track record and are capable of making the vision a reality.
The successful deployment of the NEX project will place NEO in a truly unique position within the crypto space as the first protocol to operate an entirely complete ecosystem.
NEX ICO Weaknesses and Threats
The crypto space is due for an number of decentralized exchanges in 2018, and NEX will have to contend with the competition. The NEO/NEO Gas/NEX based trading pair exclusivity is of particular note here when it comes to predictions on how the exchange will fare. ETH based trading pairs will not be available until Q4 2018 and BTC is as of yet unannounced.
On the one hand, the limitation to NEP-5 tokens may seem in some ways problematic; however, narrowing the focus of the exchange may indeed have the opposite effect of attracting a much larger user base because NEX will support the most integrated and comprehensive infrastructure for traders of NEP-5 tokens. In this sense, the strategy of launching the exchange to capture a particular niche of the market may well play out more toward the success of NEX in the long run.
By the time integration with ERC20 tokens comes around, having an established niche in the DEX playing field could well work toward the favor of NEX but remains a large uncertainty at this point.
There is a noticeable lack of hype around the NEX ICO for the fact that it is such an integral part of the NEO Smart Economy. It is arguable that the gravity of NEX at the center of the entire ecosystem will lock in users almost by default.
We believe the project and the NEO Smart Economy as a whole would stand to greatly benefit from a much more audacious approach toward community building.
It is unusual with an ICO planned for Q1 2018 that there is not even a Telegram chat to build a core community of supporters. We hope to see this change as the details around the actual ICO become more clear.
The Verdict on NEX ICO
The NEX ICO signifies a massive step forward in the development of the NEO Smart Economy. The introduction of NEO based trading pairs, improved wallet function, ICO launch platform and decentralized banking all represent a significant milestone in the development of the crypto space as a whole.
As of September 3rd 2018, we have invested in the NEX ICO.
Learn more about the NEX ICO from our Telegram Community by clicking here.
---
NEX ICO REVIEW SCORES
SUMMARY
The NEX ICO is a major development for both the NEO Smart Economy as well as the decentralized exchange market as a whole. The advances NEX offers to the NEP-5 token ecosystem are impressive and the team behind the project have a track record to be reckoned with. We will be placing a large bet on the NEX ICO.
Founding Team……………………….9.8
Product…………………………………..8.6
Token Utility…………………………..9.2
Market…………………………………..9.5
Competition…………………………..8.4
Timing……………………………………9.9
Progress To Date……………………8.9
Community Support & Hype…..9.2
Price & Token Distribution……..9.5
Communication………………………8.7
FINAL SCORE……………………….9.2
UPSIDES
All-star team with solid track record on both development and business ends
Comprehensive roadmap to a game-changing ecosystem
Attractive token utility and metrics
DOWNSIDES
Little attention to building community support
Product progress details still lacking
---
Today's Date: 1/3/17
Project Name: Neon Exchange
Token Symbol: NEX
Website: https://neonexchange.org
White Paper: https://neonexchange.org/pdfs/whitepaper_v1.1.pdf
Crowdsale Hard Cap: $25 million
Total Supply: 50 million
Token Distribution: 50% to crowdsale
Price per Token: 1 NEX = 1 USD
Maximum Market Cap (at crowdsale price): $50 million
Bonus Structure: N/A
Presale Terms: No presale
Whitelist: TBA
Important Dates: Q1 2018 ICO
Expected Token Release: TBA
---
ICO Review Disclaimer
The team at Crypto Briefing analyzes an initial coin offering (ICO) against ten criteria, as shown above. These criteria are not, however, weighted evenly – our proprietary rating system attributes different degrees of importance to each of the criteria, based on our experience of how directly they can lead to the success of the ICO in question, and its investors.
Crypto Briefing provides general information about cryptocurrency news, ICOs, and blockchain technology. The information on this website (including any websites or files that may be linked or otherwise accessed through this website) is provided solely as general information to the public. We do not give personalized investment advice or other financial advice.
Decentral Media LLC, the publisher of Crypto Briefing, is not an investment advisor and does not offer or provide investment advice or other financial advice. Accordingly, nothing on this website constitutes, or should be relied on as, investment advice or financial advice of any kind. Specifically, none of the information on this website constitutes, or should be relied on as, a suggestion, offer, or other solicitation to engage in, or refrain from engaging in, any purchase, sale, or any other any investment-related activity with respect to any ICO or other transaction.
The information on or accessed through this website is obtained from independent sources we believe to be accurate and reliable, but Decentral Media LLC makes no representation or warranty as to the timeliness, completeness, or accuracy of any information on or accessed through this website. Decentral Media LLC expressly disclaims any and all responsibility from any loss or damage of any kind whatsoever arising directly or indirectly from reliance on any information on or accessed through this website, any error, omission, or inaccuracy in any such information, or any action or inaction resulting therefrom.
Cryptocurrencies and blockchain are emerging technologies that carry inherent risks of high volatility, and ICOs can be highly speculative and offer few – if any – guarantees. You should never make an investment decision on an ICO or other investment based solely on the information on this website, and you should never interpret or otherwise rely on any of the information on this website as investment advice. We strongly recommend that you consult a licensed investment advisor or other qualified financial professional of your choosing if you are seeking investment advice on an ICO or other investment.
See full terms and conditions for more.
Founding Team
This category accounts for the leaders, developers, and advisors.
Poor quality, weak, or inexperienced leadership can doom a project from the outset. Advisors who serve only to pad their own resumes and who have ill-defined roles can be concerning. But great leadership, with relevant industry experience and contacts, can make the difference between a successful and profitable ICO, and a flub.
If you don't have a team willing and able to build the thing, it won't matter who is at the helm. Good talent is hard to find. Developer profiles should be scrutinized to ensure that they have a proven history of working in a field where they should be able to succeed.
Product
What is the technology behind this ICO, what product are they creating, and is it new, innovative, different – and needed?
The IOTA project is a spectacular example of engineers run amok. The technology described or in use must be maintainable, achievable, and realistic, otherwise the risk of it never coming into existence is incredibly high.
Token Utility
Tokens which have no actual use case are probably the worst off, although speculation can still make them have some form of value.
The best tokens we review are the ones that have a forced use case – you must have this token to play in some game that you will probably desire to play in. The very best utility tokens are the ones which put the token holder in the position of supplying tokens to businesses who would be able to effectively make use of the platforms in question.
Market
There doesn't have to be a market in order for an ICO to score well in this category – but if it intends to create one, the argument has to be extremely compelling.
If there is an existing market, questions here involve whether it is ripe for disruption, whether the technology enables something better, cheaper, or faster (for example) than existing solutions, and whether the market is historically amenable to new ideas.
Competition
Most ideas have several implementations. If there are others in the same field, the analyst needs to ensure that the others don't have obvious advantages over the company in question.
Moreover, this is the place where the analyst should identify any potential weaknesses in the company's position moving forward. For instance, a fundamental weakness in the STORJ system is that the token is not required for purchasing storage.
Timing
With many ICO ideas, the timing may be too late or too early. It's important for the analyst to consider how much demand there is for the product in question. While the IPO boom funded a lot of great ideas that eventually did come to fruition, a good analyst would recognize when an idea is too early, too late, or just right.
Progress To Date
Some of the least compelling ICO propositions are those that claim their founders will achieve some far-off goal, sometime in the future, just so long as they have your cash with which to do it.
More interesting (usually) is the ICO that seeks to further some progress along the path to success, and which has a clearly-identified roadmap with achievable and reasonable milestones along the way. Founders who are already partially-invested in their products are generally more invested in their futures.
Community Support & Hype
Having a strong community is one of the fundamental building blocks of any strong blockchain project. It is important that the project demonstrates early on that it is able to generate and build a strong and empowered support base.
The ICO marketplace is becoming more crowded and more competitive. While in the past it was enough to merely announce an offering, today's successful ICO's work hard to build awareness and excitement around their offering.
Price & Token Distribution
One of the biggest factors weighing any analysis is price. The lower the price the more there is to gain. But too low of a price may result in an under capitalized project. It is therefore important to evaluate price relative to the individual project, its maturity and the market it is going after.
The total supply of tokens should also be justified by the needs of the project. Issuing a billion tokens for no reason will do nobody any good.
Communication
Communication is key. The success of a project is strongly tied to the project leaders' ability to communicate their goals and achievements.
Things don't always go as planned but addressing issues and keeping the community and investors in the loop can make or break a project.