What You Missed At NEO DevCon 2019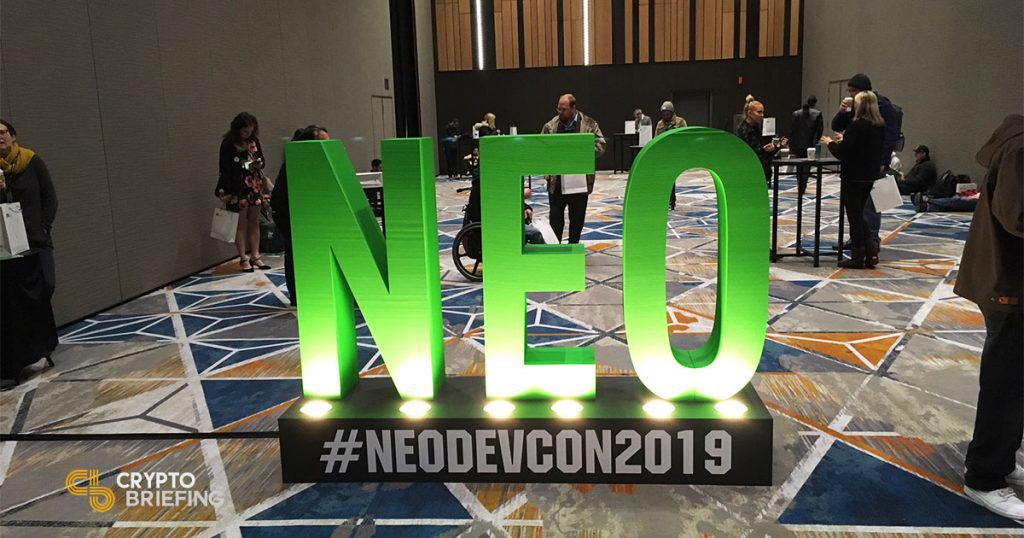 On February 16th and 17th, the second NEO DevCon took place in a rarely-snowy Seattle. Given the span of 13 months, the tone of NEO's second developer conference was entirely different from the first.
The first DevCon was full of projects heavily anticipating their initial coin offerings. The second focused on development and growth for projects trudging through the 2018 bear market.
Keeping an eye on the prize, Da Hongfei, co-founder of NEO, reiterated his goal for NEO the become the "#1 blockchain" in 2020.
This doesn't mean NEO will take the coveted Number One spot on Coin Market Cap, or anything to do with token economics, he explained. Da's vision for NEO to become the #1 blockchain is to create the most developer friendly platform.
---
NGD Seattle
At DevCon, NEO Global Development (NGD) announced a new office in Seattle, to be lead by John deVadoss and Peng Huang. The duo has more than 25 years of combined experience leading large-scale projects at Microsoft Digital and Microsoft .NET.
The primary focus for NGD Seattle will center around developing libraries and frameworks to make building on the NEO blockchain simpler. These new tools will center around reoccurring uses cases, so developers don't need to "reinvent the wheel" each time they create a new product.
NGD Seattle will hit the ground running, with a primary focus on hiring Seattle-based developers.
---
NEO 3.0
For their keynote presentations both Da and Erik Zhang, founder and core developer of NEO, spoke about an update to the NEO blockchain and its potential features. The NEO blockchain will likely require a hardfork or a genesis block, though this will not be ready for at least another year.
The architecture of the NEO platform will undergo an overhaul. The primary change is the removal of global assets, and incorporating each transaction into a smart contract. Simply put, global assets were not able to efficiently communicate with smart contracts, which made the transaction process very difficult for specific tasks.
An update to the consensus algorithm, delegated Byzantine Fault Tolerance (dBFT), will allow fallen consensus nodes to come back online more quickly and prevent accidental forking, as the blockchain has experienced in recent months.
Finally, a new functionality, internet resource access, will incorporate into the new blockchain version 3.0, allowing smart contracts to access internet resources through URL links.
---
Second layer solutions and new modules
Efficient scaling will likely require a second-layer solution, Zhang said, similar to the Lightning or Raiden networks. A second layer, running dApps, will emphasize streamlining the architecture of the first layer for higher TPS.
During the conference, the Trinity Protocol announced plans to integrate its second layer scaling solution directly into NEO nodes. This solution offers users the choice to conduct on-chain or off-chain payments. According to Trinity, the state channel implementation into the core code will make NEO "the first layer-2 integrated blockchain platform."
To provide a digital identity solution, Swisscom Blockchain, a NEO consensus node and NeoID candidate, outlined their vision and roadmap for a "self sovereign identity" entitled SERAPH ID. SERAPH ID has two objectives: first, to offer each user the ability to access and manage their own identity on the NEO blockchain. Second, to enable dApps, smart contracts, or third parties to verify the identity of a user and the validity of their claims.
NEO SPCC presented their outline for the distributed decentralized storage platform (DDSP), a decentralized file storage system for the NEO blockchain. The team aims to release a protocol of the DDSP in Quarter 3 of 2019.
Finally, the NeoResearch team presented their findings on quantum resistant cryptographic algorithms. While an exact quantum resistant proposal has yet to be designed, the team believes they've found a hybrid that allows users to support their level of increased cryptography. However, the current version of the NEO blockchain makes this quite expensive.
---
Developer Workshop
An all-day developer workshop on February 17th sought to teach participants who had never developed in the NEO ecosystem beforehand. Key members from community developer groups demonstrated coding tools to build projects with the blockchain technology.
Vincent Geneste, creator of www.neoeconomy.io, demonstrated how to incorporate community developer tools in building a website. Many of the developers in attendance of the workshop were new, and excited to integrate NEO data and transactions into their web applications.
---
Old projects and new ones
What is a public blockchain ecosystem without its projects and dApps? Here were some of the major announcements from projects in the NEO ecosystem.
Bridge Protocol, an identity verification company, announced the upcoming launch of the Bridge Passport, which allows users to send their NEO address along with a pre-verified identity. The project aims to reduce the need for individuals to send their personally identifiable information (PII) to multiple exchanges.
The Bridge team burned 60% of the company's BRDG tokens, which means the community now holds more tokens (240,000,000 BRDG) than the company team (220,000,000 BRDG).
Nash Exchange, a decentralized exchange with cross chain trading, will launch its public beta platform on March 31st, with a fiat on- and off-ramp for US residents.
Since its launch in December of 2018, Alchemint minted more than US $100,000 in SDUSD, a stable coin pegged to the US Dollar. Creating those SDUSD required more than 30,000 NEO, due to the over-collateralized model.
Guardian Circle, a distributed emergency response network, announced the launch of v3.0 of their application for iOS and Android.
And, despite the bear market of 2018, a handful of new projects have announced their intentions to build on NEO, including:
---
NEO DevCon 2019 shook off the hangover from the mania of 2017 and offered first-hand knowledge of ecosystem development on behalf of core, community, and project developers.
There's no telling what 2019 has in store, but one thing is apparent: there are a lot of dedicated people building in the NEO ecosystem. That doesn't appear to be stopping anytime soon.
---
The author is invested in digital assets, including NEO, which is discussed in this article.