NKN ICO Review and NNC Token Analysis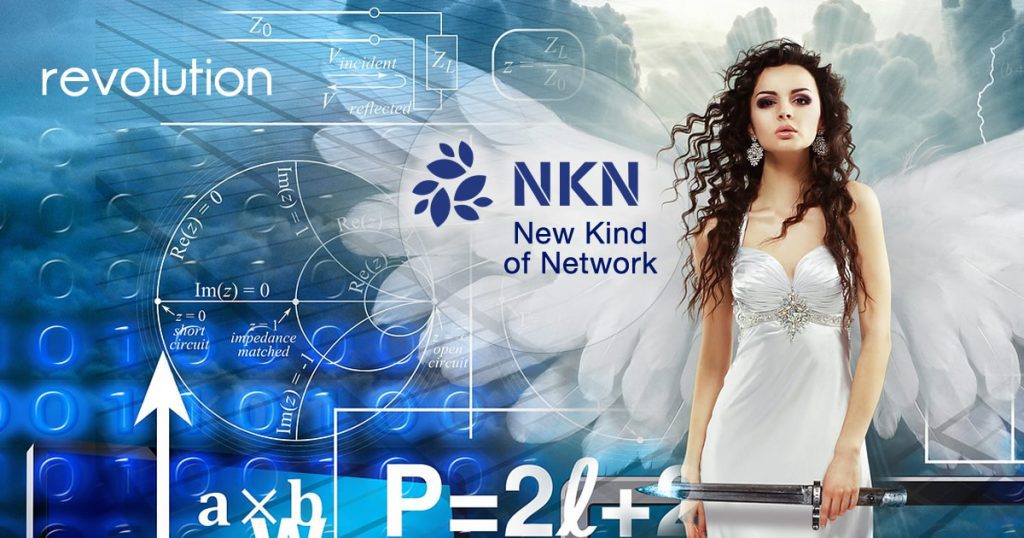 NKN ICO Overview
The NKN ICO and NNC Token offer a fully decentralized and anonymous peer-to-peer network protocol that promises improved efficiency, scalability and safety.
NKN stands for "New Kind of Network", and aims to become the protocol equivalent to TCP/IP for the Internet on the blockchain. NKN itself is an overlay that is independent of any underlying communication protocols.
Where does the need stand for a project so large in scope? NKN cite a plethora of issues that could be resolved through the network: among many are the overturning of Net Neutrality, the inefficient use of bandwidth, rampant censorship by governments and the invasion of user privacy.
UPDATE: We published the first version of our NKN ICO Review on March 15, 2018. Since then, the NKN ICO community represented in the English and Chinese language Telegram channels has doubled in size. We have updated our Community Support rating to reflect these developments, resulting in an increase of the final score from 74% to 76%.
NKN ICO Value Proposition
NKN plan to advance the existing blockchain ecosystem by bringing the third pillar of Internet infrastructure onto the blockchain- network connectivity and data transmission capability.
Bitcoin and Ethereum tokenize computational power through Proof of Work (PoW). Other coins such as IPFS, Filecoin, Sia and Storj tokenize storage. The need remains to bring network connectivity and data transmission onto the blockchain. NKN is designed to tokenize network connectivity and data transmission capability as via a novel PoW consensus method.
To accomplish this, NKN leverage their own consensus mechanism called Proof of Relay (PoR). PoR is a mechanism that encourages participants to contribute to the blockchain network by sharing their connectivity and bandwidth in return for rewards. Mining is essentially accomplished by contributing to the data transmission layer. Participants receive rewards by contributing more network resources than they consume.
NKN posit that the competition between nodes in the network will eventually drive the system toward the direction of low latency and high bandwidth data transmission. PoR is used for both token mining and transaction verification. Tokens will be rewarded to nodes for data transmission and transaction verification.
The underlying token within this ecosystem is the New Network Coin (NNC). Users spend NNC to transmit data and nodes receive NNC by relaying data for users and contributing to the expansion and sharing of network connectivity and transmission capacity. Both the exchange and reward of NNC are intended to motivate users to share their network resources and upgrade their data transmission capability, thereby improving the capacity of the entire network.
NKN ICO Team

Yanbo Li is Co-Founder and Core-Developer of NKN. He Co-founded and led the Onchain office in Beijing and developed an open source blockchain platform called DNA (Distributed Network Architecture). Yanbo has a background in cryptography and spent a year at Stanford focused on the subject of Cyber Security. He also has more than 10 years of R&D experience at companies such as Nokia and Qualcomm, where he specialized in the architecture design of distributed network systems.
Bruce Li is Co-Founder and Head of Strategy and Innovation. He has experience as a Technical Program Manager at Google and held various positions with Nokia in addition to successfully founding startups in the mobile and wireless software field. He has published 4 patents, 2 papers and 1 book in addition to having managed R&D teams in the US, EU and China. He holds a Master of Engineering from Australian National University.
Justin Wang is Co-Founder and Core Researcher. Justin is an inventor and industry influencer, with 45 international patents (issued and pending) in the fields of wireless communication, IoT, cloud computing and blockchain. He has over 10 years of experience with companies such as Ericsson and Amazon.
Yilun Zhang is the final Co-founder and serves as Core Researcher and Developer. He holds a PhD in Physics from the University of California San Diego. In addition, he is a domain expert and has conducted extensive study on Cellular Automata in the fields of physics, computer science and computational neuroscience.
Dr. Whitfield Diffie is the advisor to NKN. He is best known as the the inventor of public key cryptography (Diffie-Hellman). For his contributions to the field of cryptography, he received the Turing Award in 2015, widely considered the most prestigious award in computer science. As a leader in the field of cryptography, the wealth of knowledge he can bring to the project is particularly promising
More information on the rest of the team can be found here.
NKN ICO Strengths and Opportunities
NKN have uniquely designed their network to leverage Cellular Automata (CA) to create a fully decentralized network in which nodes themselves form a dynamic and self-evolving ecosystem. Below is a description of CA from the NKN ICO Whitepaper:
"Cellular Automata (CA) is a state machine with a collection of nodes, each changing its state following a local rule that only depends on its neighbors. Each node only has a few neighbor nodes. Propagating through local interactions, local states will eventually affect the global behavior of CA. The desired openness of (the) network is determined by the homogeneity of Cellular Automata where all nodes are identical, forming a fully decentralized P2P (peer-to-peer) network. Each node in the NKN network is constantly updating based on its current state as well as the states of neighbors. The neighbors of each node are also dynamically changing so that the network topology is also dynamic without changing its underlying infrastructure and protocols."
Essentially, Cellular Automata is deployed as a means to encourage self-evolution of the network. This new level of dynamism between nodes leaves opens the possibility for a new type of topology that organizes itself toward greater efficiency, improving upon current static and fully connected approaches to network topology.
Along with the promise of a self-evolving network, the Proof of Relay mechanism offers several potential advantages for scaling. In the case of PoR, data transmission capability is the primary metric for rewards. Through this incentivization scheme, connectivity should improve as more participants are motivated to join and expand the network. New nodes will join the network to earn rewards, expanding the NKN network, while existing nodes are incentivized to improve data transmission capacity.
The competition between nodes in the network should drive the system toward lower latency, higher bandwidth data transmission, increased scalability and lower costs to reach consensus. By guaranteeing network connectivity and data transmission capacity via PoR, a fully optimized infrastructure for the development of DApps could be created.
NKN ICO Weaknesses and Threats
It's important to note that NKN is very much still in its infancy as a project. Blockchain development is scheduled to only begin in Q2 2018, with the testnet planned for launch in Q1 2019 and mainnet for Q3. We are a long way off from expecting any concrete deliverables from NKN on the product end. This of course puts the NKN ICO at a disadvantage compared to similar projects such as Substratum, Orchid Protocol and Right Mesh.
When it comes to first-mover advantage, all of the above-mentioned projects are further along on the road to development. Still, there are several distinguishing factors that must be taken into account which could give NKN the upper hand despite the fair amount of competition in this space.
First and foremost, the scope of NKN essentially combines the goals of all competing projects into one protocol. Right Mesh, for example, is exclusively focused on mobile networks. NKN aim to incorporate all forms of data transmission into the network. Decentralized internet server projects like Substratum face significant scaling challenges and are not completely independent from TCP/IP communication protocols.
By tokenizing data transmission itself, NKN have set their sites on creating an entirely decentralized communications protocol. While this sets the project apart from anything else in the crypto space, it is also a highly challenging and ambitious target.
How NKN stands up to competing projects will depend firstly on the viability of the network itself, and secondly, on user adoption. At this stage in the game, those are two significant unknowns that must be strongly taken into consideration.
The Verdict on NKN ICO
The NKN ICO delivers a proposition that legitimately warrants the word "revolutionary". But as Lennon and McCartney once said, "You say you got a real solution / Well, you know / We'd all love to see the plan."
For a project of such magnitude in the early stages of development, we are left with the team and product concept as our primary indicators on whether or not to place a bet.
To this accord, it would be difficult to find a team better suited for the task of building and launching a New Kind of Network.
Based on the early stage indicators we see this as a Top 10% rated ICO, and will be placing a small bet on the NKN ICO (NNC Token).
---
We have rated hundreds of projects to unearth ICOs in which members of our team intend to invest.
We won't often go into further depth on projects that we don't consider as candidates for our investments after the initial rating process, which is why you will usually see our stamp on our detailed ICO reviews – they are the best we have found. However, on occasion, we might also rate a well-hyped project that does not meet our personal investing criteria.
The Crypto Briefing Top 10 stamp is awarded to ICO projects that we rate in the top 10% of all projects.
DECENTRALIZED MACHINE LEARNING ICO REVIEW SCORES
SUMMARY
The NKN ICO team is as strong as any we have seen in this industry. If anyone can chew up the Internet and spit out a better version, it may be these uniquely-qualified people. With that said, the NKN offer is just that – an offer. While 15-18 months to Mainnet may not be long for some experienced investors, it's testing the maturity of the crypto market. But perhaps the time has come for the crowd to create the kind of 'moonshot' projects that Alphabet/Google is famed for… and perhaps the crowd will get to share in those successes, too. A unique ICO for the patient investor, perhaps.
Founding Team……………………….9.7
Product…………………………………..4.4
Token Utility…………………………..9.6
Market…………………………………..10.0
Competition…………………………..7.3
Timing……………………………………8.4
Progress To Date……………………3.2
Community Support & Hype…..7.6
Price & Token Distribution……..5.6
Communication……………………..10.0
FINAL SCORE……………………….7.6
UPSIDES
All-star team with stellar track records in blockchain, network design and cryptography

Novel technical approach created by industry experts and endorsed by leader in domain

Potential game changer for the internet as we know it
DOWNSIDES
Product development has not yet begun

No partnerships announced yet

Several competitors vying for similar markets
Today's Date: 3/15/18
Project Name: New Kind of Network (NKN)
Token Symbol: NNC
Website: https://nkn.org/
White Paper: https://www.nkn.org/doc/NKN_Whitepaper.pdf
Crowdsale Hard Cap: 64,814 ETH
Total Supply: 1 Billion NNC
Token Distribution: 35% to TGE, 30% generated through "mining" over an estimated 25-year period, 18% for developers and advisors (transferred over a 3 year period), 17% for Foundation to build NKN community and network
Price per Token: 1 ETH = 5400 NNC
Maximum Market Cap (at crowdsale price): $130 million
Accepted Payments: TBA
Countries Excluded: TBA
Bonus Structure: N/A
Presale Terms: N/A
Whitelist: TBA
Important Dates: TBA
Expected Token Release: TBA
Additional Information: https://t.me/nknorg
---
ICO Review Disclaimer
The team at Crypto Briefing analyzes an initial coin offering (ICO) against ten criteria, as shown above. These criteria are not, however, weighted evenly – our proprietary rating system attributes different degrees of importance to each of the criteria, based on our experience of how directly they can lead to the success of the ICO in question, and its investors.
Crypto Briefing provides general information about cryptocurrency news, ICOs, and blockchain technology. The information on this website (including any websites or files that may be linked or otherwise accessed through this website) is provided solely as general information to the public. We do not give personalized investment advice or other financial advice.
Decentral Media LLC, the publisher of Crypto Briefing, is not an investment advisor and does not offer or provide investment advice or other financial advice. Accordingly, nothing on this website constitutes, or should be relied on as, investment advice or financial advice of any kind. Specifically, none of the information on this website constitutes, or should be relied on as, a suggestion, offer, or other solicitation to engage in, or refrain from engaging in, any purchase, sale, or any other any investment-related activity with respect to any ICO or other transaction.
The information on or accessed through this website is obtained from independent sources we believe to be accurate and reliable, but Decentral Media LLC makes no representation or warranty as to the timeliness, completeness, or accuracy of any information on or accessed through this website. Decentral Media LLC expressly disclaims any and all responsibility from any loss or damage of any kind whatsoever arising directly or indirectly from reliance on any information on or accessed through this website, any error, omission, or inaccuracy in any such information, or any action or inaction resulting therefrom.
Cryptocurrencies and blockchain are emerging technologies that carry inherent risks of high volatility, and ICOs can be highly speculative and offer few – if any – guarantees. You should never make an investment decision on an ICO or other investment based solely on the information on this website, and you should never interpret or otherwise rely on any of the information on this website as investment advice. We strongly recommend that you consult a licensed investment advisor or other qualified financial professional of your choosing if you are seeking investment advice on an ICO or other investment.
See full terms and conditions for more.
Founding Team
This category accounts for the leaders, developers, and advisors.
Poor quality, weak, or inexperienced leadership can doom a project from the outset. Advisors who serve only to pad their own resumes and who have ill-defined roles can be concerning. But great leadership, with relevant industry experience and contacts, can make the difference between a successful and profitable ICO, and a flub.
If you don't have a team willing and able to build the thing, it won't matter who is at the helm. Good talent is hard to find. Developer profiles should be scrutinized to ensure that they have a proven history of working in a field where they should be able to succeed.
Product
What is the technology behind this ICO, what product are they creating, and is it new, innovative, different – and needed?
The IOTA project is a spectacular example of engineers run amok. The technology described or in use must be maintainable, achievable, and realistic, otherwise the risk of it never coming into existence is incredibly high.
Token Utility
Tokens which have no actual use case are probably the worst off, although speculation can still make them have some form of value.
The best tokens we review are the ones that have a forced use case – you must have this token to play in some game that you will probably desire to play in. The very best utility tokens are the ones which put the token holder in the position of supplying tokens to businesses who would be able to effectively make use of the platforms in question.
Market
There doesn't have to be a market in order for an ICO to score well in this category – but if it intends to create one, the argument has to be extremely compelling.
If there is an existing market, questions here involve whether it is ripe for disruption, whether the technology enables something better, cheaper, or faster (for example) than existing solutions, and whether the market is historically amenable to new ideas.
Competition
Most ideas have several implementations. If there are others in the same field, the analyst needs to ensure that the others don't have obvious advantages over the company in question.
Moreover, this is the place where the analyst should identify any potential weaknesses in the company's position moving forward. For instance, a fundamental weakness in the STORJ system is that the token is not required for purchasing storage.
Timing
With many ICO ideas, the timing may be too late or too early. It's important for the analyst to consider how much demand there is for the product in question. While the IPO boom funded a lot of great ideas that eventually did come to fruition, a good analyst would recognize when an idea is too early, too late, or just right.
Progress To Date
Some of the least compelling ICO propositions are those that claim their founders will achieve some far-off goal, sometime in the future, just so long as they have your cash with which to do it.
More interesting (usually) is the ICO that seeks to further some progress along the path to success, and which has a clearly-identified roadmap with achievable and reasonable milestones along the way. Founders who are already partially-invested in their products are generally more invested in their futures.
Community Support & Hype
Having a strong community is one of the fundamental building blocks of any strong blockchain project. It is important that the project demonstrates early on that it is able to generate and build a strong and empowered support base.
The ICO marketplace is becoming more crowded and more competitive. While in the past it was enough to merely announce an offering, today's successful ICO's work hard to build awareness and excitement around their offering.
Price & Token Distribution
One of the biggest factors weighing any analysis is price. The lower the price the more there is to gain. But too low of a price may result in an under capitalized project. It is therefore important to evaluate price relative to the individual project, its maturity and the market it is going after.
The total supply of tokens should also be justified by the needs of the project. Issuing a billion tokens for no reason will do nobody any good.
Communication
Communication is key. The success of a project is strongly tied to the project leaders' ability to communicate their goals and achievements.
Things don't always go as planned but addressing issues and keeping the community and investors in the loop can make or break a project.