Oasis Labs Review And Ekiden Protocol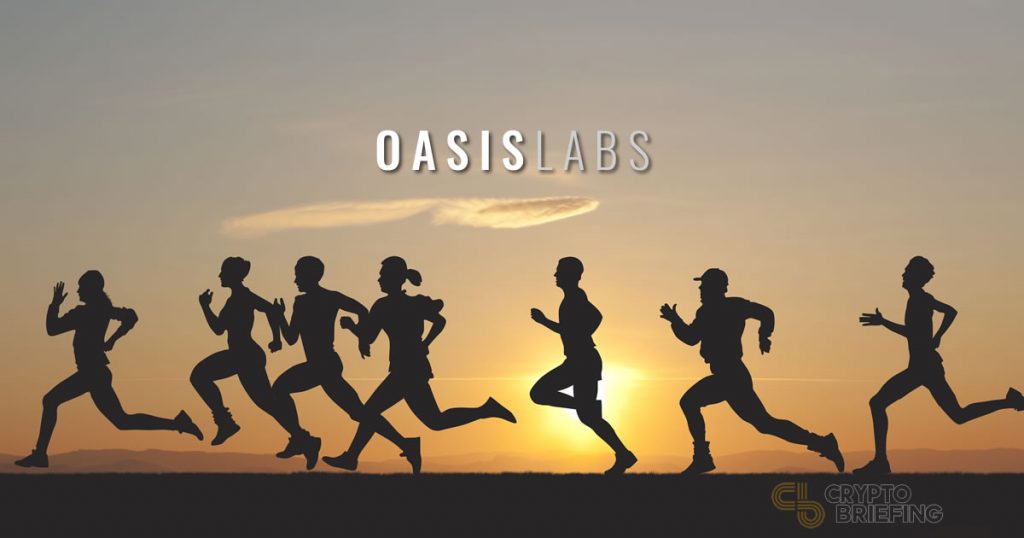 Oasis Labs Overview
Oasis Labs is raising funds for Ekiden, a next generation blockchain built to address the issues of scalability and security in a low cost manner. It's no secret that the limitations imposed by the Ethereum network through high costs, poor performance and low security, impede wider adoption of blockchain tech and that's exactly what the Oasis team intends to change.
Update: since this article was published, an Oasis Labs representative has specifically told Crypto Briefing that the entire project will be funded via private sale, and that there will be no crowdsale. Consequently, we have removed any reference to an ICO from this page. The project raised $45M in their private sale.
Onchain replication of smart contracts is expensive and privacy guarantees are limited, restricting use case applicability. To tackle these issues while leveraging the status of Ethereum as the leading smart contract protocol, Oasis Labs have designed Ekiden as a generalized solution for all EVM-based blockchains.
It's worth noting that the term 'Ekiden' also refers to a long distance relay race, an extremely popular sport in Japan which has spread to Belgium, Australia and Canada (among others). The Japanese Hakone Ekiden is watched by over a million people, as teams of 10 students cover over half-a-marathon each. Perhaps we can infer that the company values teamwork, and is in it for the long haul…
Oasis Labs Value Proposition
The architecture of Ekiden is divided into 4 layers. At the top is the application layer, followed by the computation, storage and consensus layers. The decoupling of computation, storage and consensus is crucial for achieving the high performance and security offered by the project.
Within this decoupled architecture, Ekiden addresses the issues of throughput and security by combining the blockchain with an offchain EVM-scaling solution. Utilizing hardware-based Trusted Execution Environments (TEEs) like Intel SGX, Ekiden is able to increase throughput in a secure, offchain environment. Through maximization of security and throughput, Ekiden aims to create a protocol with real use utility in fields such as decentralized finance and healthcare, which necessitate both of these qualities for the development of dapps.
Scalability: Ekiden performs concurrent, off-chain execution of smart contracts via TEE-backed compute nodes. Unlike the Ethereum network, where each node replicates all computations and runs the consensus protocol, Ekiden separates smart contract execution from consensus. By merging concurrent output from multiple TEE-backed compute nodes, Ekiden can execute smart contracts in parallel to obtain higher performance.
Secure enclave compatibility is essential for scaling throughput. Besides Intel SGX, Ekiden will be compatible with Keystone, an open-source enclave designed by a team of Berkeley and MIT researchers.
Security and Privacy: All data on the Ekiden network is encrypted and confidential. Instead of relying on one mechanism for security, Ekiden deploys several to optimize the system. While Ekiden utilizes secure hardware when available, the compute layer also employs verifiable proofs. Through the support of encrypted smart contracts, whereby only zero-knowledge proofs are stored onchain, the array of use possibilities is expanded to include any scenario requiring privacy and scale.
Ekiden guarantees that contracts are kept secret from all other parties and explicitly specify their secret state, which will automatically be encrypted with keys known only to enclave applications.
The Ekiden network consists of three primary actors: clients, compute nodes and consensus nodes.
Clients are end users of smart contracts. Clients can create smart contracts or execute existing ones.

Compute nodes utilize multiple TEEs to run smart contract programs. Compute nodes process requests from clients by running the contract in a TEE and generating verifiable proofs that attest to the validity of the computation. Compute nodes also perform key management for contracts via the key manager. The key manager TEE creates or retrieves existing keys upon request.

Consensus nodes maintain the distributed ledger via the consensus layer. Consensus nodes are responsible for the ledger of smart contract states and validity of state updates.
Oasis Labs Team
Dawn Song: Dawn is a Professor of Computer Science at UC Berkeley, where she has taught for 11 years. Prior to UC Berkeley, Dawn spent 5 years as a professor at Carnegie Mellon University. Her current research areas include deep learning, security, distributed systems and blockchain. At UC Berkeley, she conducts research with several labs, including the Berkeley Artificial Intelligence Center, and is Co-director of the Initiative for Cryptocurrencies and Contracts. In addition to her academic expertise, Dawn founded Ensighta Security, which was acquired by FireEye. More information on Dawn's extensive background in Computer Science is available here.

Raymond Cheng: Raymond is a post-doctoral researcher at UC Berkeley who specializes in distributed systems, security and privacy. Previously, he obtained both an M.S. and PhD in Computer Science at the University of Washington, where he worked on a private publish/subscribe protocol, called Talek. Raymond also holds an M.E. in Electrical Engineering and Computer Science from MIT. A full list of his current and past projects can be found on his website.
Bobby Jaros: Bobby was a PhD student at Stanford, where he previously obtained both an M.S. in Electrical Engineering and an MBA, before dropping out and founding his own deep learning company, LookFlow. After 4 years as CEO, LookFlow was acquired by Yahoo and Bobby continued on as a Director of Product Management before joining Oasis Labs.
Noah Johnson: Noah is a PhD candidate at UC Berkeley and Co-founder/CTO of Ensighta Security with Dawn Song. His research at UC Berkeley focuses on security and privacy. Noah and Dawn recently developed a data security protocol for enterprise privacy policy adherence, which is currently being integrated into Uber's internal data analytics platform.
Aside from the core team members, Oasis Labs have more than 10 engineers working on the project.
Oasis Labs Strengths and Opportunities
Ekiden is backwards compatible with the Ethereum network; implementation of EVM means existing contracts written for Ethereum are supported by Ekiden. ERC20 smart contracts automatically inherit the guarantees of the protocol, including secret contract state and high performance via offchain execution on compute nodes.
Through this design, any dapp built on Ethereum can utilize Ekiden as a scaling solution. For development of new dapps, Ekiden supports both Rust and all EVM-compatible programming languages. The ability to program in a familiar language creates a more favorable environment for developers to transition into.
For onboarding both developers and users, Ekiden holds a significant advantage over other high-throughput blockchains because of this design.
In preliminary tests of the Ekiden prototype network, the team report 600x greater throughput, 400x less latency, and 1000x less cost compared to the Ethereum network. Though this level of performance would expectedly decline on a full-scale network, Ekiden will integrate a number of optimizations as described above to significantly maintain an ideal level of performance. Initial tests of the network also demonstrate Ekiden is capable of supporting computation-intensive use cases such as machine learning applications, which are cost-prohibitive on the Ethereum network.
This combination of scalability, security and low-cost transactions opens up myriad use cases which Ethereum is not yet capable of tackling at this stage.
The team behind Ekiden bring a unique combination of both theoretical and applied expertise to the table. Having founded tech startups that were acquired by major enterprises (Yahoo and FireEye), in addition to their experience as researchers developing solutions for the likes of Uber, the team have demonstrated an ability to design and build products based on their research expertise that achieve actual adoption.
Oasis Labs Weaknesses and Threats
At present, awareness of the Oasis Labs project is low. Efforts to build community support and market the product are minimal, resulting in very little attention for the project. With a promising scaling solution on their hands, garnering support from an early stage is crucial in preparation for the shift away from product development toward ecosystem growth.
If a theoretically perfect scaling protocol existed, by no means would adoption be guaranteed. Users and developers must not only be aware of it, but must also utilize it en masse. The number of high-throughput blockchains joining the race increases by the day, with projects like QuarkChain offering both scalability and backward EVM-compatibility in the same package. How Oasis Labs fares among the lot, which includes the Ethereum network itself, remains uncertain.
The Verdict on Oasis Labs and Ekiden
The array of improvements and ease of implementation offered by Oasis Labs make it a formidable solution for achieving higher throughput and increasing security. While general awareness about the project remains low in the cryptospace, progress is already well underway.
Given the Oasis team are no strangers to developing enterprise-level solutions, their product may well reflect the demands of industry players who are serious about blockchain. In fact, CEO Kevin Mandia of FireEye, the company that acquired Ensighta, recently highlighted lack of security as a major issue facing cryptocurrencies.
Finally, since our diligence includes the ability to evaluate the technical aspects of a project with a specialist code review, we will have to wait for access to the Ekiden project's code before finalizing our rating on Oasis, just as we did for QuarkChain.
Additional Information
We have been in discussions with the Oasis Labs team and our ratings are based on conversations and information that they have asked us to keep confidential. While it may seem premature to rate their project highly, we have been privy to insights that suggest a very strong project, and we will update this review when the Oasis Labs team is ready to share further data.
Despite being a Top 5% project, we do not intend to participate in any raise for Oasis Labs.
Learn more about Oasis Labs in our 5500-strong Telegram Group!
---
We have rated hundreds of projects to unearth ICOs in which members of our team intend to invest.
We won't often go into further depth on projects that we don't consider as candidates for our investments after the initial rating process, which is why you will usually see our stamp on our detailed ICO reviews – they are the best we have found. However, on occasion, we might also rate a well-hyped project that does not meet our personal investing criteria.
The Crypto Briefing Top 5 stamp is awarded to ICO projects that we rate in the top 5% of all projects.
OASIS LABS REVIEW SCORES
SUMMARY
Oasis is one of a number of new blockchains that are significantly more advanced than the legacy chains they seek to replace. Even if we forget the numbers (which isn't easy) it's clear that the Ekiden Protocol has the edge over Ethereum in numerous ways – including the fact that ERC-20 contracts are supported, but developers can work in Rust and EVM-compatible languages. We often discuss the two-sided market which is a major barrier to adoption – but we sometimes neglect to note the third stakeholder between client and user, and that's the developer. WHO will build it, SO that they will come? Perhaps the Oasis team are even smarter than they look.
Founding Team……………………….9.8
Product…………………………………..7.8
Token Utility…………………………..9.8
Market…………………………………..9.4
Competition…………………………..7.4
Timing……………………………………9.4
Progress To Date……………………7.6
Community Support & Hype…..4.5
Price & Token Distribution……..7.7
Communication……………………..9.7
FINAL SCORE……………………….8.3
UPSIDES
Founding team accomplished at designing products and scaling businesses

Protocol addresses two crucial impediments to wider blockchain use utility

EVM-based solution facilitates high-level compatibility and easy transition for developers
DOWNSIDES
Community building efforts are minimal

Competition from other scaling solutions looms large
Today's Date: 7/10/2018
No token sale will be held.
---
ICO Review Disclaimer
The team at Crypto Briefing analyzes an initial coin offering (ICO) against ten criteria, as shown above. These criteria are not, however, weighted evenly – our proprietary rating system attributes different degrees of importance to each of the criteria, based on our experience of how directly they can lead to the success of the ICO in question, and its investors.
Crypto Briefing provides general information about cryptocurrency news, ICOs, and blockchain technology. The information on this website (including any websites or files that may be linked or otherwise accessed through this website) is provided solely as general information to the public. We do not give personalized investment advice or other financial advice.
Decentral Media LLC, the publisher of Crypto Briefing, is not an investment advisor and does not offer or provide investment advice or other financial advice. Accordingly, nothing on this website constitutes, or should be relied on as, investment advice or financial advice of any kind. Specifically, none of the information on this website constitutes, or should be relied on as, a suggestion, offer, or other solicitation to engage in, or refrain from engaging in, any purchase, sale, or any other any investment-related activity with respect to any ICO or other transaction.
The information on or accessed through this website is obtained from independent sources we believe to be accurate and reliable, but Decentral Media LLC makes no representation or warranty as to the timeliness, completeness, or accuracy of any information on or accessed through this website. Decentral Media LLC expressly disclaims any and all responsibility from any loss or damage of any kind whatsoever arising directly or indirectly from reliance on any information on or accessed through this website, any error, omission, or inaccuracy in any such information, or any action or inaction resulting therefrom.
Cryptocurrencies and blockchain are emerging technologies that carry inherent risks of high volatility, and ICOs can be highly speculative and offer few – if any – guarantees. You should never make an investment decision on an ICO or other investment based solely on the information on this website, and you should never interpret or otherwise rely on any of the information on this website as investment advice. We strongly recommend that you consult a licensed investment advisor or other qualified financial professional of your choosing if you are seeking investment advice on an ICO or other investment.
See full terms and conditions for more.
Founding Team
This category accounts for the leaders, developers, and advisors.
Poor quality, weak, or inexperienced leadership can doom a project from the outset. Advisors who serve only to pad their own resumes and who have ill-defined roles can be concerning. But great leadership, with relevant industry experience and contacts, can make the difference between a successful and profitable ICO, and a flub.
If you don't have a team willing and able to build the thing, it won't matter who is at the helm. Good talent is hard to find. Developer profiles should be scrutinized to ensure that they have a proven history of working in a field where they should be able to succeed.
Product
What is the technology behind this ICO, what product are they creating, and is it new, innovative, different – and needed?
The IOTA project is a spectacular example of engineers run amok. The technology described or in use must be maintainable, achievable, and realistic, otherwise the risk of it never coming into existence is incredibly high.
Token Utility
Tokens which have no actual use case are probably the worst off, although speculation can still make them have some form of value.
The best tokens we review are the ones that have a forced use case – you must have this token to play in some game that you will probably desire to play in. The very best utility tokens are the ones which put the token holder in the position of supplying tokens to businesses who would be able to effectively make use of the platforms in question.
Market
There doesn't have to be a market in order for an ICO to score well in this category – but if it intends to create one, the argument has to be extremely compelling.
If there is an existing market, questions here involve whether it is ripe for disruption, whether the technology enables something better, cheaper, or faster (for example) than existing solutions, and whether the market is historically amenable to new ideas.
Competition
Most ideas have several implementations. If there are others in the same field, the analyst needs to ensure that the others don't have obvious advantages over the company in question.
Moreover, this is the place where the analyst should identify any potential weaknesses in the company's position moving forward. For instance, a fundamental weakness in the STORJ system is that the token is not required for purchasing storage.
Timing
With many ICO ideas, the timing may be too late or too early. It's important for the analyst to consider how much demand there is for the product in question. While the IPO boom funded a lot of great ideas that eventually did come to fruition, a good analyst would recognize when an idea is too early, too late, or just right.
Progress To Date
Some of the least compelling ICO propositions are those that claim their founders will achieve some far-off goal, sometime in the future, just so long as they have your cash with which to do it.
More interesting (usually) is the ICO that seeks to further some progress along the path to success, and which has a clearly-identified roadmap with achievable and reasonable milestones along the way. Founders who are already partially-invested in their products are generally more invested in their futures.
Community Support & Hype
Having a strong community is one of the fundamental building blocks of any strong blockchain project. It is important that the project demonstrates early on that it is able to generate and build a strong and empowered support base.
The ICO marketplace is becoming more crowded and more competitive. While in the past it was enough to merely announce an offering, today's successful ICO's work hard to build awareness and excitement around their offering.
Price & Token Distribution
One of the biggest factors weighing any analysis is price. The lower the price the more there is to gain. But too low of a price may result in an under capitalized project. It is therefore important to evaluate price relative to the individual project, its maturity and the market it is going after.
The total supply of tokens should also be justified by the needs of the project. Issuing a billion tokens for no reason will do nobody any good.
Communication
Communication is key. The success of a project is strongly tied to the project leaders' ability to communicate their goals and achievements.
Things don't always go as planned but addressing issues and keeping the community and investors in the loop can make or break a project.