Omnitude ICO Review & ECOM Token Analysis
Omnitude ICO Overview
The Omnitude ICO and ECOM Token connects blockchain technologies to existing eCommerce platforms and enterprise systems. Interoperability between networks of disparate software systems and blockchain is a pressing demand in the tech world. Most enterprise software solutions exist in disparate information verticals.
Businesses like eCommerce sites can deploy Omnitude without replacing their current systems to create a more efficient and transparent data ecosystem. As an open source project, app developers can deploy solutions built on Omnitude at will.
2/22/18 – Our understanding, based on a conversation with Omnitude's admin on Telegram, is that there are no residency or citizenship restrictions on this UK-based ICO at this time. We strongly advise checking the Omnitude website for up-to-date information on participation requirements.
Omnitude ICO Value Proposition
Omnitude is built around a series of connectors and Standard APIs that shuttle data between different software platforms and blockchains. As the project is implementing an open-source API, developers are free to deploy the product at any point where greater connectivity and data flow will benefit their enterprise.
Utilizing Omnitude, anyone can develop integrations and data flows as an app or script. While the ERP use cases are in theory limitless, Omnitude's initial target is the eCommerce sector.
Omnitude is designed to eliminate many of the current issues in the eCommerce market, such as customer onboarding by individual merchants, supply chain inefficiencies and fraud on the part of both customers and sellers. These innovations will be accomplished primarily through the introduction of the Omnitude Identity and Omnitude Supply Chain solutions.
Omnitude's Single Identity, Single Reputation and Proof-of-Interaction mechanisms are designed to help merchants minimalize identity theft, which is the most common type of eCommerce fraud. Omnitude can also help reduce merchant fraud via a system of staged payment releases contingent on the location of each package within the supply chain.
The Supply Chain solution will allow individual items or shipments tagged with identifiers to be tracked as they move along the supply chain at every stage- from raw materials to the finished product and final sale. Each location will be recorded to the ledger. From each node, smart contracts will record this progress and release payments to shippers or suppliers. Retailers or customers can use the proposed Omnitude Tracker App to access information from each point in the supply chain, providing information on exactly what point an item may have been lost.
The ECOM token (ERC20) will be launched with Omnitude on the Omnilayer platform. Merchants, customers and suppliers use ECOM to participate in the Omnitude ecosystem. The primary functions of the token within the ecosystem are outlined below:
A method of settlement between parties to access ecosystem resource.
Merchants make payments in ECOM to other participants in the ecosystem to access features such as Delivery Cycle Data, Omnitude ID, Shared Product Data etc.

Customers will make payments to merchants using ECOM, crypto currencies or FIAT. They can also receive ECOM in return for reviews and participation in loyalty programs
An incentive for ecosystem participants to operate and secure the ecosystem.
Omnitude's blockchain is guaranteed by a distributed, peer-to-peer network of validating nodes running the Omnitude Core client application. Nodes that enforce the consensus algorithm receive a share in ECOM block rewards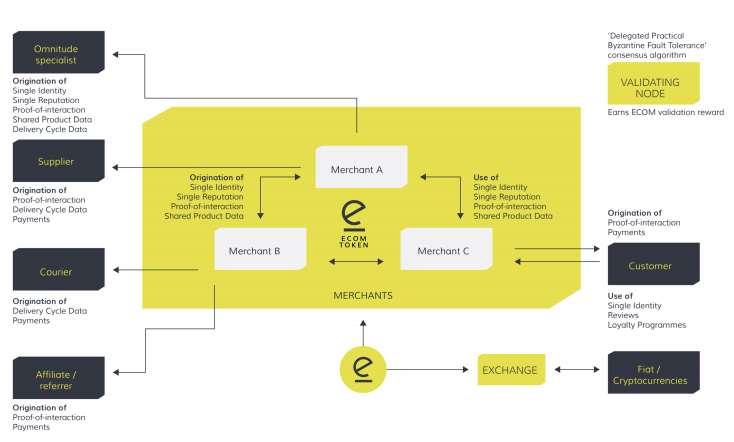 Diagram of Omnitude Deployment Example for eCommerce
Omnitude ICO Team
Chris Painter is the Founder and CEO of Omnitude. He served for 9 years as Managing Director of Pixel by Pixel, a web design and development agency that he was instrumental in scaling. The company primarily focuses on delivering solutions to eCommerce platforms.

Robert Belgrave is a Founder and Advisor of Omnitude. He is best known as the Founder and CEO of cloud services company Wirehive. He served as an Advisor for Dadi and has held the position of Lead Solution Architect in numerous previous ventures.

Ben Bennet serves as Operations Director. Ben is the Founder and Director of two current businesses besides Omnitude. He has been Sales Director of six different companies in the span of 13 years. His extensive background in sales will be crucial for pitching the Omnitude project to enterprise clients.

On the advising end, Blockchain influencer Simon Cocking is providing his support. He has advised projects such as Friendz and Medichain.
A complete list of the team and advisors can be found here.
Omnitude ICO Strengths and Opportunities
Omnitude are targeting a real need in the market where use of blockchain technology makes practical sense. Blockchain application for eCommerce could meet a plethora of demands within the industry, that developers themselves are starting to point out. As CEO Chris Painter is particularly experienced in the eCommerce industry, his knowledge of the inefficiencies and crucial points of deployment will be an asset in the development and adoption of the platform for this particular use case.
The Omnitude ICO should appeal to the demand for connectivity between verticals and information silos that currently present a huge barrier to efficiency and create unnecessary costs. A crucial selling point of Omnitude is that integration between disparate enterprise software systems can be accomplished without switching to new software.
These two factors could increase the prospects for adoption. Connecting separate data silos is crucial for the value and efficiency of any business; in theory, Omnitude could even be scaled by developers to set business rules for an entire eCommerce platform by collecting and analyzing data from every point in the ecosystem.
Omnitude ICO Weaknesses and Threats
Omnitude is notably missing partnerships with enterprise clients. In our communications with CEO Chris Painter, he indicated that this is one front he and the team are currently focusing on. For any product, partnerships with companies that are willing to pilot the product lend a huge amount of credence. Particularly in the case of an enterprise solution like Omnitude, a partnership would significantly increase the overall prospects of the project.
The worldwide market valuation of enterprise resource planning solutions is set to grow to $84 billion by 2020. Large tech firms are bent on capturing that market with their own blockchain technology; SAP are already piloting blockchain-based ERP systems and IBM/Maersk have formed a partnership to implement a blockchain supply chain management platform.
Where does this leave players like Omnitude that are going after the same market? Focusing on a strategic entry point, such as eCommerce, is one decisive factor that will be crucial for success. The advantage of seamless interoperability and unlimited deployment possibility is another factor, which at this stage in the game, sets Omnitude apart from other players.
Those aspects must be strategically leveraged if Omnitude is to have any chance at capturing a piece of the market. Two missing indicators that would give us more confidence on the competition front are partnerships and product development. Without a demonstration of the MVP, the product remains speculative at this stage.
The Verdict on Omnitude ICO
The Omnitude ICO offers an innovative concept to address major inefficiencies in enterprise system management which are ripe for blockchain implementation. Yet at this point in the game, without seeing an MVP or confirming rumored partnerships, we are left to rely on the team and concept when making our decision.
The Crypto Briefing Recommended Stamp is reserved for ICO projects in which our team intends to participate. It should not be construed as financial advice, as explained further below.
---
OMNITUDE ICO REVIEW SCORES
SUMMARY
The Omnitude ICO has exactly the right idea: to connect the dots between blockchains and existing software, without forcing e-Commerce providers to abandon legacy platforms. It's a grand scheme and their approach is both novel and, we believe, logical. But until we see a Minimum Viable Product and some key partnerships, we have to be cautious about fully embracing their ICO.
Founding Team……………………….8.4
Product…………………………………..4.5
Token Utility…………………………..8.7
Market…………………………………..7.6
Competition…………………………..2.8
Timing……………………………………9.7
Progress To Date……………………2.2
Community Support & Hype…..7.8
Price & Token Distribution……..8.1
Communication………………………10
FINAL SCORE……………………….72
UPSIDES
Experienced team with industry expertise in respective fields

Novel concept to meet pressing demand

Good marketing hype and community support
DOWNSIDES
No public partnerships with enterprises

Minimal product progress

Potential threat posed by tech giants
Today's Date: 2/22/18 CT
Project Name: Omnitude
Token Symbol: ECOM
Website: https://omnitude.tech
White Paper: Omnitude Whitepaper
Crowdsale Hard Cap: $24 million
Total Supply: 100,000,000
Token Distribution: 50% to crowdsale, 33% to Omnitude Foundation, 12% to team and advisors, 5% to pre-sale investors
Price per Token: 1 ECOM = $0.46 USD
Maximum Market Cap (at crowdsale price): $48 million USD
Accepted Payments: ETH
Bonus Structure: n/a
Presale Terms: Closed
Whitelist: https://tokensale.omnitude.tech/register
Important Dates: Main sale starts March 28th
Expected Token Release: TBA
---
ICO Review Disclaimer
The team at Crypto Briefing analyzes an initial coin offering (ICO) against ten criteria, as shown above. These criteria are not, however, weighted evenly – our proprietary rating system attributes different degrees of importance to each of the criteria, based on our experience of how directly they can lead to the success of the ICO in question, and its investors.
Crypto Briefing provides general information about cryptocurrency news, ICOs, and blockchain technology. The information on this website (including any websites or files that may be linked or otherwise accessed through this website) is provided solely as general information to the public. We do not give personalized investment advice or other financial advice.
Decentral Media LLC, the publisher of Crypto Briefing, is not an investment advisor and does not offer or provide investment advice or other financial advice. Accordingly, nothing on this website constitutes, or should be relied on as, investment advice or financial advice of any kind. Specifically, none of the information on this website constitutes, or should be relied on as, a suggestion, offer, or other solicitation to engage in, or refrain from engaging in, any purchase, sale, or any other any investment-related activity with respect to any ICO or other transaction.
The information on or accessed through this website is obtained from independent sources we believe to be accurate and reliable, but Decentral Media LLC makes no representation or warranty as to the timeliness, completeness, or accuracy of any information on or accessed through this website. Decentral Media LLC expressly disclaims any and all responsibility from any loss or damage of any kind whatsoever arising directly or indirectly from reliance on any information on or accessed through this website, any error, omission, or inaccuracy in any such information, or any action or inaction resulting therefrom.
Cryptocurrencies and blockchain are emerging technologies that carry inherent risks of high volatility, and ICOs can be highly speculative and offer few – if any – guarantees. You should never make an investment decision on an ICO or other investment based solely on the information on this website, and you should never interpret or otherwise rely on any of the information on this website as investment advice. We strongly recommend that you consult a licensed investment advisor or other qualified financial professional of your choosing if you are seeking investment advice on an ICO or other investment.
See full terms and conditions for more.
Founding Team
This category accounts for the leaders, developers, and advisors.
Poor quality, weak, or inexperienced leadership can doom a project from the outset. Advisors who serve only to pad their own resumes and who have ill-defined roles can be concerning. But great leadership, with relevant industry experience and contacts, can make the difference between a successful and profitable ICO, and a flub.
If you don't have a team willing and able to build the thing, it won't matter who is at the helm. Good talent is hard to find. Developer profiles should be scrutinized to ensure that they have a proven history of working in a field where they should be able to succeed.
Product
What is the technology behind this ICO, what product are they creating, and is it new, innovative, different – and needed?
The IOTA project is a spectacular example of engineers run amok. The technology described or in use must be maintainable, achievable, and realistic, otherwise the risk of it never coming into existence is incredibly high.
Token Utility
Tokens which have no actual use case are probably the worst off, although speculation can still make them have some form of value.
The best tokens we review are the ones that have a forced use case – you must have this token to play in some game that you will probably desire to play in. The very best utility tokens are the ones which put the token holder in the position of supplying tokens to businesses who would be able to effectively make use of the platforms in question.
Market
There doesn't have to be a market in order for an ICO to score well in this category – but if it intends to create one, the argument has to be extremely compelling.
If there is an existing market, questions here involve whether it is ripe for disruption, whether the technology enables something better, cheaper, or faster (for example) than existing solutions, and whether the market is historically amenable to new ideas.
Competition
Most ideas have several implementations. If there are others in the same field, the analyst needs to ensure that the others don't have obvious advantages over the company in question.
Moreover, this is the place where the analyst should identify any potential weaknesses in the company's position moving forward. For instance, a fundamental weakness in the STORJ system is that the token is not required for purchasing storage.
Timing
With many ICO ideas, the timing may be too late or too early. It's important for the analyst to consider how much demand there is for the product in question. While the IPO boom funded a lot of great ideas that eventually did come to fruition, a good analyst would recognize when an idea is too early, too late, or just right.
Progress To Date
Some of the least compelling ICO propositions are those that claim their founders will achieve some far-off goal, sometime in the future, just so long as they have your cash with which to do it.
More interesting (usually) is the ICO that seeks to further some progress along the path to success, and which has a clearly-identified roadmap with achievable and reasonable milestones along the way. Founders who are already partially-invested in their products are generally more invested in their futures.
Community Support & Hype
Having a strong community is one of the fundamental building blocks of any strong blockchain project. It is important that the project demonstrates early on that it is able to generate and build a strong and empowered support base.
The ICO marketplace is becoming more crowded and more competitive. While in the past it was enough to merely announce an offering, today's successful ICO's work hard to build awareness and excitement around their offering.
Price & Token Distribution
One of the biggest factors weighing any analysis is price. The lower the price the more there is to gain. But too low of a price may result in an under capitalized project. It is therefore important to evaluate price relative to the individual project, its maturity and the market it is going after.
The total supply of tokens should also be justified by the needs of the project. Issuing a billion tokens for no reason will do nobody any good.
Communication
Communication is key. The success of a project is strongly tied to the project leaders' ability to communicate their goals and achievements.
Things don't always go as planned but addressing issues and keeping the community and investors in the loop can make or break a project.