Open Interest In Ethereum Futures Has Hit a Record High
Ethereum and Bitcoin may sustain price momentum thanks to rising open interest in futures markets.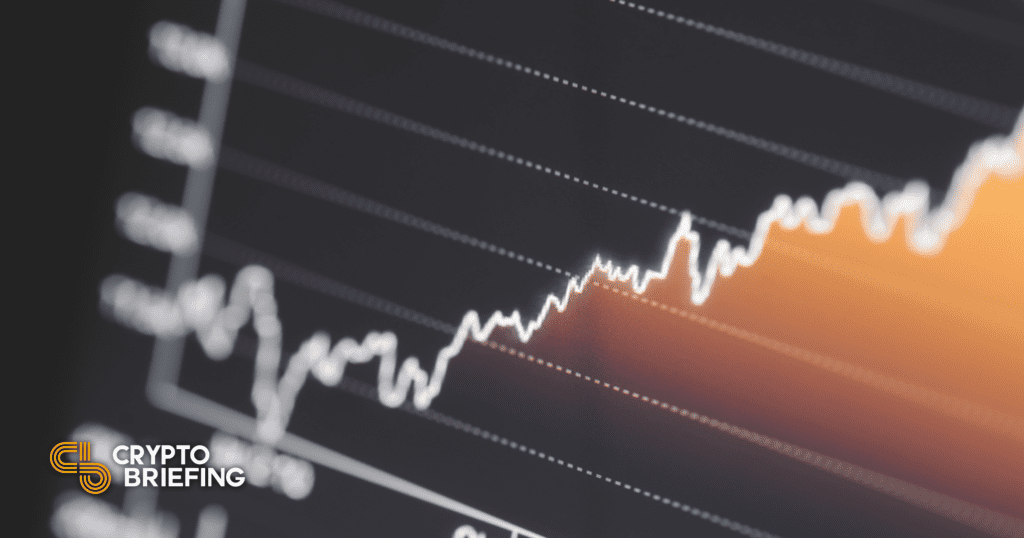 Key Takeaways
Ethereum's aggregated open interest for futures trading has registered a new all-time high.
That metric was measured at $12.6 billion globally on Wednesday, surpassing the previous high of $11.1 billion.
Open interest for Bitcoin futures currently stands at $26.4 billion, slightly short of its April record high.
Open interest for Ethereum (ETH) and Bitcoin (BTC) futures is surging as the crypto market tests new all-time highs.
Ethereum Futures Open Interest Hits New High

Data from Skew shows that the aggregated open interest for ETH futures reached $12.6 billion globally on Wednesday, surpassing the previous high of $11.1 billion recorded on Sept. 6, 2021.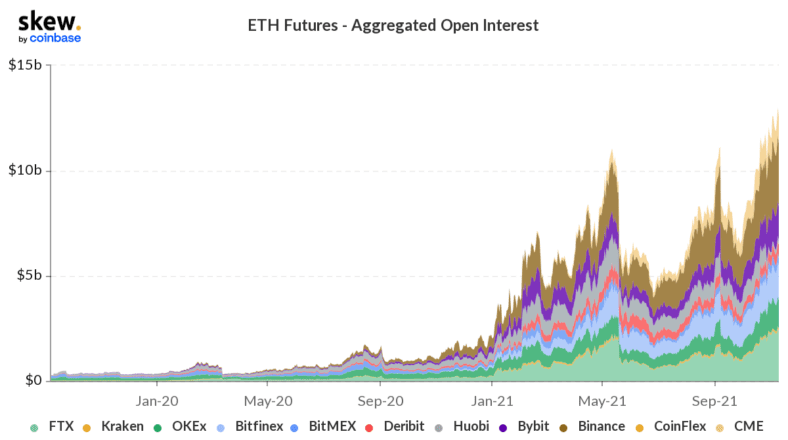 By contrast, the total open interest for Bitcoin futures currently stands at $26.4 billion, closing in on its previous record high of $27.4 billion—a number that was last seen on April 14, 2021.
Open interest in a futures market refers to the total value of unsettled trading contracts. Rising open interest serves as a bullish indicator and suggests that new money is entering the market.
The peaking open interest metric indicates that both Ethereum and Bitcoin may sustain their existing price action, with the possibility of making bigger moves in near future.
Recently, one of the largest investment banks, Goldman Sachs, predicted that Ethereum may rally to $8000 in the next two months. Meanwhile, JP Morgan has made a similar projection about Bitcoin surpassing $73,000 in the short term.
Ethereum and Bitcoin Prices Are Up
Outside of the futures market, Bitcoin and Ethereum themselves have tested new highs and entered a price discovery mode.
Various factors may be at play. Ethereum's London hard fork, which was activated this August, catalyzed price growth by changing Ethereum's fee mechanics. For three months now, the update has created a deflationary force for the second-largest crypto.
Moreover, Ethereum has sustained its market lead. It remains the dominant settlement layer for non-fungible tokens (NFTs). The network also hosts the majority of value locked in DeFi even though other competitors like Solana have shown growth signs.
The price of Ethereum itself has risen by about 60% since October 1. ETH, which is trading at approximately $4800, will soon test the $5,000 level expected to be the point of psychological resistance.
Bitcoin, meanwhile, is currently trading at an all-time high of $68,500. Over the last few months, its bullish sentiment has been driven by the launch of Bitcoin futures ETFs from Proshares and Valkyrie.
Bitcoin also has an upgrade called "Taproot" coming up on Nov. 15, and anticipation around that improvement may have driven up BTC's price over the past several days.
Disclosure: At the time of writing, the author of this feature owned ETH and other cryptocurrencies.