Oracle Tokens Chainlink, Band Protocol Enter New Bull Rally
Decentralized oracles tokens LINK and BAND have hit new all-time highs and show no signs of slowing.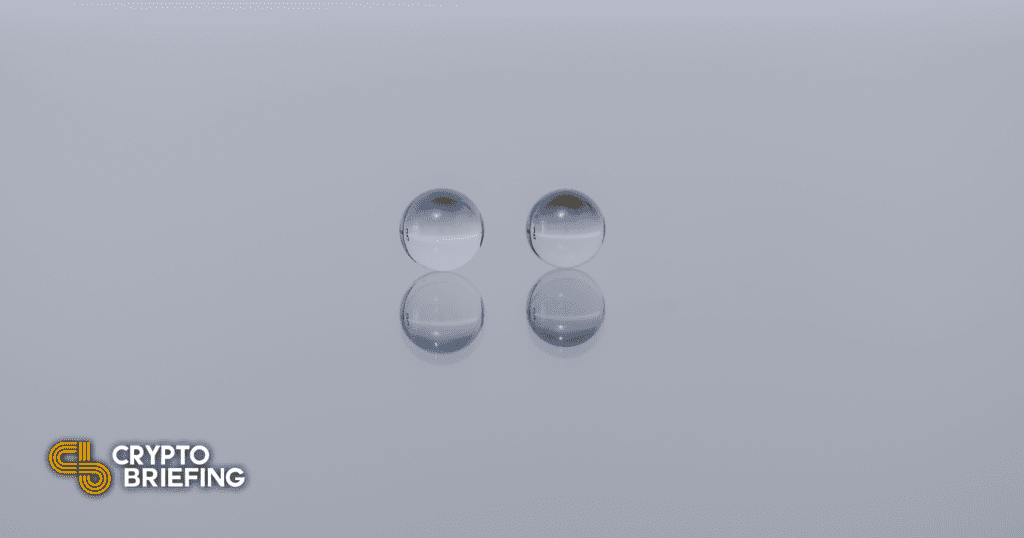 Key Takeaways
Chainlink continues trending upward, making a new record high of $44.30 recently.
Likewise, Band Protocol broke out of a seven-month-long bullish continuation pattern to hit a new all-time high of $23.30.
Further buying pressure could push these cryptocurrencies even higher regardless of the recent gains.
Chainlink and Band Protocol have recently made new all-time highs. Though some investors may take advantage of the rising price action to book profits, these cryptocurrencies show no signs of slowing.
Chainlink Looks Unstoppable
Chainlink made headlines after releasing a new whitepaper that details how the project plans to execute "hybrid smart contracts." The new architecture will expand the network's utility by adding new services to the off-chain computation of data.
"Hybrid smart contracts are about combining blockchain smart contract application capabilities, and the off-chain world's proof and data and computations. This is a big leap forward because it redefines what people can build," said Chainlink's co-founder Sergey Nazarov.
The release of Chainlink 2.0 comes when LINK has broken out of a symmetrical triangle on Mar. 31 and has risen over 50% since then, hitting a new all-time high of $44.30 recently.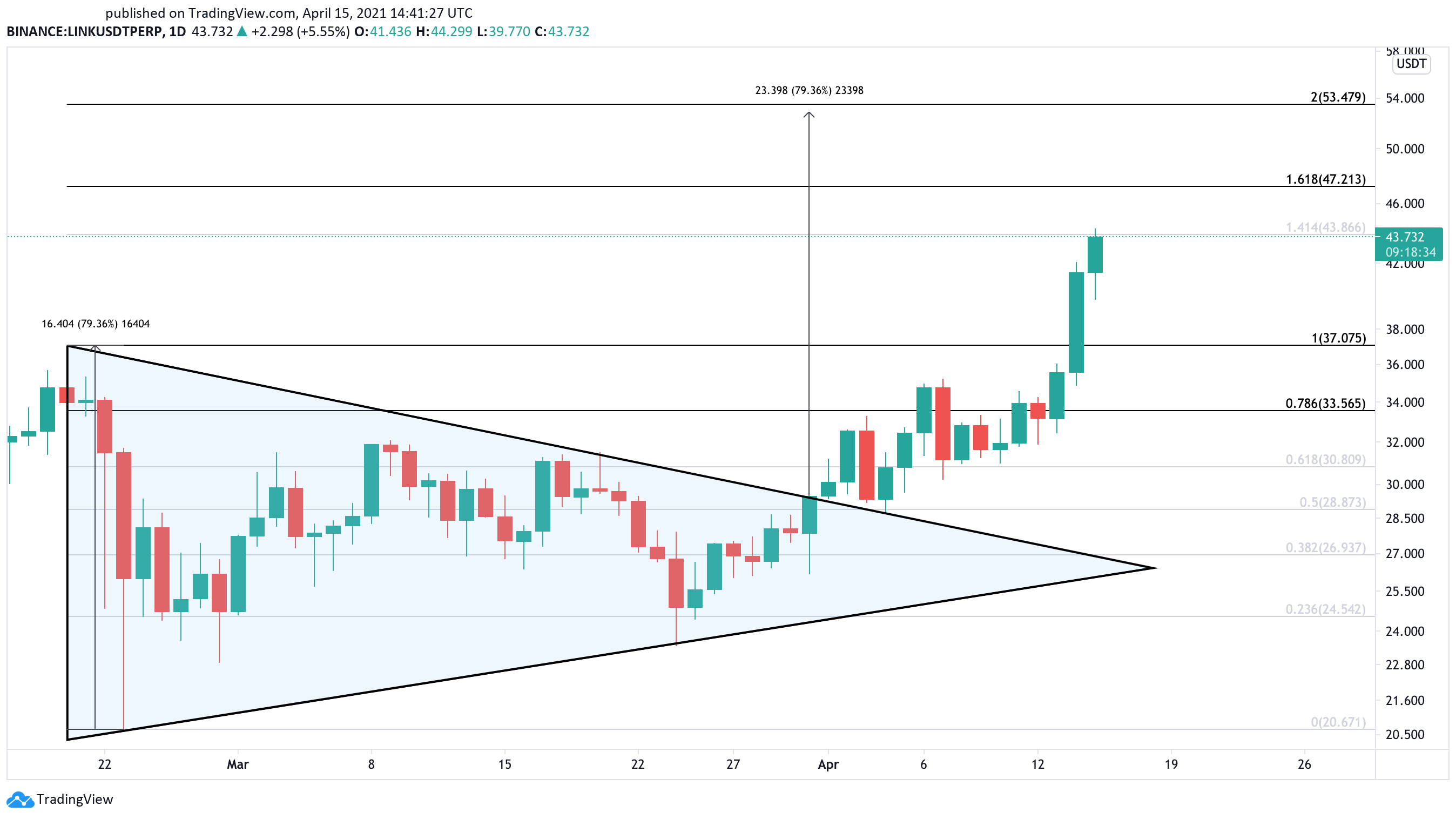 Further buying pressure could push Chainlink by another 19% toward the 200% Fibonacci retracement level at $53.50 – measured from the Feb. 20 high of $37 to the Feb. 23 low of $20.70.
This target is determined by measuring the height of the triangle's y-axis and adding that distance upward from the breakout point.
After Google Integration, Band Moons
Speculation mounts around BAND after Google Cloud announced that it would integrate the decentralized oracles protocol. The cloud computing services platform will use Band Protocol's standard dataset to enable real-time analysis of financial time series data.
The goal is to allow developers to build hybrid blockchains and cloud applications using decentralized oracles.
Following the announcement, BAND surged by more than 30%. The sudden bullish impulse allowed this cryptocurrency to break out of a cup and handle formation that had been developing in its weekly chart since mid-August 2020.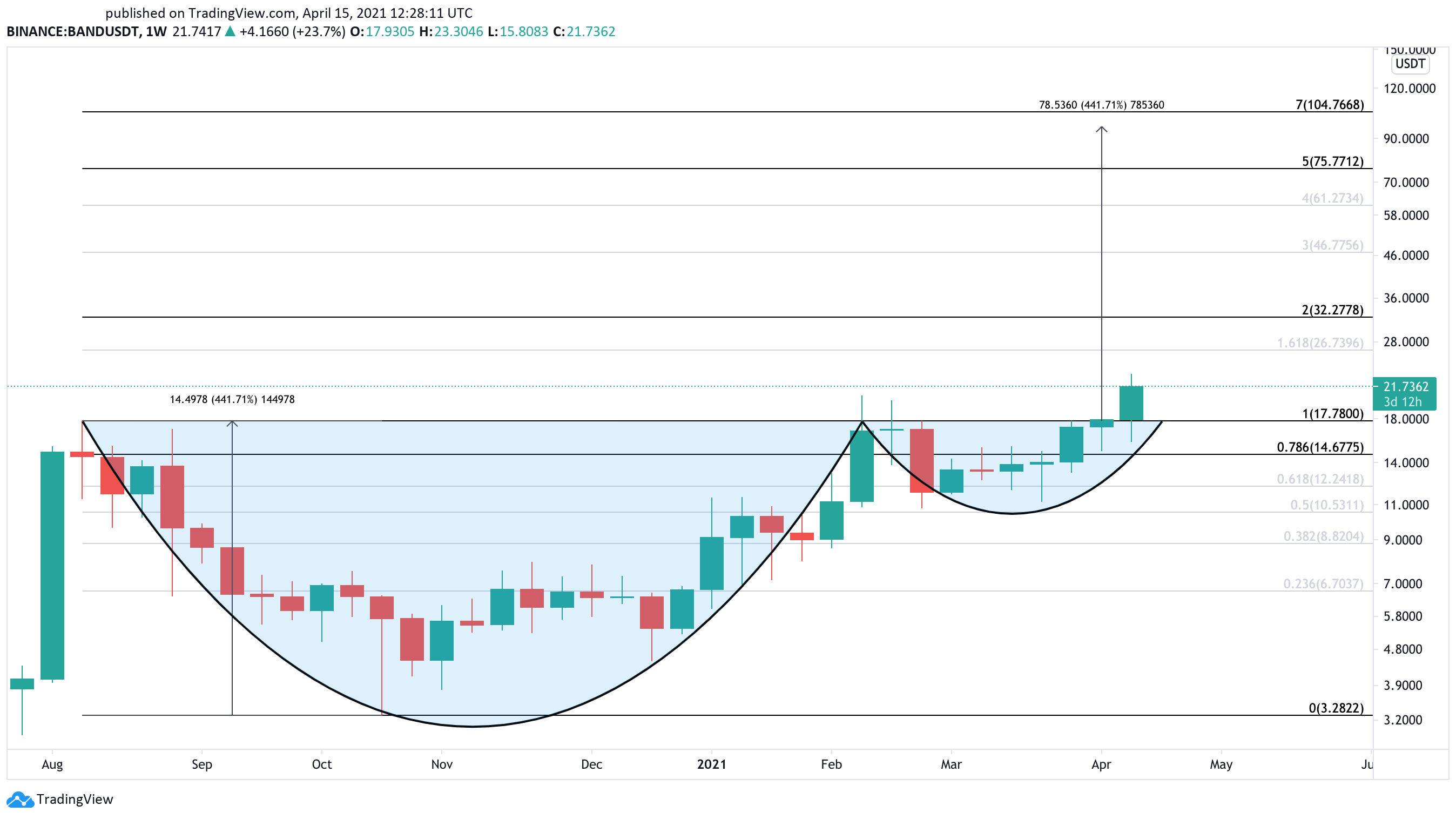 If buy orders continue to pile up, Band Protocol could rise another 300% toward the 500% or 700% Fibonacci retracement level – measured from the Aug. 10, 2020 high of $17.80 to the Oct. 23, 2020, low of $3.30.
These potential interest areas sit at $75.80 and $104.80, respectively.
Such an optimistic target is determined by measuring the height between the bottom of the cup and the $17.80 barrier, then adding that distance upward from the breakout point.
Disclosure: At the time of writing, this author held Bitcoin and Ethereum.
For more key market trends, subscribe to our YouTube channel and get weekly updates from our lead bitcoin analyst Nathan Batchelor.