Hammers, Hoodies and Flamethrowers: On Offer At Origin Today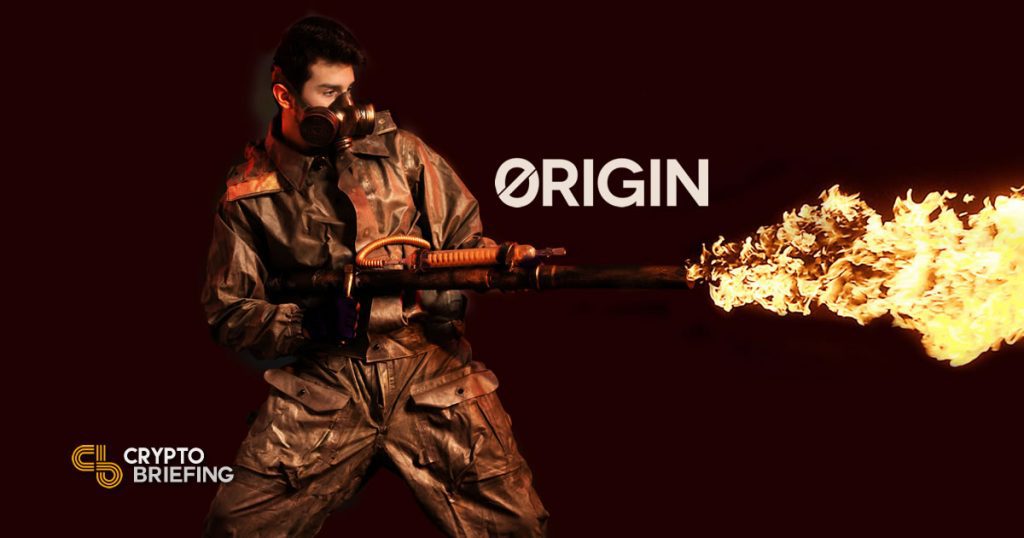 Many people first heard about bitcoin (BTC) in the context of the Silk Road. This was an online marketplace, working off the darknet, where people could buy almost anything – heroin, pistols, pornography – a kind of illicit eBay.
But unfortunately for its operators, the Silk Road left a Paper Trail… which is why its founder, Ross Ulbricht, is currently detained at the pleasure of the U.S. government in a Colorado facility.
Crypto, as a sector, has matured; and as it becomes mainstream, the markets have also changed.
A safer and altogether more salubrious P2P marketplace is now online, taking aim directly at the gig economy middlemen like Airbnb, Uber, or Craigslist.
The Origin (OGN) protocol is a decentralized peer-to-peer marketplace. It's a platform for buyers and sellers to connect and transact with one another. Based on the Ethereum (ETH) network, goods and services can be bought with Ether. The mainnet is live, and the dApp is in beta and available to try.
"For the first time since the sharing economy was created, buyers and sellers can now meet and transact without any trusted intermediaries taking egregious fees", said co-founder Matt Liu to Crypto Briefing.
"We're excited about all the unique goods and services already offered on our platform shortly after launch, including traditional offerings like t-shirts and home rentals all the way to exclusive music and DJ lessons from DJ 3lau and pitch sessions with top Silicon Valley venture capitalists."
---
What's on Origin?
It's only been a week since the mainnet launch, and already there are 79 items listed on the platform. None of them illegal.
For 18 ETH, around $3,700, you can hire an events team to help organize and plan a "kick-ass" blockchain meetup out in Singapore. Just 2 ETH can get you a house out in Boulder, Colorado, for the weekend. "Breathtaking views" and all-important WiFi make it the ideal location for a "hacking" weekend, so says the ad.
There are also some slightly more eclectic items available. Remember those flamethrowers Elon Musk released at the start of the year? Well you can have a mock test with one for 2 ETH; the advert doesn't say what you can do with it or for how long, but the offer's on the table. Either that, or the team are having a giggle at our expense.
Unfortunately one of the items that would probably get most interest is now unavailable – the chance to pitch your business idea to Paul Veradittakit of Pantera Capital.
The most expensive item currently listed on the platform is the nametag "Ethereum". On the market for a princely $10,000; the vendor says that they'll send the token as soon as the order has been filled.
Lessons from a world-renowned DJ… trips to Venice… dinner from a chef who has earned two Michelin stars… these are just the first few novel items that have been uploaded to the platform.
Perhaps to help fill out the market a bit, Origin are trying to flog a whole host of branded items on their platform. One Origin-branded backpack will set you back $100; a hoodie emblazoned with their logo is $50 – it is limited edition after all. Alternatively, what better way to decorate a car bumper or fridge door than with an Origin sticker? Yours for $10. The branding is pretty cool, to be fair.
Probably the best item on the market is the hammer. Not just any hammer, it has a hickory-wood handle. it comes with free shipping to anywhere in the continental United States. The vendor says: "this small 10oz hammer is perfect for hanging pictures or cabinet work. It's a used hammer – I've had it for about ten years, and there are small scuffs to show it."
Someone had put an offer on it, at press time.
---
Origin-al marketplace?
Sites like Origin show there can be legitimate marketplaces using crypto. In years to come it might become much more than the place to go for Origin branded merchandise as well as having *blast* with a flamethrower. Origin is aiming squarely at becoming the world's shopping cart.
Whether they've nailed it, remains to be seen. Maybe we'll ask the guy who bought that hammer.
The author is invested in BTC and ETH, which are mentioned in this article.