Oscar Mayer Creates One-Off Pack of Dogecoin Hot Dogs
The company is auctioning the one-of-a-kind crypto-themed item through eBay.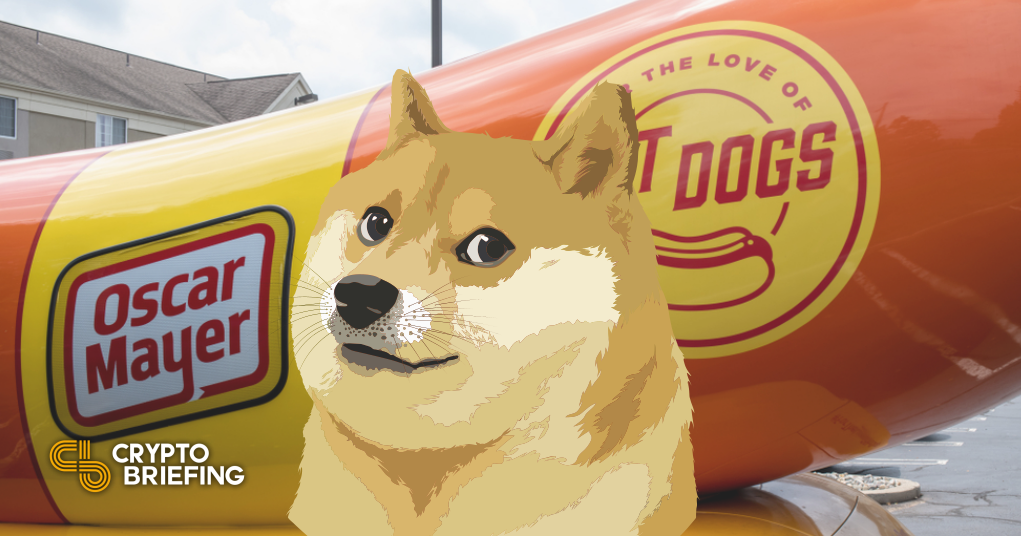 Meat and cold cut company Oscar Mayer is auctioning off a pack of Dogecoin-themed hot dogs, as announced on Twitter.
💎BEHODL💎 This limited-edition pack of Hot Doge Wieners that comes with the cash value of 🚀 10,000 Dogecoins 🚀 There's only one pack in existence… and it can be yours 🤑 Bid it for a chance to get it at https://t.co/ZrrUxfjPPs pic.twitter.com/FHWGhpGthF

— Oscar Mayer (@oscarmayer) August 4, 2021
Hot Dogs Have Attracted $3,500 Bid
Oscar Mayer stated that the package of hot dogs was initially valued at 10,000 DOGE. It does not appear that the company plans to accept bids in Dogecoin, making its starting value equivalent to $2,000.
The item had attracted 72 bids at the time of writing, and those bidders have placed offers as high as $3,050.
The auction is part of Ebay's Auctions for Charity. All proceeds will go toward the food bank and hunger relief organization Feeding America. Bidding will end on Saturday at 9:00 AM PST.
The company has also changed its Twitter profile picture to include a Shiba Inu dog, the mascot of the Dogecoin community.
Dogecoin Attracts Food Brands
Social media trends have become something of a trend for popular food brands this year. Beginning in April, Slim Jim began to publish several tweets about Dogecoin and eventually introduced a collectible NFT themed around the cryptocurrency.
More recently, Burger King Brazil introduced a limited run of meat-flavored dog treats themed around Dogecoin.
Snickers, Milky Way, and KFC have also acknowledged Dogecoin on Twitter, albeit without introducing any items for sale.
The trend was likely motivated by Dogecoin's brief but rapid price surge earlier this year, as well as related hype on social media.
Disclaimer: At the time of writing this author held less than $75 of Bitcoin, Ethereum, and altcoins.