UPDATE: Perlin ICO Review and PERL Token Analysis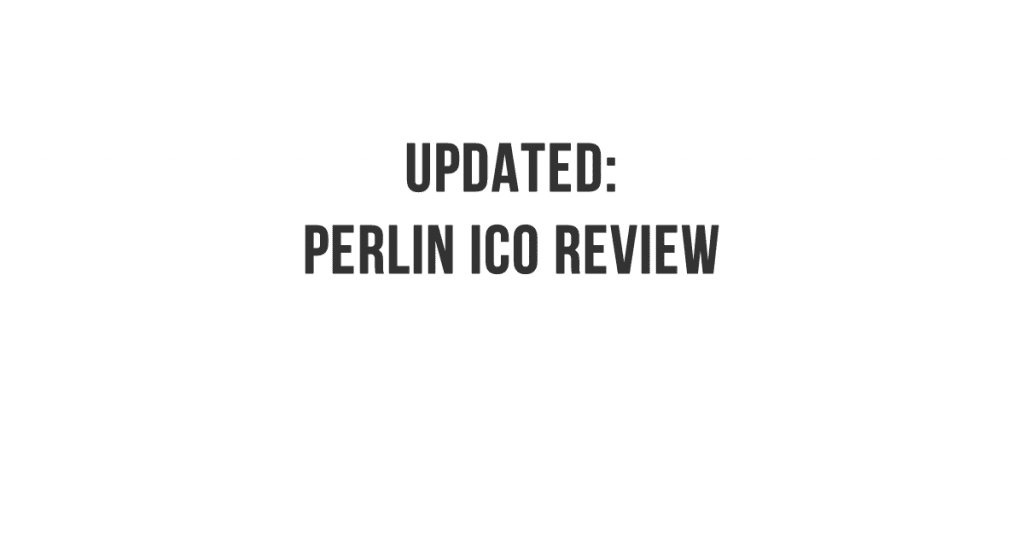 IMPORTANT NOTICE REGARDING THE PERLIN ICO
Our commitment to independence and honesty is what has made Crypto Briefing successful. But it's our community that makes us special.
Many of you have written to us, concerned about the high scores we awarded to the Perlin project without being able to share some of the information that led to the review.
We understand that – and we're grateful that most of you have been able to understand, in turn, that we have a duty to the projects that invite us to review them. We have to keep certain things under wraps until they're ready to share them.
However, our Perlin scores were based on a couple of things that have not turned out to be entirely accurate.
The Perlin team accepted a round of funding that was unknown to us during the review process. That is their prerogative, it doesn't suggest any deliberate attempt to mislead us, it's simply new information.
More seriously, we were under the impression that Perlin intended to publish a revised whitepaper and unveil their project in a timely manner. Although there may be many reasons for the delay, we published our review based on this understanding.
And since these lapses in communication have clearly undermined some of the strong support in the community that we saw early on, we must now adapt our ratings.
We are still big fans of the project, the tech, and the team – but we have a responsibility to ensure that our review is as accurate as possible.
We will continue to bring you projects that are based, to some degree, on confidential information; and we will be clearer than ever with project teams that such information needs to be accurate, timely, and unlikely to change substantially.
Perlin ICO Overview
The Perlin ICO and PERL Token are raising funds for the launch of a scalable DAG-based protocol using Avalanche consensus. The Perlin ICO also includes the launch of a decentralized compute layer, called the Perlin Network, which will serve as a marketplace for the exchange of computing resources between providers and customers.
Perlin is optimized to be a solution for developing dApps that require large amounts of computing resources and disk space, opening the door to a variety of potential use case scenarios.
Perlin ICO Value Proposition
The DAG-based distributed ledger utilizes Avalanche consensus, a Byzantine fault tolerant protocol built on a metastable mechanism to achieve high throughput and scalability. The novel consensus mechanism and native general-compute engine of the protocol provide a new foundation on which to build decentralized applications.
Among the wide range of potential use cases as a smart contract protocol, distributed computing comprises the first implementation. The Perlin Network is a distributed computing platform built on top of the novel DAG. The network commodifies underutilized computing resources into highly parallel batches of computing power, which can be utilized for tasks such as analyzing big data and training machine learning modules.
The platform has three major components; a self-audited distributed ledger, a cryptographic proof of computational resources, and a framework for highly parallel blind computing.
The Perlin Network will access the underutilized compute power of mobile phones, computers, and gaming consoles, quantifying the available resources of each participant with a cryptographic hash function.
To establish a trustless computing market, resource providers must prove the amount of available compute at their disposal before offering it to customers; this is accomplished utilizing a Proof of Compute Availability mechanism. Conversely, by quantifying the amount of available compute power on the network, customers can purchase precisely how much is required for their task, much like AWS EC2.
By commodifying computing resources through a decentralized digital currency, the Perlin ICO team aim to balance the supply and demand for computing resources on a global level.
PERLs are the native token of Perlin, facilitating the transfer of value and payments. Accessing the distributed computational capacity of the Perlin Network requires PERLs. Customers on the network register computational tasks with a fixed pool of PERLs for miners as a reward for running tasks. When registering tasks, customers can specify the parameters of the RAM and CPU required from the miners. Tokens are also paid as a reward to transaction validators.
PERLs will initially be minted as ERC20 tokens but will be exchanged for native PERLs at the launch of the Perlin Network mainnet.
Perlin ICO Team
Dorjee Sun (Project Manager): Dorjee is a serial-entrepreneur who came to international attention after founding Carbon Conservation, a social enterprise for brokering carbon credit deals that resulted in the preservation of vast swathes of rainforest. He has a formidable history of startup success, having sold four companies he founded. He is also a seasoned veteran in the cryptospace and serves as an advisor to Santiment, Republic Protocol and Loki, among others. A more extensive background on Dorjee's impressive track record of social entrepreneurship is available here.
Kenta Iwasaki (CTO): Kenta has an impressive history as both a developer and startup founder, with ample experience building distributed systems and machine learning. Before joining Perlin, Kenta worked with Naver Corp as an Artificial Intelligence Researcher and DJI as a Robotics Engineer. He is also the Founder and CEO of Dranithix, which develops internet marketing systems optimized through real-time analytics and machine learning. Kenta's GitHub is available here.
Mirza Uddin (Business Development): Mirza is a Harvard-educated VC investor with a focus on the tech field. Aside from VC, he has also served as an Editor at LinkedIn and Investment Banker with Citi. In the cryptospace, he is an advisor to EdenChain and OneLedger.
The Perlin team also includes an additional three developers whose identities will not be disclosed at this stage.

Perlin ICO Strengths and Opportunities
The implementation of the Avalanche consensus mechanism provides a new paradigm for DAG-based linear scalability that is secure, scalable and leaderless. Initial tests of Avalanche have produced speeds of 1600+ tps on a network of 2000 nodes.
For use cases like distributed computing, where both performance and security are paramount, the Avalanche implementation provides a demonstrably viable pathway to a trustless, decentralized supercomputer built on millions of individual devices. This use case represents only one of the many new scenarios for which the protocol can be deployed.
On top of the DAG layer, the Perlin Network itself provides a compelling vehicle for adoption. From the consumer perspective, the network introduces a crucial component missing from competing decentralized computing platforms; customers can designate the level of RAM and CPU needed for their compute tasks in the same manner as with AWS EC2. Perlin deploys cryptographically secure proofs of the RAM and CPU available on the network to support this feature.
Moreover, the high-throughput achieved through the novel consensus mechanism makes it possible for the network to reach performance levels comparable to cloud-based platforms.
As the need for computing power grows exponentially, the Perlin Network offers the prospect of a cheaper, decentralized alternative to customers requiring large-scale compute power. Beyond enterprises, the cost-reductive value add of the Perlin Network makes this massive pool of computing power accessible to startups, researchers, and other small-scale actors.
Perlin ICO Weaknesses and Threats
Within the cryptospace, there are a multitude of DAG protocols and distributed computing projects. Which projects ultimately lead the transition to mass market adoption will depend not only on the quality of the underlying technology, but also the practical and economic appeal of the product itself.
In the case of distributed computing, the Perlin Network has the potential to stand on par with Web 2.0-based systems. For institutions and enterprises, both small and large, a decisive factor in the transition to the Perlin Network rests with user adoption by miners. Absent a roadmap on securing this critical component of the ecosystem, we are left with the track record of the Perlin team to gauge such prospects. While the founding team are exceptional by any metric, the question of adoption strategies for capturing a large pool of miners remains an open one at this point.
The Verdict on the Perlin ICO
On a fundamental level, the Perlin ICO is solid across the board. WIth both a cutting-edge DAG protocol and innovative decentralized computing platform all in one package, there is more than one path to success for the Perlin ICO. The outstanding team and product together comprise a project that could very well set a new precedent for adoption and scale in the cryptospace.
Additional Information
We have been in discussions with the Perlin ICO team and our ratings are based on conversations and information that they have asked us to keep confidential. While it may seem premature to rate their ICO highly, we have been made privy to insights that suggest a very strong project, and we will update this review when the Perlin ICO team is ready to share further data. In the meantime the Perlin Network team maintains a Telegram channel for more immediate updates.
A full code review has also been conducted by Andre Cronje, and is
available here
.
In light of new information, we reduced our participation in the Perlin ICO to a small bet.
Learn more about the Perlin ICO in our 4900+ member Telegram Group.
---
PERLIN ICO REVIEW SCORES
SUMMARY
PLEASE NOTE THAT WE HAVE REDUCED OUR SCORES BASED ON UPDATED INFORMATION. The Perlin Network ICO (PERL Token) is a DAG-based protocol using Avalanche consensus. It's designed to handle the requirements of compute-intensive distributed and decentralized applications. Many solutions have been proposed (and reviewed) that seek to solve part of the problem with scaling blockchains – however, the Perlin ICO proposition is the first and only one we have seen that appears to have a shot at a holistic fix. We cannot currently find a hole in their plan, and it's our assessment that Perlin could become as integral to the development and adoption of blockchain technology as Ethereum.
Founding Team……………………….9.5
Product…………………………………..9.6
Token Utility…………………………..9.8
Market…………………………………..9.7
Competition…………………………..8.9
Timing……………………………………9.6
Progress To Date……………………8.8
Community Support & Hype…..3.2
Price & Token Distribution……..5.4
Communication……………………..4.3
FINAL SCORE……………………….7.1
UPSIDES
All-star team with tech expertise and business acumen

Compelling value proposition as both protocol and platform

Development is already underway
DOWNSIDES
Roadmap to scaling is still an open question

Target markets are highly competitive
Today's Date: 6/19/18
Project Name: Perlin Network
Token Symbol: PERL
Website: http://perlin.net/
Additional Information: https://t.me/perlinnetwork
---
ICO Review Disclaimer
The team at Crypto Briefing analyzes an initial coin offering (ICO) against ten criteria, as shown above. These criteria are not, however, weighted evenly – our proprietary rating system attributes different degrees of importance to each of the criteria, based on our experience of how directly they can lead to the success of the ICO in question, and its investors.
Crypto Briefing provides general information about cryptocurrency news, ICOs, and blockchain technology. The information on this website (including any websites or files that may be linked or otherwise accessed through this website) is provided solely as general information to the public. We do not give personalized investment advice or other financial advice.
Decentral Media LLC, the publisher of Crypto Briefing, is not an investment advisor and does not offer or provide investment advice or other financial advice. Accordingly, nothing on this website constitutes, or should be relied on as, investment advice or financial advice of any kind. Specifically, none of the information on this website constitutes, or should be relied on as, a suggestion, offer, or other solicitation to engage in, or refrain from engaging in, any purchase, sale, or any other any investment-related activity with respect to any ICO or other transaction.
The information on or accessed through this website is obtained from independent sources we believe to be accurate and reliable, but Decentral Media LLC makes no representation or warranty as to the timeliness, completeness, or accuracy of any information on or accessed through this website. Decentral Media LLC expressly disclaims any and all responsibility from any loss or damage of any kind whatsoever arising directly or indirectly from reliance on any information on or accessed through this website, any error, omission, or inaccuracy in any such information, or any action or inaction resulting therefrom.
Cryptocurrencies and blockchain are emerging technologies that carry inherent risks of high volatility, and ICOs can be highly speculative and offer few – if any – guarantees. You should never make an investment decision on an ICO or other investment based solely on the information on this website, and you should never interpret or otherwise rely on any of the information on this website as investment advice. We strongly recommend that you consult a licensed investment advisor or other qualified financial professional of your choosing if you are seeking investment advice on an ICO or other investment.
See full terms and conditions for more.
Founding Team
This category accounts for the leaders, developers, and advisors.
Poor quality, weak, or inexperienced leadership can doom a project from the outset. Advisors who serve only to pad their own resumes and who have ill-defined roles can be concerning. But great leadership, with relevant industry experience and contacts, can make the difference between a successful and profitable ICO, and a flub.
If you don't have a team willing and able to build the thing, it won't matter who is at the helm. Good talent is hard to find. Developer profiles should be scrutinized to ensure that they have a proven history of working in a field where they should be able to succeed.
Product
What is the technology behind this ICO, what product are they creating, and is it new, innovative, different – and needed?
The IOTA project is a spectacular example of engineers run amok. The technology described or in use must be maintainable, achievable, and realistic, otherwise the risk of it never coming into existence is incredibly high.
Token Utility
Tokens which have no actual use case are probably the worst off, although speculation can still make them have some form of value.
The best tokens we review are the ones that have a forced use case – you must have this token to play in some game that you will probably desire to play in. The very best utility tokens are the ones which put the token holder in the position of supplying tokens to businesses who would be able to effectively make use of the platforms in question.
Market
There doesn't have to be a market in order for an ICO to score well in this category – but if it intends to create one, the argument has to be extremely compelling.
If there is an existing market, questions here involve whether it is ripe for disruption, whether the technology enables something better, cheaper, or faster (for example) than existing solutions, and whether the market is historically amenable to new ideas.
Competition
Most ideas have several implementations. If there are others in the same field, the analyst needs to ensure that the others don't have obvious advantages over the company in question.
Moreover, this is the place where the analyst should identify any potential weaknesses in the company's position moving forward. For instance, a fundamental weakness in the STORJ system is that the token is not required for purchasing storage.
Timing
With many ICO ideas, the timing may be too late or too early. It's important for the analyst to consider how much demand there is for the product in question. While the IPO boom funded a lot of great ideas that eventually did come to fruition, a good analyst would recognize when an idea is too early, too late, or just right.
Progress To Date
Some of the least compelling ICO propositions are those that claim their founders will achieve some far-off goal, sometime in the future, just so long as they have your cash with which to do it.
More interesting (usually) is the ICO that seeks to further some progress along the path to success, and which has a clearly-identified roadmap with achievable and reasonable milestones along the way. Founders who are already partially-invested in their products are generally more invested in their futures.
Community Support & Hype
Having a strong community is one of the fundamental building blocks of any strong blockchain project. It is important that the project demonstrates early on that it is able to generate and build a strong and empowered support base.
The ICO marketplace is becoming more crowded and more competitive. While in the past it was enough to merely announce an offering, today's successful ICO's work hard to build awareness and excitement around their offering.
Price & Token Distribution
One of the biggest factors weighing any analysis is price. The lower the price the more there is to gain. But too low of a price may result in an under capitalized project. It is therefore important to evaluate price relative to the individual project, its maturity and the market it is going after.
The total supply of tokens should also be justified by the needs of the project. Issuing a billion tokens for no reason will do nobody any good.
Communication
Communication is key. The success of a project is strongly tied to the project leaders' ability to communicate their goals and achievements.
Things don't always go as planned but addressing issues and keeping the community and investors in the loop can make or break a project.