Phantasma ICO Review and SOUL Token Analysis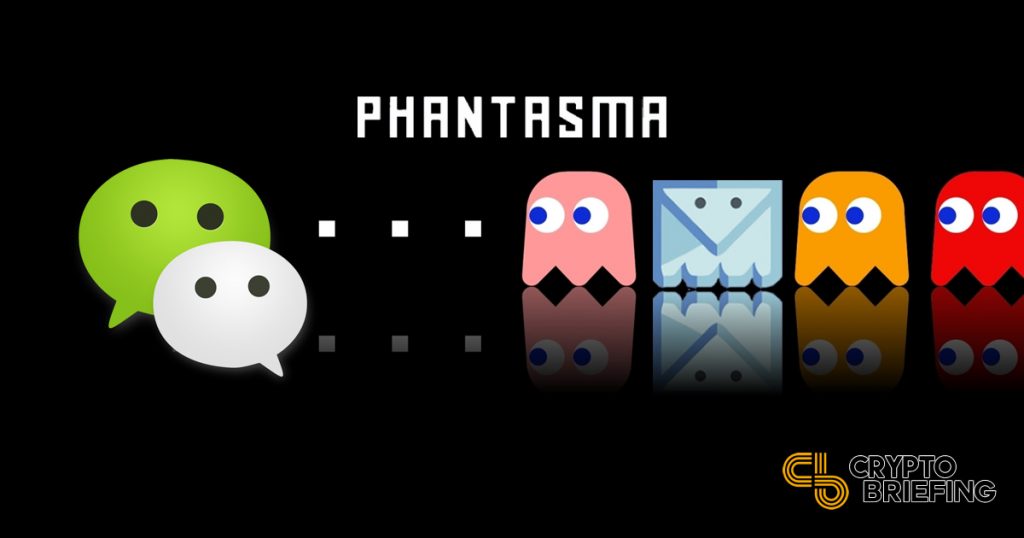 Phantasma ICO Overview
The Phantasma ICO and SOUL Token offer a decentralized content distribution system on the blockchain, architected to prioritize privacy and security for users. Phantasma makes the case that decentralization brings a much needed value add to information security between peers and has built their protocol specifically geared toward content sharing of all types.
The main message of the Phantasma team is that reliance on centralized services for sharing information poses a number of dangers to individuals and organizations alike. Moreover, the growing dapp ecosystem requires a way to securely exchange data as well. Phantasma see their product as a solution to these issues.
Phantasma ICO Value Proposition
Phantasma provides both a platform for content storage and a protocol for sending messages via smart contracts. The ultimate end of the protocol is to provide a framework for data management on dapps. Phantasma has designed the protocol for the exchange of emails, direct messages, files and other data on top of the blockchain. The architecture of the entire product consists of 5 main components:
The Blockchain: Phantasma will initially be launched on the NEO blockchain itself. The team intend to adopt NEOX for cross-chain interoperability and will then eventually fork Phantasma into its own blockchain. The team propose this is the best path to reaching maximum efficiency for the network.
Smart Contracts: The primary function of the Phantasma smart contract is for the messaging protocol. The smart contract system also handles content storage and token transactions as fuel for the network.
Software Development Kit: The team intend to release an SDK so that anyone can develop their own dapps using Phantasma. The SDK is a critical component for the expansion of the ecosystem.
Relay Nodes: To create an architecture that can properly handle the task of data exchange in a decentralized fashion, the relay nodes will exist on their own off-chain layer between the NEO blockchain and all Phantasma dapps. The goal of including an off-chain layer is to facilitate faster delivery of encrypted content.
Distributed Content Storage: The Phantasma Data Filesystem (PDFS) is a decentralized data system which will serve as the storage backend for Phantasma dapps. Users (running Phantasma Nodes) may further contribute to the network by running full PDFS nodes.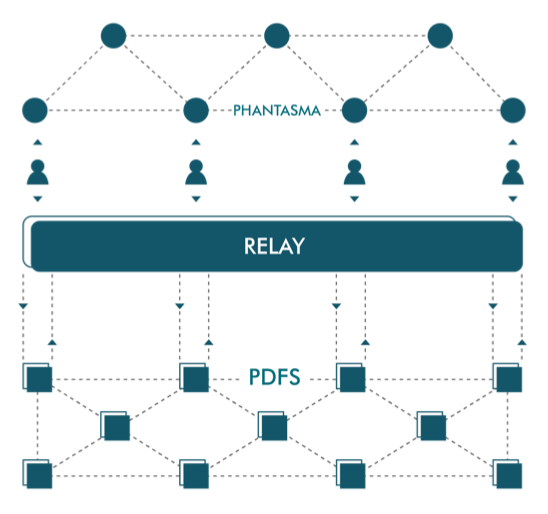 Visualization of the Platform Architecture (Phantasma Whitepaper)
The underlying utility token is called SOUL. As Phantasma is built on the NEO blockchain, SOUL will initially be issued as an NEP-5 token. Users of Phantasma need tokens to pay for the data which they exchange and for the creation/renewal of storage space. Developers and contributors receive SOUL for providing storage and network services and nodes are rewarded for their role in validating the network.
Phantasma ICO Team
Sergio Flores (Co-founder and Engineer) Sergio is a developer with the City of Zion. He has been a programmer for nearly two decades. Prior startup experience includes the founding of his own game development company, Lunar Labs, which has been in existence since 2015. His GitHub is available here.
Miguel Ferreira (Co-founder and Engineer) According to the Phantasma website, Miguel holds an MSc in Computer Science and is an experienced blockchain developer. His LinkedIn is not available.
Alexandre Paixão (Marketing Manager) Alexandre gained 6 years of marketing experience before joining the Phantasma team. His primary focus has been within the gaming industry, where he held positions such as Marketing Assistant and Marketing Manager in Portugal. He holds a Master's degree in Marketing from the ISCTE Business School.
Sérgio Pereira da Silva (Business and Finance) Sergio has a strong background in finance and accounting. He has worked for the last 2 years with Portuguese blockchain engineering company SyncData.
Advisors to the Phantasma ICO include Co-founder and CTO of Bluzelle, Neeraj Murarka.
Full details on the team and advisors are available here.
Phantasma ICO Strengths and Opportunities
Interoperability with existing systems is a core focus for the later stages of the product development roadmap in 2019. By expanding outside the NEO ecosystem, Phantasma has a better shot at adoption for transacting data between dapps on disparate protocols.
Using their email client as an example, Phantasma plans to eventually implement mailboxes that will be compatible with standard email addresses and can therefore communicate with email systems outside the blockchain.
A possible downside to this is that, presumably, any information exchanged with email systems outside the blockchain will be retained on centralized servers and thus defeat the purpose of building a decentralized email client.
As a means to exclusively exchange encrypted data between dapps, Phantasma holds more promise. The team envision a myriad of possible use cases for their product if they can entice developers to build on Phantasma, such as a distributed entertainment content network and a decentralized ecommerce platform.
As the team has made available an SDK for developers, the potential exists for any number of dapps to result. However, the incentive to build such platforms will rely heavily on Phantasma's initial success within the developer community and wider cryptospace from the starting line.
Promotion will take place through a marketing campaign with rewards to foster initial interest from developers. After the launch of the platform, Phantasma will implement an incentivized program for development of 3rd party dapps in addition to promoting organic marketing through supporters within the community.
Phantasma ICO Weaknesses and Threats
As far as a proof of concept is concerned, Phantasma has begun work on their secure email client, with plans to release a prototype in Q2 2018. By Q4, the team plans to release their secure chat client.
The real question at stake here is whether users really want to adopt a chat and email system that requires tokens for usage. Is the mass market seeking after such a model, or are average people more likely to continue to use free services like Gmail, Dropbox etc. for such purposes?
While it's becoming more and more evident as time passes that people are concerned with issues of data privacy, whether or not they are willing to pay for extra security is another matter altogether. Some reports have illustrated that privacy simply is not a selling point on which consumers base decisions when using or even purchasing products and services.
Moreover, big tech companies have moved to quell such concerns through the use of encryption on many mass consumer messaging services such as WhatsApp. Free encrypted email services already exist as well that provide many of the same protections afforded by products like Phantasma.
While there are always tradeoffs to be made when it comes to network speed and security, it's hard to gauge initial user sentiment toward the performance of Phantasma without a working product.
If mass adoption of email services which are free, encrypted and secure, haven't yet happened, a sober assessment would lead us to believe at this stage that a blockchain-based product may not fare any better.
None of this is to dismiss the importance of privacy or suggest consumer capitulation to big tech is a positive trend. On the contrary, the cryptospace must examine the question more seriously regarding what exactly moves masses of people toward adoption of new products if we indeed hope to make it happen.
The Verdict on Phantasma ICO
The Phantasma ICO is focusing heavily on a value proposition that may not have sufficient standing with the average internet user to gain traction. Underlying the dapp layer of the project though is a more enticing infrastructure set that has potential for a number of alternative use cases.
Still, we don't have enough progress on the product end to place much confidence in this supposition alone. With all these factors taken into consideration, we will not place a bet on the Phantasma ICO.
Note, although the main whitelist is closed, there are 1,000 more whitelist spots available from May 10th – details are on their Telegram Group.
What Would Change our Minds
A pivot away from decentralized messaging dapps toward a focus on working together with other projects that would benefit from the value add of the Phantasma infrastructure. This route holds the prospect for providing a useful service to other projects on the NEO blockchain.

Delivering a tangible prototype by the time of the ICO. Right now, there is very little progress to show on the development front for a project that doesn't have many other immediate strengths to make up for a lack of product.

A more tangible marketing strategy that goes beyond total reliance on incentivizing developers and community members.
Learn more about the Phantasma ICO (SOUL) from our Telegram Community by clicking here.
PHANTASMA ICO REVIEW SCORES
SUMMARY
The Phantasma ICO (SOUL Token) is raising money to build a user-friendly, privacy-first platform that could support dApps focused on content distribution. In other words, at least initially, content storage and messaging systems. We have seen several blockchain initiatives in this field, and while each addresses a real need and has a genuine use-case, the question that continues to be unanswered is of paramount importance: if freely-available encrypted, private email and messaging services haven't already caught on, how will tokenizing these services suddenly light a fire under the target user?
Founding Team……………………….7.8
Product…………………………………..4.7
Token Utility…………………………..7.8
Market…………………………………..3.3
Competition…………………………..6.0
Timing……………………………………8.5
Progress To Date……………………3.1
Community Support & Hype…..7.3
Price & Token Distribution……..9.3
Communication……………………..6.8
FINAL SCORE……………………….6.7
UPSIDES
Potential for value add to NEO infrastructure

Very favorable token metrics
DOWNSIDES
No visible partnerships for scaling and adoption

MVP not yet released

Community support relatively low
Today's Date: 5/9/18
Project Name: Phantasma
Token Symbol: SOUL
Website: https://phantasma.io
White Paper: https://phantasma.io/phantasma_whitepaper.pdf
Crowdsale Hard Cap: $10,000,000 USD
Total Supply: 100,000,000
Token Distribution: 65% available for TGE, 20% reserved for team and advisors, 15% reserved for platform growth and developer incentives
Price per Token: 1 SOUL = $0.23 USD
Fully-diluted Market Cap (at crowdsale price): $15,000.000 USD
Accepted Payments: NEO
Countries Excluded: China, USA, North Korea, Syria
Bonus Structure: N/A
Presale Terms: N/A
Whitelist: Second round whitelist for the first 1,000 participants starting May 10th, 15:00 (UTC+1) on the Phantasma website
Important Dates: Crowdsale- May 22nd, 00:01 UTC
Expected Token Release: TBA
Additional Information: https://t.me/Phantasma_english
---
ICO Review Disclaimer
The team at Crypto Briefing analyzes an initial coin offering (ICO) against ten criteria, as shown above. These criteria are not, however, weighted evenly – our proprietary rating system attributes different degrees of importance to each of the criteria, based on our experience of how directly they can lead to the success of the ICO in question, and its investors.
Crypto Briefing provides general information about cryptocurrency news, ICOs, and blockchain technology. The information on this website (including any websites or files that may be linked or otherwise accessed through this website) is provided solely as general information to the public. We do not give personalized investment advice or other financial advice.
Decentral Media LLC, the publisher of Crypto Briefing, is not an investment advisor and does not offer or provide investment advice or other financial advice. Accordingly, nothing on this website constitutes, or should be relied on as, investment advice or financial advice of any kind. Specifically, none of the information on this website constitutes, or should be relied on as, a suggestion, offer, or other solicitation to engage in, or refrain from engaging in, any purchase, sale, or any other any investment-related activity with respect to any ICO or other transaction.
The information on or accessed through this website is obtained from independent sources we believe to be accurate and reliable, but Decentral Media LLC makes no representation or warranty as to the timeliness, completeness, or accuracy of any information on or accessed through this website. Decentral Media LLC expressly disclaims any and all responsibility from any loss or damage of any kind whatsoever arising directly or indirectly from reliance on any information on or accessed through this website, any error, omission, or inaccuracy in any such information, or any action or inaction resulting therefrom.
Cryptocurrencies and blockchain are emerging technologies that carry inherent risks of high volatility, and ICOs can be highly speculative and offer few – if any – guarantees. You should never make an investment decision on an ICO or other investment based solely on the information on this website, and you should never interpret or otherwise rely on any of the information on this website as investment advice. We strongly recommend that you consult a licensed investment advisor or other qualified financial professional of your choosing if you are seeking investment advice on an ICO or other investment.
See full terms and conditions for more.
Founding Team
This category accounts for the leaders, developers, and advisors.
Poor quality, weak, or inexperienced leadership can doom a project from the outset. Advisors who serve only to pad their own resumes and who have ill-defined roles can be concerning. But great leadership, with relevant industry experience and contacts, can make the difference between a successful and profitable ICO, and a flub.
If you don't have a team willing and able to build the thing, it won't matter who is at the helm. Good talent is hard to find. Developer profiles should be scrutinized to ensure that they have a proven history of working in a field where they should be able to succeed.
Product
What is the technology behind this ICO, what product are they creating, and is it new, innovative, different – and needed?
The IOTA project is a spectacular example of engineers run amok. The technology described or in use must be maintainable, achievable, and realistic, otherwise the risk of it never coming into existence is incredibly high.
Token Utility
Tokens which have no actual use case are probably the worst off, although speculation can still make them have some form of value.
The best tokens we review are the ones that have a forced use case – you must have this token to play in some game that you will probably desire to play in. The very best utility tokens are the ones which put the token holder in the position of supplying tokens to businesses who would be able to effectively make use of the platforms in question.
Market
There doesn't have to be a market in order for an ICO to score well in this category – but if it intends to create one, the argument has to be extremely compelling.
If there is an existing market, questions here involve whether it is ripe for disruption, whether the technology enables something better, cheaper, or faster (for example) than existing solutions, and whether the market is historically amenable to new ideas.
Competition
Most ideas have several implementations. If there are others in the same field, the analyst needs to ensure that the others don't have obvious advantages over the company in question.
Moreover, this is the place where the analyst should identify any potential weaknesses in the company's position moving forward. For instance, a fundamental weakness in the STORJ system is that the token is not required for purchasing storage.
Timing
With many ICO ideas, the timing may be too late or too early. It's important for the analyst to consider how much demand there is for the product in question. While the IPO boom funded a lot of great ideas that eventually did come to fruition, a good analyst would recognize when an idea is too early, too late, or just right.
Progress To Date
Some of the least compelling ICO propositions are those that claim their founders will achieve some far-off goal, sometime in the future, just so long as they have your cash with which to do it.
More interesting (usually) is the ICO that seeks to further some progress along the path to success, and which has a clearly-identified roadmap with achievable and reasonable milestones along the way. Founders who are already partially-invested in their products are generally more invested in their futures.
Community Support & Hype
Having a strong community is one of the fundamental building blocks of any strong blockchain project. It is important that the project demonstrates early on that it is able to generate and build a strong and empowered support base.
The ICO marketplace is becoming more crowded and more competitive. While in the past it was enough to merely announce an offering, today's successful ICO's work hard to build awareness and excitement around their offering.
Price & Token Distribution
One of the biggest factors weighing any analysis is price. The lower the price the more there is to gain. But too low of a price may result in an under capitalized project. It is therefore important to evaluate price relative to the individual project, its maturity and the market it is going after.
The total supply of tokens should also be justified by the needs of the project. Issuing a billion tokens for no reason will do nobody any good.
Communication
Communication is key. The success of a project is strongly tied to the project leaders' ability to communicate their goals and achievements.
Things don't always go as planned but addressing issues and keeping the community and investors in the loop can make or break a project.