Privacy Coins Need Not Apply: Coinbase UK Delists Zcash At Bank's Request
Privacy coins an apparent dealbreaker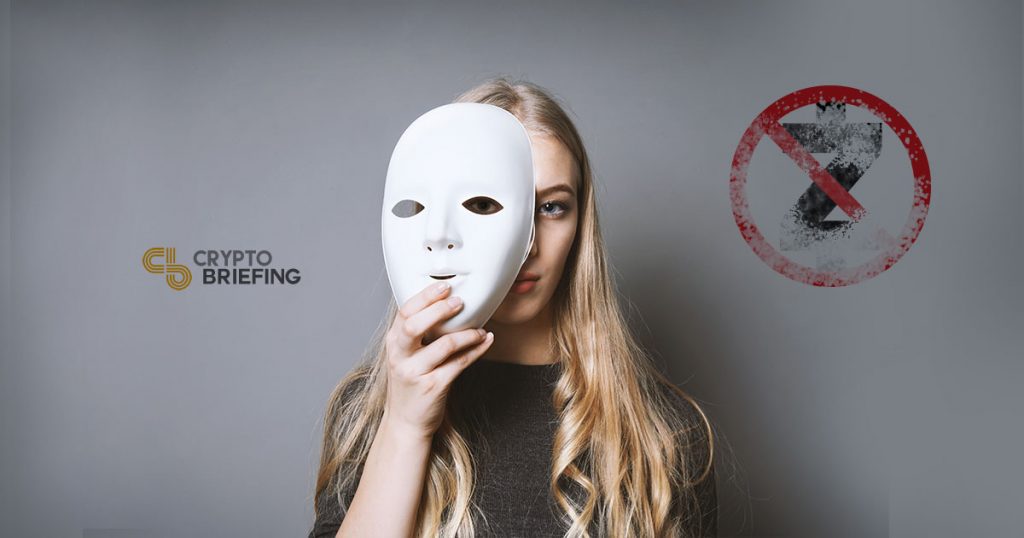 If you're wondering why Coinbase decided to drop Zcash (ZEC) from its U.K. platform, the mystery seems to be solved: the privacy coin was delisted at the request of Coinbase's new banking partner.
Coinbase is no longer working with Barclays and has moved on to ClearBank, a London-based clearing bank established in 2017. Industry insiders told CoinDesk that the decision to drop Zcash – which was first listed in November – had "completely to do with the new bank." Evidently, ClearBank felt "uncomfortable" with Zcash's shielded address features.
Coinbase is 'banking' on ClearBank to restore their connection to the U.K.'s Fast Payments Scheme (FPS), which they lost when Barclay's cut ties. According to this version of events, the exchange-cum-wallet had little alternative than to acquiesce to ClearBank's demands.
---
Too Unclear For ClearBank
But why would ClearBank be so uneasy about privacy coins when Barclays, a far larger and more established bank, seemed content?
The answer appears to come from a Bank of England note sent by Sam Woods, Deputy Governor and CEO of the Prudential Regulation Authority (PRA), to bank CEOs in June last year.
Referring to banks gaining increasing exposure to digital assets, Woods reminded banks of their legal responsibilities to conduct risk assessments, due diligence and to update regulators on "any planned business direct exposure to crypto-assets and/or entities heavily exposed to crypto-assets."
So although ClearBank itself isn't touching cryptocurrencies, the new banking relationship with Coinbase gives it indirect exposure to the asset class.
Regulators around the world have raised concerns surrounding the use of privacy coins to protect criminal activity. Japan's Financial Services Authority (FSA) has actually prevented licensed exchanges from supporting them, claiming that these currencies are used for money laundering activity.
The U.K. Government has previously acknowledged that privacy coins can be used for money laundering. According to Woods' letter, the Bank of England is 'concerned' about the "misconduct and market integrity" that appears to surround cryptocurrencies.
"[M]any appear vulnerable to fraud and manipulation, as well as money-laundering and terrorist financing risks," Woods wrote.
It's still not clear why Barclays decided to end their relationship with Coinbase. As one insider explained, "it seemed all too convenient that Barclays exited the [crypto] industry the way they did." The initial announcement in early 2018 made no indication that the relationship would be temporary.
ClearBank is also reticent about the new relationship, and has refused requests for comment. As a small challenger, ClearBank has to play it safe in finance, particularly in a heavily-regulated jurisdiction such as the U.K. Evidently, the regulatory risks of Zcash trading were not worth their trouble.
Coinbase has also refused to comment on this story. A Zcash spokesperson said it was an "issue coming from their [Coinbase's] end".
"The recent delisting by Coinbase in the U.K. is not related to a compliance or a policy issue," the spokesperson said. British customers can still trade ZEC on other regulated exchanges, they noted, adding "Zcash is 100% compatible with U.K. regulations, including all KYC/AML requirements."
While Zcash is presently the only privacy-protecting coin on Coinbase's lineup, the delisting could threaten the prospects for other listing candidates. Coinbase is presently exploring the addition of Dash, which has limited privacy features, and offers custodial support for privacy-favorite Monero. With Zcash now non grata with Coinbase's British banking partner, it's not clear how other currencies might be affected.