Coinbase Pro Lists Zcash Privacy Coin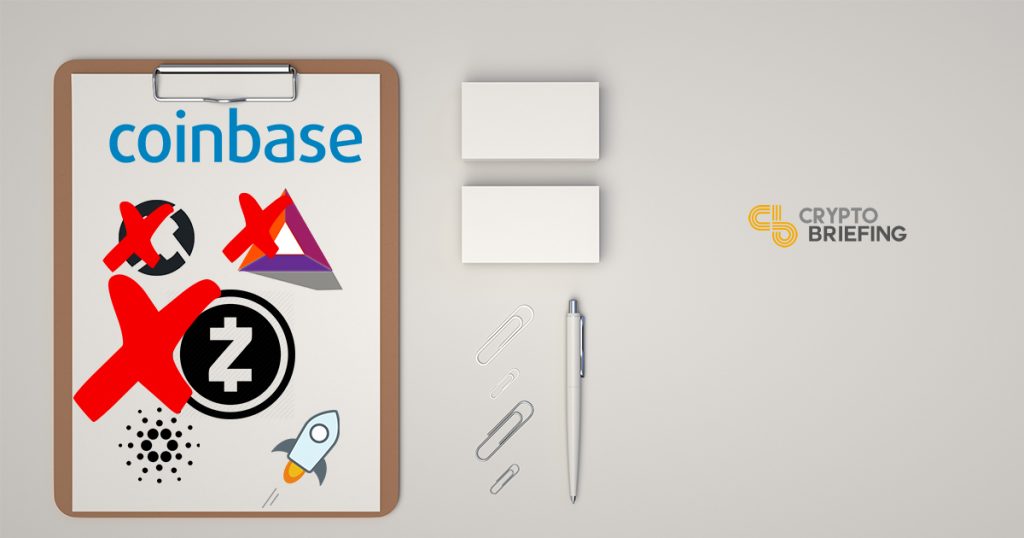 Zcash (ZEC) will be the next coin to join Coinbase's list of featured virtual assets. It will be the first new cryptocurrency on Coinbase since Ethereum Classic (ETC) that doesn't run-off the Ethereum (ETH) network.
The exchange announced in a blog post on Thursday afternoon that ZEC trading will begin within hours on Coinbase Pro, the trading platform. Coinbase Pro initated Zcash deposits at 10:00 PT, and trading will go live in 12 hours, at 22:00 local time this evening.
Its first trading pair will be with USD Coin (USDC), the exchange's own stablecoin, which is backed on a 1:1 ratio with the US dollar.
Zcash is a peer-to-peer payments protocol which gives users the option to send transactions privately. Established in the latter part of 2016, it uses the zk-SNARKS algorithm, which effectivelty enables transactions to be verified without the particulars having to be divulged. This used to take a substantial amount of computational power, but the recent Sapling upgrade has made private transactions more efficient.
Coinbase had a reputation for being picky, but that changed earlier this year when the exchange began to list more assets. The ultimate aim, Coinbase says, is to support "hundreds" of digital assets. Until today, these had all been ERC20 tokens, virtual currencies that run off Ethereum. Decentralized exchange token 0x (ZRX) was listed in early October, with the digital advertising coin Basic Attention Token (BAT) being added right at the beginning of November.
Coinbase hasn't explained the rationale behind the new addition. The move will take some by surprise because it is a privacy coin, a form of digital currency authorities in the US have expressed disapproval about.
Many observers expected the next listing to come from the higher-ranked coins, like Stellar lumens or Cardano. However, as explained in Coinbase's Digital Asset Framework, many of these assets lack the qualities the company is looking for. Stellar lumens is still highly concentrated in very few hands, with the Stellar Foundation still controlling over 80% of the total token supply.
Cardano is even further behind on the road to decentralization; the blockchain remains highly centralized, at least for the time being.
While ZCash does not enjoy the high profile of the better-ranked coins, it also has wider use for consumer purchases. In addition, the decentralized nature of the protocol – which allots 20% of mining rewards to the Zcash company rather than funding development with a massive premine -is considered a positive, by incentivizing long-term commitment from the currency's developers.
The integration will likely be followed by integration with Coinbase's wallet, potentially putting ZEC in the pockets of 25 million Coinbase wallet holders.
The author is invested in ETH, mentioned in this article.