Ravencoin Price: Demand Is Outstripping RVN Supply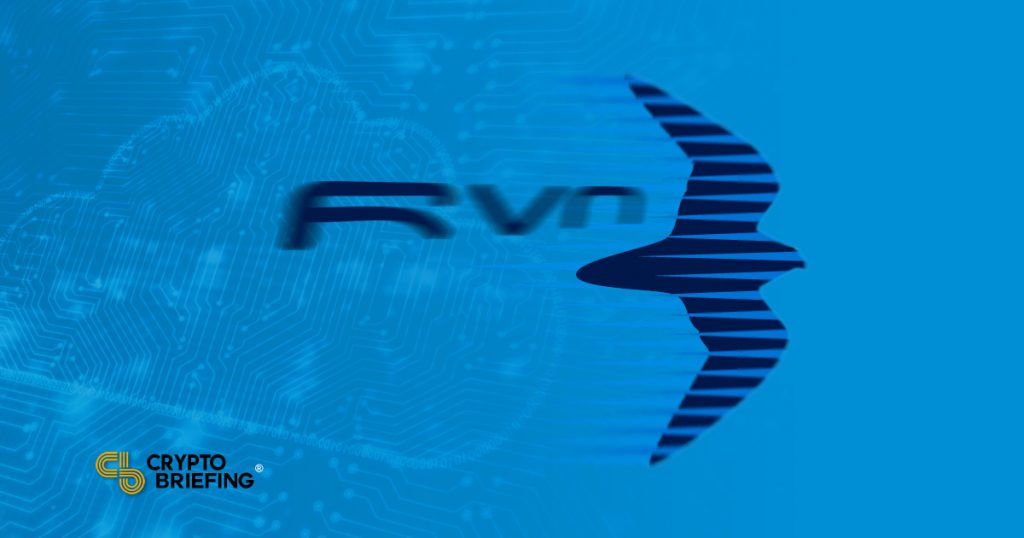 Ravencoin (RVN) doesn't feature much in crypto coverage. Since it launched last January, the asset tokenization platform has largely stayed on the sidelines. With such a low profile, few noticed Ravencoin becoming one of the best performing digital assets over the past month – although an amusing Redditor, SlappyMcFartsack has dubbed the phenomenon 'The Flappening'.
The token has quadrupled in value since the beginning of March. Ravencoin started the month at $0.015 and has been headed uphill without interruption, reaching a price just shy of $0.060 by the time we went to press.
This plays out as a $145M increase in the coin's market cap in less than a month.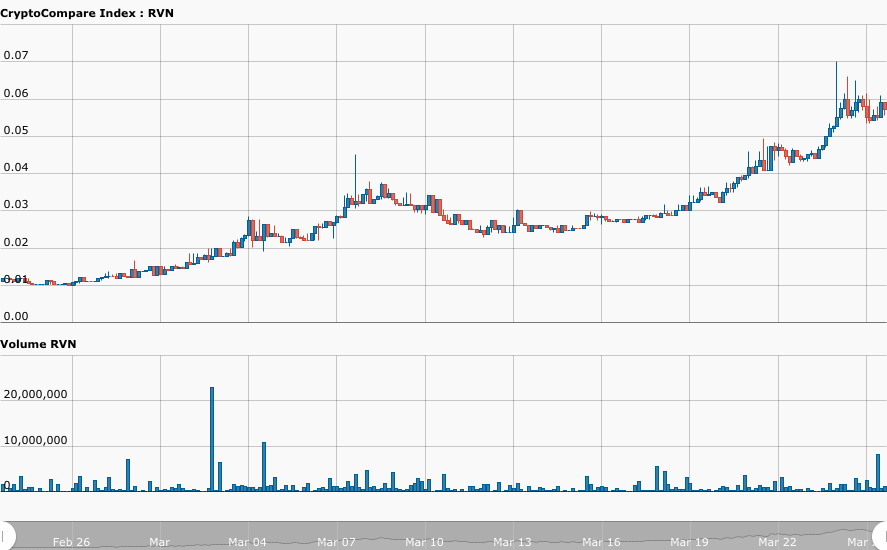 Market-wide price movements have been slow, and total capitalization has only increased by roughly $9bn over the course of March. With many assets going horizontal, Ravencoin has climbed rapidly up the table. It moved up from the 58th to the 33rd largest digital asset on CoinMarketCap over the past three weeks.
According to its whitepaper, Ravencoin is a "use case focused blockchain." Users can spend RVN tokens to create and trade any sort of tokenized asset. While tokens can also be created on the Bitcoin (BTC) and Ethereum (ETH) blockchains, tokenization is Ravencoin's specialty.
Loosely organized around founders Tron Black and Bruce Fenton, Ravencoin is developing a whole suite of features designed to enhance the asset transfer process. In addition to scalability and ASIC-resistance, which promoters say will keep the platform decentralized, there is also a dividend feature, which allows token holders to be paid on the platform, and an inbuilt messaging service for issuers to communicate with investors.
---
Why Is The Ravencoin Price Up?
Ravencoin's community has kept a low profile, making it difficult to determine what may be behind the month-long rally.
Some sources have speculated that the unaccountable price surge is an elaborate long-term wash trading cycle. Users in the project's price-discussion group on Telegram have also suggested potential whale manipulation.
That's hard to prove. Most RVN trading activity – 43% – takes place on Binance, one of the few exchanges to accurately report its trading volume, according to a recent Bitwise report. Whatever's going on with Ravencoin, trading appears to be (mostly) legitimate.
Another possible factor is a growing number of projects recognizing the project's advantages in tokenization. Ravencoin Wiki, the project's information site, lists 15 different projects supported by the RVN platform. Most of these came at the end of last year, but a few new ones, including a blockchain-based wine company and a marketing firm, will release their tokens next month.
As the number of projects on Ravencoin grows, demand for RVN tokens to facilitate asset creation and trading will increase. There was never an RVN ICO, meaning tokens can only ever be released through mining. This means there are comparatively few coins in circulation – only 3.1bn RVN out of a total possible supply of 21bn, at the time of writing.
The limited amount of RVN in circulation means that any significant increase in RVN demand will push prices up. This builds momentum: a price rising at a faster rate than its supply will attract more investors and the trend will accelerate.
It's still too early to tell if Ravencoin will hold onto all its gains. In order for prices to continue growing over the long term, Ravencoin will need a network of active users, using the token to create and trade their own assets.
Until then, Ravencoin is likely to face an eventual correction. The only question is whether the speculation can eventually be replaced by real use.
*Sorry, that's a Poe excuse for humor.
---
The author is invested in digital assets, including BTC and ETH which are mentioned in this article.