Reddit Tokens Soar on Ethereum Arbitrum Launch
The Reddit tokens MOON and BRICKS have jumped in value this month, helped partly by a launch on the Layer 2 solution Arbitrum.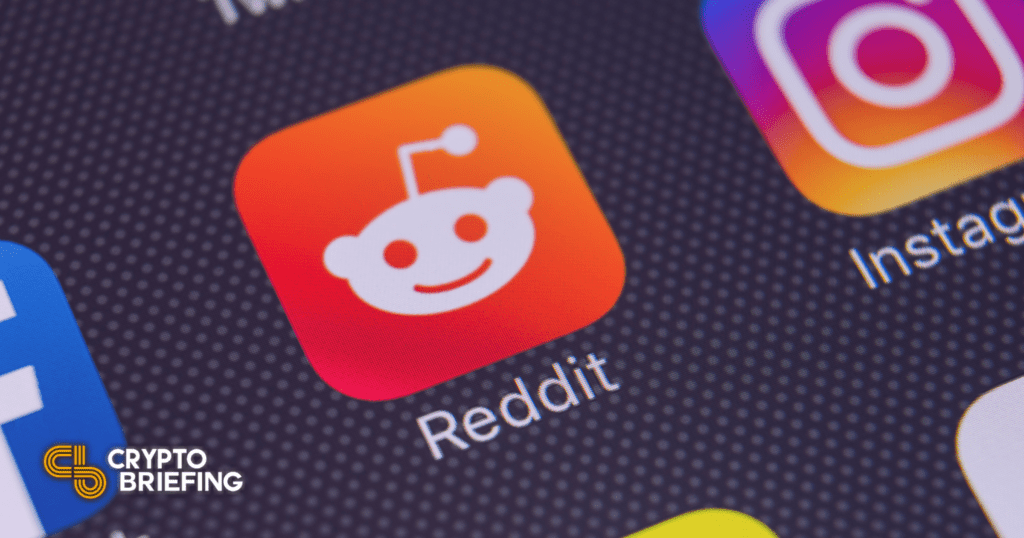 Key Takeaways
MOON has rallied 500% this month as demand for Reddit community tokens grows.
The token's recent launch on Arbitrum has served as a bullish catalyst as it allows for use across multiple dApps on Layer 2.
BRICKS, another Reddit token, has surged this month.
MOON, the community token of the r/CryptoCurrency subreddit, has seen explosive price action after migrating to Arbitrum.
Reddit Tokens Surge On Arbitrum News
Reddit tokens are in high demand.
Last week, Reddit announced it would migrate its ERC-20 reward tokens to Arbitrum, a popular Layer 2 scaling solution on Ethereum.
The migration affected MOON, the native ERC-20 token used as community points on /r/CryptoCurrency.
The token is rewarded on a monthly basis to users who provide quality posts and comments. The tokens are automatically added to Reddit's own Ethereum wallets on the Arbitrum network.
Prior to the Arbitrum migration, MOON tokens were distributed on the Ethereum test network Rinkeby. They could be bridged from testnet to the sidechain xDai and traded on HoneySwap. However, there was no direct integration with Ethereum, and it had little value because it was a testnet token.
Launching on Arbitrum means MOON can be exchanged in fast transactions with minimal gas fees while leveraging Ethereum's security. It also means Reddit users can now use their tokens on dApps within the Arbitrum ecosystem and more easily settle them on Ethereum mainnet.
Exposure to Ethereum mainnet certainly adds value to MOON tokens. In that regard, the Arbitrum migration news has been incredibly bullish for the token.
In the last month, the MOON price has grown by more than 500% despite the broader crypto market remaining largely flat. Currently, each MOON token is trading at $0.25 according to CoinGecko. The price has doubled in the last week.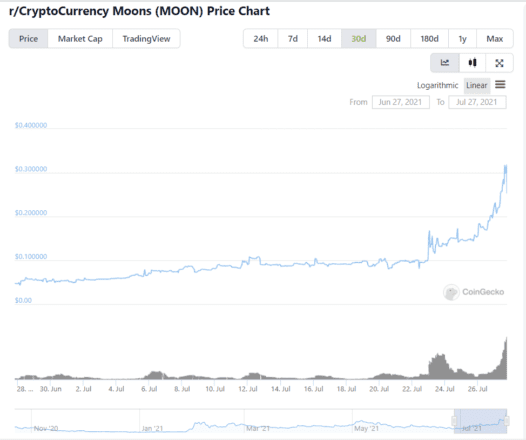 One important point to note is that the price is only applicable to the old tokens being traded on xDai as there is no DEX support available on Arbitrum yet. Hence, while MOON is showing bullish strength, a factor behind the surge may be the low trading liquidity on DEXs.
Price action aside, MOON has seen an increase in adoption in the last year. In July 2021, 26,443 users on r/CryptoCurrency claimed the token in their wallets, more than 10 times the number since inception in May 2020.
While primarily used as a community reward token, MOON also has traits of a meme coin. Due to its growing popularity on Reddit and limited total supply, some community members have described the token as a "superior memecoin" compared to crypto's original meme currency, Dogecoin. They attribute this claim to MOON's limited supply of 250 million tokens and adoption within the largest cryptocurrency community on Reddit.
MOON isn't the only ERC-20 Reddit token affected by the recent Arbitrum update. The other one is BRICKS, which is used on the r/FortniteBR subreddit. It's also experienced a price surge this month, up over 222%.
While it's still early days for Reddit tokens, it's possible that they could find their way into Arbitrum-based dApps in areas like DeFi, NFTs, and gaming.