To The Луна: Revain Rockets To Possible Huobi Partnership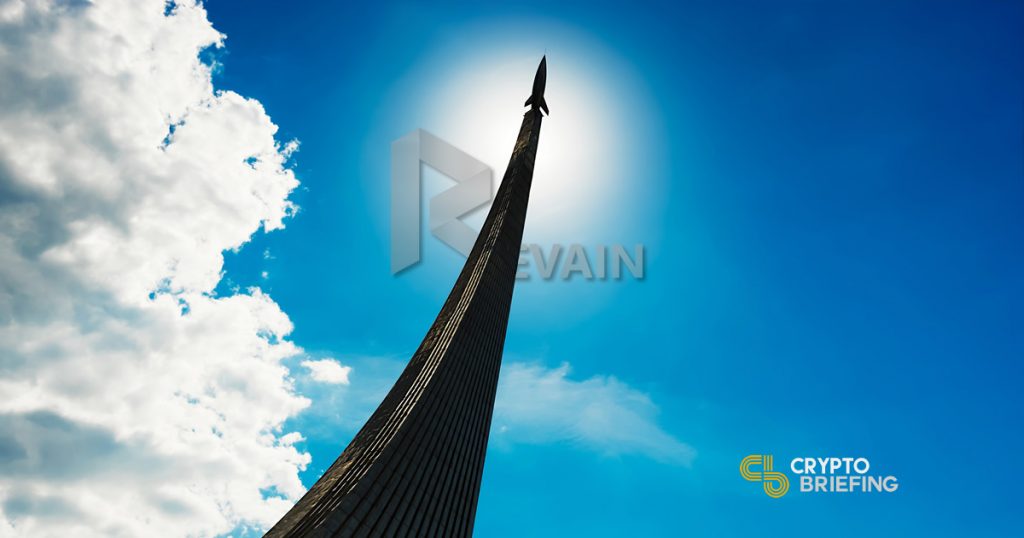 Cryptocurrencies are cool again, with the market showing a sea of green for the entire top 100 coins. It's not unusual for one altcoin to take the lead, and today crypto review platform Revain (R), the Angie's List of the blockchain, has scored 60% in daily gains. Revain has since trimmed its gains somewhat but remains more than 40% higher on CryptoCompare.
Revain is a Moscow-based project, a city where only 1% of the population transacts in cryptocurrencies. In recent days, Huobi Group opened their maiden office in the Russian capital. Huobi's Russian launch was an invitation-only event, and Revain's CEO Rinat Arslanov was in attendance. .
Huobi is the No. 3 cryptocurrency exchange and its presence in Eastern Europe could bolster the profile for crypto in the region. Andrei Grachev, at the helm of Huobi Russia, stated in a press release:
Despite the current market, the trading volume of Huobi Russia is growing, and recently exceeded $20 million in a single day. This shows the high interest and popularity of the Huobi Russia exchange with the Russian community.
Huobi partnered with Russia's state development bank VEB for the launch of the local exchange in Moscow, which is also supported by Huobi Cloud. Revain chief executive Rinat Arslanov told Crypto Briefing that"VEB bank is keeping itself up to date, and the launch of Huobi Russia is a good example of that. Huobi chose a strategy for global development and access to local strategic markets, one of which is Russia."
Revain is not yet listed on Huobi Russia, but it seems they would like to be. The CEO's presence at the launch event suggests that a partnership could be in the works as Huobi looks to gain a foothold with local players. In fact, that theory isn't too farfetched, asArslanov added:
It is very important for us to establish a possible partnership with Huobi Russia. The Huobi team is professional, and we will make every effort for the most effective and constructive partnership and development. We are also discussing the possibility of integrating our user reviews into the Huobi platform, which will give users a real trusted feedback on traded tokens.
Currently, reviews on Revain are limited to blockchain projects and exchanges, and the team has been canvassing the community for feedback on which category to be added next. Roman Ochnev, Revain's lead marketing manager, told Crypto Briefing about the project's short-term goals:
We are planning to add the third major category to Revain (besides Projects and Exchanges) – Crypto Wallets. We are working hard to release it probably this year.
Ochnev also tipped his hand slightly into the longer-term horizon, which involves an overhaul of the review platform. He stated: "We are preparing a dramatic redesign of the platform in 2019, likely late spring."
Today Revain unveiled a news feed, which is a hub for activity on the platform. Users can monitor the responses to their reviews of a given project or exchange (and soon wallets) in the feed.
Meanwhile, much of today's trading in R is unfolding on Singapore-based DragonEX, where $1.4 million of approximately $2.3 million in volume is unfolding. Revain was added to the DragonEX exchange in November in conjunction with a roadshow and R token giveaway, which has since ended. DragonEX could soon have to compete with yet another crypto exchange to keep its share of Revain's trading volume.
The author is invested in digital assets, but none mentioned in this article.