Ripple XRP Price Soars On Rumors Of xRapid Deployment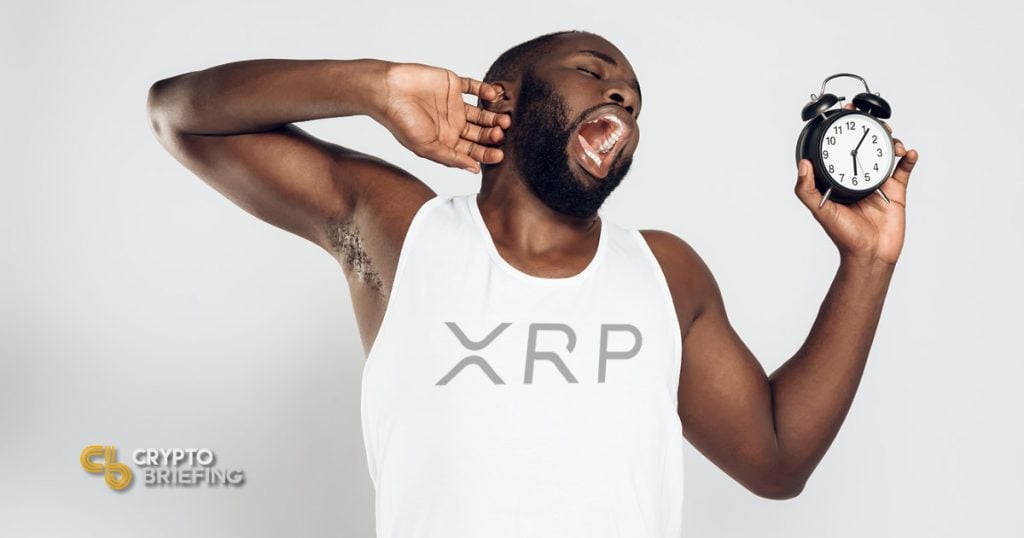 A casual $2bn market cap boom is something that most observers thought began, and ended, in December last year. Not so. The XRP price took the market by storm with a cool $1.93bn surge after word got out – again – that Ripple was planning to launch its first commercial application for the XRP cryptocurrency within the next few months.
Ripple's xRapid product was developing significantly, an executive said yesterday. "I am very confident that in the next one month or so you will see some good news coming in where we launch the product live in production," said Sagar Sabhari, head of regulatory relations in Asia-Pacific and the Middle-East.
xRapid is designed to help banks speed up cross-border transactions, using XRP tokens as a 'bridge'. A bank in one country transfers local currency into XRP before sending it to a bank overseas, who then convert it back into the needed currency.
But is it overhyped?
RippleNet, comprised of xCurrent, xRapid and xVia, is designed to be the all-encompassing blockchain service for international money transfers. xCurrent is blockchain platform that banks can use to communicate with throughout the stages of a cross-border payment; xRapid enables banks to acquire XRP token; xVia is the actual channels for both fiat and XRP to be sent through.
The problem is that this function is already possible, as an article published in Trustnodes already pointed out. Any crypto holder can send value across borders to anyone with a wallet address, who can then turn it into the local fiat currency.
xRapid isn't adding new, it is simply marketing a function used every day in the cryptocurrency space to the big banks. "Something so revolutionary that every cryptonian does it every day, albeit not necessarily with Ripple", the article said.
---
Ripple's new toy: xRapid
Despite being the third biggest cryptocurrency, positive news has been in short supply from the XRP camp over the past few months. Ripple has made a concerted effort to show it neither owns or controls the XRP platform, and stating that Ripple and the XRP token were "distinctly different" and shouldn't be mixed up.
Lawyers in the States are still debating whether XRP's initial sale counted as an unauthorized securities sale. Crypto Briefing writer Andrew Macdonald last week suggested this might be why Ripple separated itself from its 'independent' cryptocurrency.
Ripple Labs looks to create new technology that takes large overheads out of the banking infrastructure and makes it more efficient. xCurrent been successful so far, with Ripple signing major partnership deals with Santander and American Express.
---
Is the XRP price a red herring?
The news yesterday that xRapid is possibly just a month away will have certainly led to an influx of investors. A similar-sized spike occurred when Ripple's CEO, Brad Garlinghouse, told CNBC back in early June that he expected xRapid and XRP to be used by multiple banks by 2019. "By the end of next year, I would certainly hope that we would see in the order of magnitude of dozens", he said.
It's important to stress that a 'hint' (as CNBC call it), isn't necessarily a promise. Nor is it necessarily an attempt to influence the market (although, in a somewhat similar vein, Tesla is now facing a criminal probe after Elon Musk's comments last month about taking the company private. Of course, that's completely different, because Tesla stock is a security.)
Ripple has yet to provide any official word on when xRapid could be ready and more importantly, with whom. We know already that they're in a partnership with three exchanges situated across the world; the community needs to know whether it will be with other cryptocurrency exchanges or with the big banks.
Garlinghouse said in the same interview that he saw many of the recent ICOs coming out as lacking utility. "I think there's a lot of hype in the [crypto] space," he said. "It all comes back to if we're solving a real problem for real customers; there's so many examples in this space of ICOs, which I don't really understand the problem the token is solving. Those are ones I am very skeptical about."
Anything worth plus $10bn is a big fish; a sign of the confidence XRP investors place in Ripple. But the company needs to explain what unique problem XRP solves. Anyone can use cryptocurrency to send money overseas with minimal friction.
There may be a place for XRP but at its current valuation, it is hard to justify.
Disclaimer: The author is not invested in any cryptocurrency mentioned in this article, but holds investments in other digital assets.