Santorum-Backed Catholic Blockchain Looks To Entice Younger Users To Crypt. Wait. Crypto.
It's even worse than you think, and that's saying something.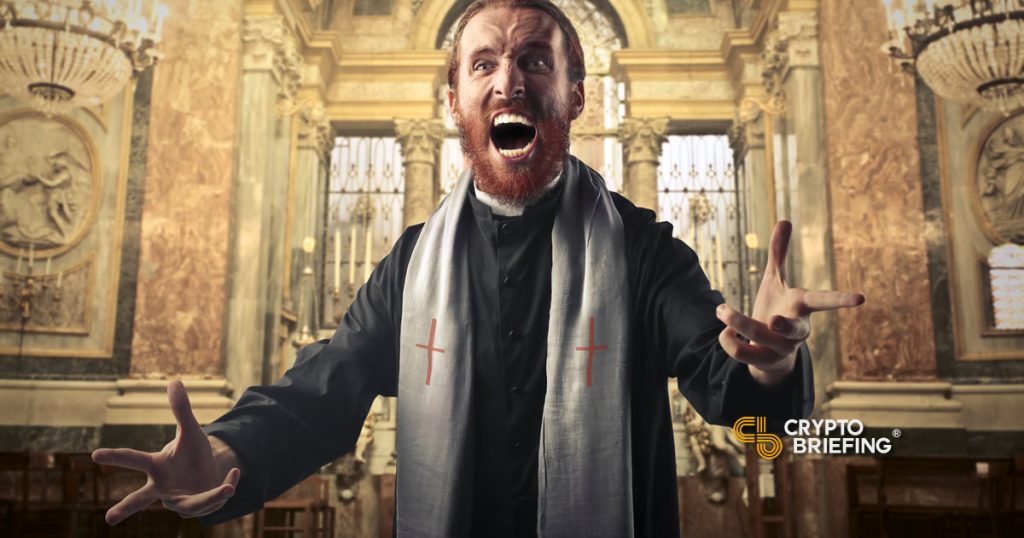 Every time you think the craziest moments in crypto are behind you, another ghost of 2017 returns to haunt the cryptocurrency markets. We've already seen the improbable resurrections of BitConnect and Mark Karpeles. Now, one of the ghosts of the 2016 presidential campaign has been resurrected to help launch a cryptocurrency.
Rick Santorum, who is best known for making Donald Trump look sane and reasonable*, has now joined the crowded ranks of cryptocurrency advisors. In addition to haunting the nightmares of Democrats, Santorum is now moonlighting as an advisor to Cathio: the Catholic Blockchain.
Cathio introduces itself as a "Payment, Donation and Remittance Platform for the Catholic Economy." Based on the project's announcement, it sounds somewhat like a holier version of Ripple (in both senses of the term), facilitating faster and more transparent donations through the sacred blockchain.
Ex-Senator Santorum was not available for an interview, and we would not have listened to him screaming about how other people should lead their lives even if he was, but Cathio's announcement did state the former Senator's enthusiasm for the blockchain's potential to attract a "younger audience" to the Holy Catholic And Apostolic Church. (Editor's note: Oh, we are so not going there.)
""Millennials don't carry cash, they date on apps and watch on-demand entertainment," The ex-Senator explained from the where-are-they-now file. "We have to be there, we have to learn from successful tech companies, and we have to provide a universal solution that makes it easy for younger generations to engage with the Church." (Editor's note: Still not going there.)
Santorum is not the only respected Catholic seeking to bring kids and churches much, much closer together. Jim Nicholson, a former ambassador to the Holy See, and Cathio ambassador, expounded on the remarkable potential for blockchain technology to revolutionize the Church.
""The Church is living in a time of great challenges with the laity asking, 'What can we do?'" Nicholson questioned, definitely not in the manner of a kindly Dr. Seuss. "Well, Cathio is a lay initiative [Editor's note – really, again??] that not only strives to save the Church money, but positions it to provide greater transparency of financial transactions and the connectivity of people of good will with good works."
For the rest of us, non-Catholics might wonder what value the new currency adds to an already-crowded ecosystem. It might sound like a ham-handed effort to make bank on the naivety of the faithful—which, if true, would not be out of character for the Catholic church.
There is also one big benefit for everyone else. Given the secondary meaning of Mr. Santorum's name, Cathio adds a whole new meaning to the word "shitcoin."
*Editor's final note, honestly: Rick Santorum once described birth control as "a license to do things in [the] sexual realm that [are] counter to how things are supposed to be." Sadly, his parents felt the same way.
Wait for it. Wait for it…
Actually, thanks to Andre Cronje for noting that there is a version of this video that even better encapsulates our strong feelings about this story. It's the same as the one above, but it plays for ten hours straight.