Scaramucci Calms Nerves After SkyBridge Fund Pauses Withdrawals
The SkyBridge founder and managing partner has gone on record to reassure investors.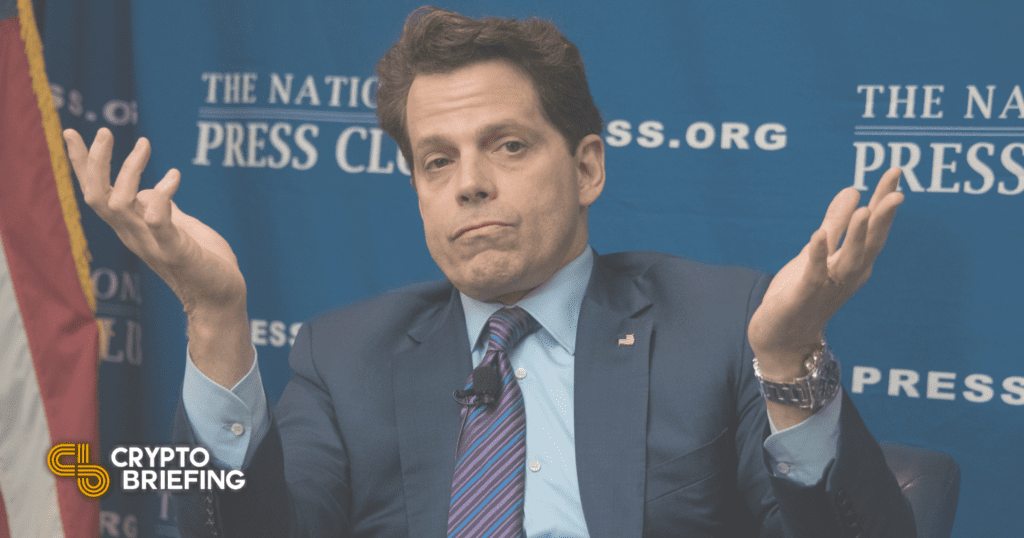 Key Takeaways
Anthony Scaramucci has reassured investors that his company's fund narrow withdrawal pause is temporary.
He further stressed that no assets were at risk of liquidation as the affected fund is not leveraged.
While speculation persists that the move is due to drops in crypto prices, Scaramucci contends it has more to do with the difficulties involved in selling private stocks.
SkyBridge Capital founder and managing partner Anthony Scaramucci went on record this morning in an interview with CNBC to reassure investors after previously confirming that one of his company's funds would temporarily pause withdrawals.
"Temporary Suspensions"
Anthony Scaramucci has been putting out fires this morning.
Scaramucci appeared on CNBC's Squawk Box this morning to reassure investors after it was announced that one of the funds under the management of SkyBridge Capital—the Legion Strategies fund—would pause withdrawals.
In the interview, Scaramucci attested that Legion Strategies, a Cayman Islands-based vehicle, manages about $250 million, though only 18% of that—about $45 million—is comprised of crypto-related investments. Among those investments are holdings in FTX, as well as exposure to Bitcoin, Ethereum, and Algorand.
"Of course, those are temporary suspensions," Scaramucci said, citing SkyBridge's historical hesitancy to suspend withdrawals.
While there has been much speculation that the move is a result of the months-long drawdown in the crypto market, Scaramucci stated the board had voted to suspend withdrawals partly due to the difficulty in selling private stocks, which now consist of almost 20% of the fund's portfolio.
Scaramucci took care to dispel fears of liquidation, stating that there is "zero risk of any asset liquidation" as the fund is unleveraged. However, he provided no timeline on when withdrawals would be reopened.
Scaramucci began his investment career at Goldman Sachs and left in 2005 to form SkyBridge Capital, a global investment firm based in New York City. He rose to national prominence when he was appointed by President Donald Trump as White House Communications Director in July 2017. His tenure was notable for lasting only eleven days before he was fired at the urging of Chief of Staff John Kelly.
Since leaving the White House, Scaramucci has broadly become a vocal advocate of cryptocurrency and blockchain technology. He has also contributed to political lobbying efforts on behalf of the crypto industry—his firm, to which he returned after leaving the White House, has even helped to organize GMI PAC, a political action committee formed to influence policy and elections.
Disclosure: At the time of writing, the author of this piece owned BTC, ETH, and several other cryptocurrencies.