WHY, GOD, WHY DO BAD THINGS HAPPEN TO GOOD ETFs? Bitwise Denied: Analysis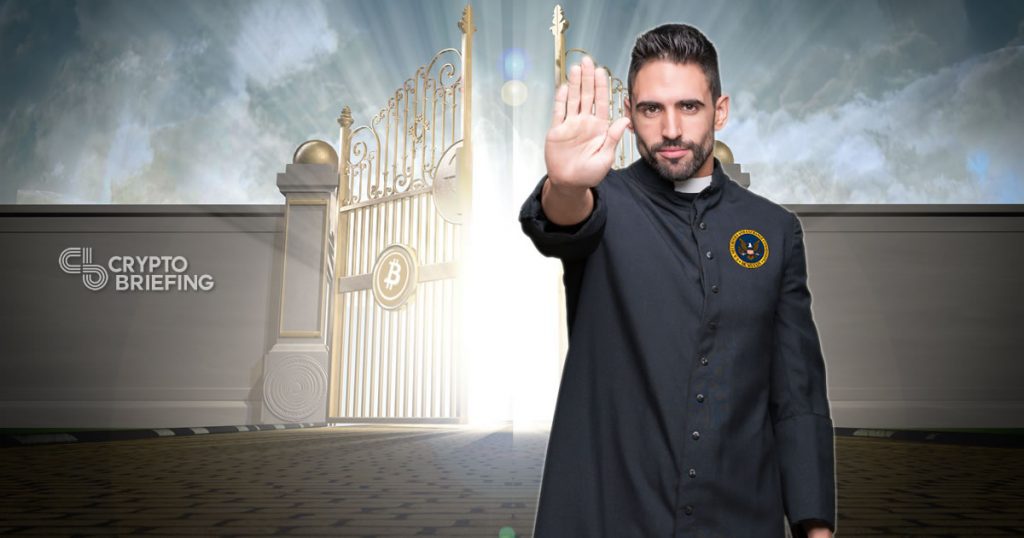 Despite Bitwise Managing Director Matt Hougan's sunshine optimism that the market was "closer than ever" to a Bitcoin ETF, last night the SEC announced it had rejected their application on the grounds that it had failed to show how it would "prevent fraudulent and manipulative acts and practices."
In a statement today, following the decision, Hougan said that "[H]istorically, the approval of novel exchange-traded products that open up new asset classes has required multiple years of regulatory engagement."
"What matters is continued progress and the investment of time from regulators, and that's what we see here," he added.
Crypto is already pretty accustomed to getting denied by the SEC – the market barely shifted – but whereas most providers have tacitly withdrawn their application days before the deadline (*ahem* VanEck), Bitwise's application was the first since the Winklevoss Bitcoin Trust to be explicitly denied by the regulator.
---
120 Pages – What Keeps The SEC Busy
Although a possible reputational hit for Bitwise, the SEC has released a 120-page document that goes through and explains its decision. A quick breeze through shows commentators had clearly not been altogether impressed by the analytical quality of Bitwise's application.
"The Sponsor [Bitwise] relies heavily on conclusory statements that are insufficient to support its findings," reads the report at one juncture. In sum, the SEC was not convinced by Bitwise's application that a subset of the cryptocurrency market was "uniquely resistant to fraud and manipulation" and therefore suitable for an ETF.
In fact, there are nine instances where the regulator pulls apart Bitwise's argument: not only did Bitwise fail to provide evidence to support which exchanges it believed had fake volumes, it also couldn't show how bad exchanges could be safely hived from the legitimate platforms – and did not fully consider whether a platform could have a mixture of real and fake volumes.
---
Don't fake it.
The SEC's real concern with the crypto market was wash trading, and it played strongly into why it decided to reject the Bitwise ETF proposal. Based on the provider's own findings, nearly 95% of operational exchanges fluff-up their trading data, leaving Bitcoin open for illicit trading practices.
Even though Bitwise acknowledges the scale of fake volumes, the SEC disagreed with their argument that a "surveillance-sharing agreement", cooperation between exchanges and providers to detect fraudulent trading behavior, was "unnecessary".
While the ETF would be based on the 5% of exchanges that reported real volumes, the regulator felt it would be "unwise" to create a product based on such a small section of the market, particularly as they weren't convinced that those exchanges were entirely reliable and that some of the chosen exchanges, Binance and Kraken, were also not fully regulated in the US.
The report: "A surveillance-sharing agreement must be entered into with a "significant market" to assist in detecting and deterring manipulation of the ETP, because a person attempting to manipulate the ETP is reasonably likely to also engage in trading activity on that "significant market."
This is the exact same point the SEC made in its response to the Winklevoss application last year. Any provider that cannot show their market to be "inherently resistant to fraud and manipulation" must enter into a cooperative agreement with other providers.
Believing, as the SEC does, that crypto remains a market easily subjected to manipulation, the required steps simply aren't in place yet to convince them an ETF would protect investors from illicit trading activities. If approved today, they argue such a product might "compound" systemic problems and place investors at an even greater risk than they are already.
---
What Next: A Phoenix From The Bitwise Ashes?
The next, and last, ETF deadline for this year is the Wilshire Phoenix application on December 28, which would give users exposure to Bitcoin and US Treasury Bonds. Based on the SEC report into what the regulator expects from a provider, Wilshire Phoenix will need to show conclusively how their product will prevent users from harm's way.
Intentions are everything. While the crypto industry has long framed arguments pushing for an ETF in the language of adoption and getting Bitcoin mainstream, the SEC report shows those motivations have actually harmed their case.
According to one commentator, "the proposed ETP is not motivated by a legitimate desire to protect consumers" but is instead to "increase the mass adoption of cryptocurrencies and thus drive up the price through mass speculation."
The SEC wasn't opposed to the Bitwise ETF per se. In some aspects, it had clear benefits for investors and the broader market. Near the end of the document, one commentator conceded that a properly constructed Bitcoin ETF product could help protect consumers, particularly if the only other option is to buy and hold the underlying asset.
Another commentator suggested that ETPs allow "investors easy, secure, and low-cost access to important markets," should one be approved to Bitcoin, "it would be a "win" for investors."
But the regulator's objective is clear: to protect investors from undue harm. It's not its role to see Bitcoin attain mass or institutional adoption. The report today is valuable because it reiterates exactly what they want to see before they approve an ETF: collaboration and cooperation between exchanges and providers to clamp down on systemic fraudulent and manipulative trading practices.
The onus is now on ETF providers themselves to take on board what the SEC has said and adapt their subsequent applications to fit the bill.
If they don't, 2020 will just be a repeat year of disappointment and frustration for the cryptocurrency industry.