Senator Cynthia Lummis to Present Crypto Bill Next Year
Senator Lummis' proposal includes combining the SEC and CFTC into one agency.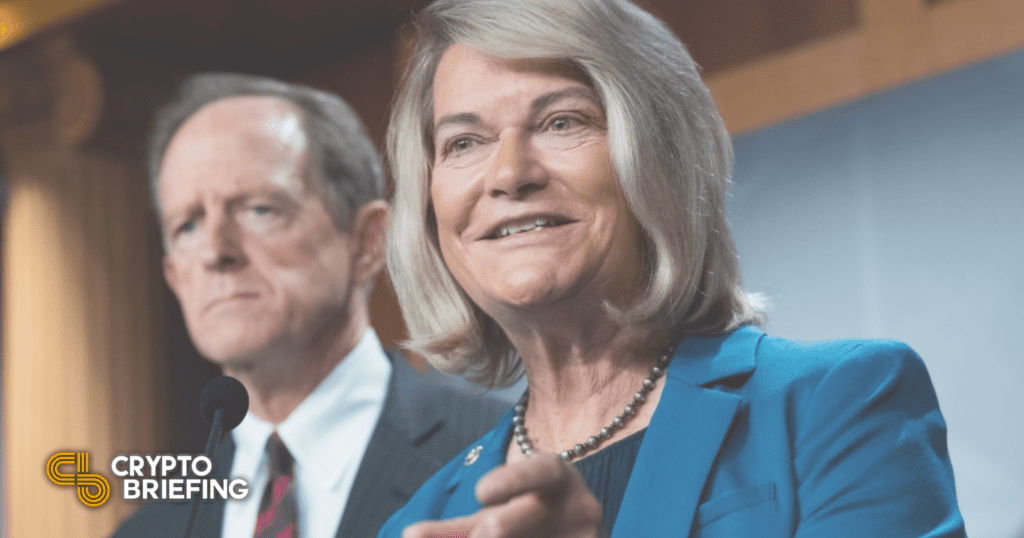 Key Takeaways
U.S. Senator Cynthia Lummis will propose a new crypto bill in early 2022.
The proposed bill includes clear guidelines on various crypto investment topics.
In the U.S., comprehensive rules for the crypto industry have been long overdue. 
Senator Cynthia Lummis (R-WY) plans to propose a new bill for the cryptocurrency industry next year.
Republican Senator Will Present Comprehensive Crypto Bill
U.S. Senator Cynthia Lummis, Republican from Wyoming and a well-known Bitcoin supporter, is proposing a sweeping regulatory bill for the digital assets industry in early 2022.
According to a Bloomberg report, the proposed bill includes guidelines and overarching regulations on taxation, stable coins, and consumer protection. Furthermore, the bill proposes a new regulatory group that combines top financial regulators in the U.S.—the Securities and Exchange Commission and Commodity Futures Trading Commission.
In a Twitter post, the lawmaker requested followers to gather Senate support for her bill. "Welcome bipartisan cosponsors! Please encourage your senator to reach out and consider it," Lummis said, referring to the proposed bill.
Lummis has expressed support for crypto several times in the past. She is an investor and has officially disclosed owning 5 Bitcoin, worth roughly $250,000 at the time of writing.
With the exception of Senator Pat Toomey (R-PA), Lummis is the only ranking member of the Senate Banking Committee that has crypto exposure. Both senators opposed a provision in the U.S infrastructure bill that contained a provision on cryptocurrency brokers to monitor report transactions for tax purposes.
Crypto Guidelines Long Overdue
In the U.S., comprehensive and clear guidelines around the crypto industry have been long overdue. There are challenges for companies working in the United States, the primary being the lack of jurisdictional and regulatory clarity. Even in the characterization of cryptocurrency, there seem to be key differences.
The SEC has long deliberated whether cryptocurrencies are securities and has concluded that Bitcoin is not a security, whereas CFTC treats Bitcoin as a digital commodity. In contrast, the IRS treats Bitcoin and digital currencies as property.
This inconsistent treatment presents challenges for companies seeking to operate within the existing regulatory framework. The lack of a concise regulatory framework for the industry was one challenge repeatedly highlighted by crypto CEOs in their recent testimony before the U.S. Congress.
The proposed bill from Lummis may help fill the regulatory gap. However, the proposed legislation may face resistance from political opponents due to Lummis' investment in Bitcoin as a potential conflict of interest.
Disclosure: At the time of writing, the author of this piece owned ETH and other cryptocurrencies.