Senator Who Opposed Crypto Amendment is Backed by Bankers
The crypto community has slammed Senator Shelby for blocking a critical amendment to the infrastructure bill.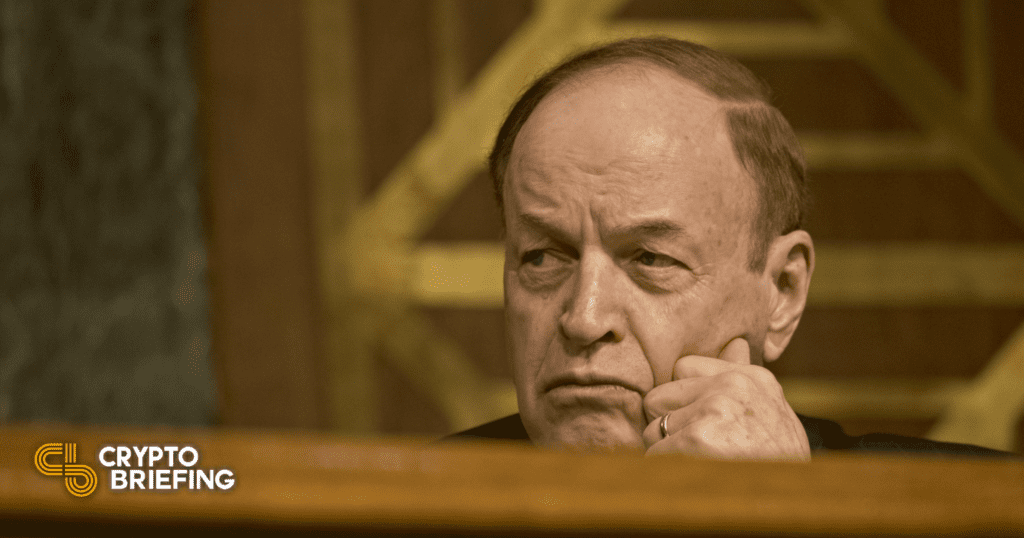 Key Takeaways
Republican Senator Richard Shelby caused a major blow to the crypto industry by blocking a "compromise amendment" to the infrastructure bill.
Several crypto enthusiasts have speculated over why Shelby objected to the crypto amendment.
Shelby has received donations from various big players in the traditional finance world.
Senator Richard Shelby blocked a bipartisan amendment within the $1.2 trillion infrastructure bill yesterday.
Shelby Blocks Crypto Amendment
Senator Richard Shelby was the only member of the Senate to block a crypto-friendly "compromise amendment" to the infrastructure bill yesterday.
The amendment changed the definition of a crypto broker, an entity that "effectuates crypto transfers." However, the definition was so broad that it could potentially apply to Proof-of-Work miners, Proof-of-Stake validators, and protocol developers.
To change the broker definition and exclude non-custodial parties, various senators reached an agreement after days of deliberation. The amendment needed unanimous consent from the Senate, which meant that just one senator was able to hold the amendment to proceed further.
When the time came to vote on the amendment, it was held down single-handedly by Senator Richard Shelby, an 87-year-old Republican from Alabama.
As the senator shot down the proposed amendment, the bill went back to the default language. The final vote will take place today.
Several public figures have speculated that Shelby objected to the compromise amendment because he did not get his own amendment voted in. Shelby's amendment concerned adding $50 billion in defense expenditure to the bill, but it was rejected by Senator Bernie Sanders.
Robert Leshner, the founder of Compound Finance, took to Twitter to call the move "disgusting."
Richard Shelby of Alabama, who is retiring, attempted to tack on a $50B defense spending amendment in exchange for supporting the Warner, Toomey, Sinema, Lummis amendment.

Bernie Sanders objected to that tack-on.

Richard Shelby then blocked our crypto amendment. Disgusting.

— Robert Leshner (@rleshner) August 9, 2021
Others have speculated that Shelby's objection to the crypto amendment had nothing to do with defense provisions. Rather, they suggested that it was more to do with supporting the Senator's financial donors, who may view crypto and DeFi as a threat for their sector.
One theory by Ryan Selkis, the founder of crypto research firm, Messari, suggested that Shelby wanted to place his staff in high-paying Wall Street jobs, given that he would soon be retiring.
Shelby's list of donors includes defense contractors like Lockheed Martin and Boeing, as well as major finance players like Citadel and MetLife.
Shelby has been a career politician, representing the state of Alabama in the Senate since 1986.
Rejecting a crypto-friendly amendment is an unusual move given his track record of supporting tax cuts and protesting against attempts by Democrats to increase taxes. He has also actively promoted financial privacy, a core tenet of cryptocurrency technology.
Speaking about a regulatory bill in 2010, Shelby said that it violated privacy rights by allowing the government to collect financial information. However, after yesterday's vote, it appears that the financial privacy of the crypto ecosystem's wasn't a concern of his.