Signals Network ICO Review & SGN Token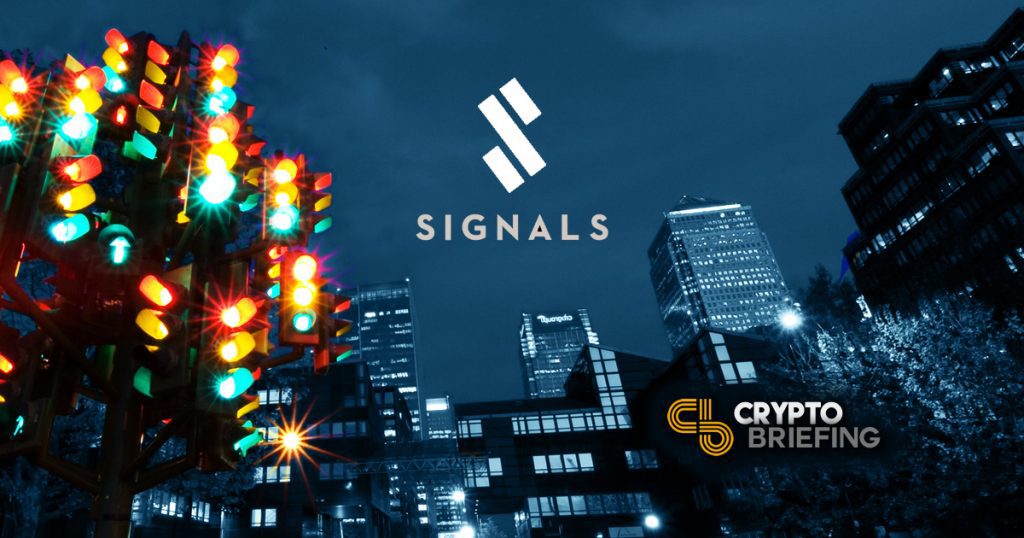 Signals Network ICO Overview
The Signals Network ICO and SGN Token are offering a crypto trading model marketplace where users can create and monetize cryptocurrency trading strategies based on machine learning.
Machine learning offers great promise for turning big data into successful trading strategies, but is currently only accessible to a limited amount of traders and programmers. The Signals Network aims to democratize machine learning intelligence in the crypto trading industry.
Signals Network ICO Value Proposition
The Signals Network offers users the ability to build algorithmic trading models with no programming experience required. Users can simply choose from an offering of indicators, ranging in complexity from orthodox technical analysis data points to deep learning and sentiment analysis. These indicators are then combined together and then connected to an exchange, where it can be backtested with optimization algorithms and other supportive analytics methods to solicit the best trading strategies.
Users will have to ability to then deploy these strategies to process real-time data for either automated or manual trading. Finally, users can share their trading models on a marketplace (where trading model ROI data will be available) and receive payment if others choose to utilize it for themselves (referred to as "copytrading").
The platform is divided into three different marketplaces:
Data Marketplace- this will enable users and external vendors to monetize their unique data sets by making them available for purchase. Data sets include historical and current market data, social networks and other crypto-related media.
Indicators Marketplace– selected data sets are processed according to different types of indicators. Indicators comprise the fundamentals of all trading strategies. Signals will support numerous types of indicators, including sentiment analysis, technical analysis, blockchain monitoring and crowd wisdom. Developers and data scientists can also use Signals Network to monetize their skills by providing cryptotraders with their custom sets of indicators.
Strategies marketplace– developers and traders can list their trade strategies. Users can purchase and deploy strategies built by others or build their own strategy for copytrading as well. Each strategy generates reports so that users can check the performance and level of risk before implementing the trading model. 3rd party trading bots created outside the Signals platform can also be integrated into the marketplace using the Signals API, providing the potential for a much broader offering of strategies available to users.
---
The Signal Token (SGN) is built on the Ethereum Network. All paid features available on the Signals Platform will be accessible exclusively through Signal Tokens. Signals charges a fee on each purchase in a marketplace.
Purchases of user-created indicators, data streams and copytrading strategies are all conducted with SGN. Premium machine learning features for assembly and trade strategy trading are also purchased with SGN.
A second revenue stream is planned via the Signals cloud solution for trade strategies via a tiered subscription model. As payments are made on the Signals Platform, a very small amount of the currency will be burned, making the SGN token effectively a deflationary currency. As the usage of SGN increases, the supply will shrink. This mechanism is implemented to support the value of the SGN token value and incentivize long-term holding of the currency by investors.
Signals Network ICO Team

Pavel Němec serves as CEO of Signals Network and is a Co-founder. Prior to Signals, he has one year of startup experience as Co-founder of Famley, which is no longer operating. Pavel has also worked as a software developer since 2012 and became a Full Stack Developer in 2014.

Pavel Volek is CTO and Co-founder of the project. Pavel previously worked at Famely with Co-founder Pavel Němec. He also has solid experience as a full stack developer with several companies. He has been a developer since 2012.

Dr. Jan Budík serves thr Algorithmic Trading Expert. He has been an Assistant Professor at Brno University of Technology for 5 years. In the financial field, he has worked as a derivatives trader and also developed algorithmic trading systems for a private capital firm. His research focus includes application of genetic algorithms and artificial neural networks for development of investment strategies.

Michal Krajňanský serves as Machine Learning Specialist for Signals. He spent two years as a programmer and developer before becoming a Research Specialist in AI and machine learning with Konica Minolta, an ICT solutions firm.
The standout advisor of the project is Philip Staehelin. He has extensive leadership experience in business and is a prolific startup mentor. His Linkedin page does not show his advisory role with Signals Network but the team have released an interview with him via Medium.
Complete details of all team members and advisors are available here.
Signals Network ICO Strengths and Opportunities
Signals Network has released an alpha model of their UI and Strategy Marketplace. It is available here for trial.
The Indicator and Data Marketplaces are yet to be released. A detailed explanation of the Strategies Marketplace functionality can be found here. According to the team, the deployment of SGN token on the platform will begin by Q2, though it's unclear if all three Marketplaces will already be available by then.
Signals Network has established one solid enterprise partnership that benefits the technical scalability of the platform. To handle large-scale amounts of crypto marketplace data, Signals have partnered with SafeDX, a data services company established in a JV agreement with Foxconn. As Signals will be collecting and processing large volume data from numerous crypto-markets in real time, the partnership with SafeDX will help traders make smarter, faster decisions with the most up-to-date information.
Other partnerships have been established with blockchain platforms Stox and iExec, but these products are yet to launch and scale to a substantial level.
Signals Network ICO Weaknesses and Threats
Signals Network are in competition with several other platforms offering similar products. Most notable among the competitors is Enigma, and to a lesser extent, Endor.
The difference that sets Signals Network and Enigma apart is the latter's focus on programmers rather than traders themselves. Contrastingly, Signals Network is specifically set on gaining traction among both programmers and traders with no programming skills.
Signals Network lays out a more detailed comparison to address the differences on their Medium. That said, the success of the Signals Network is dependent on contributions from developers to be utilized by traders. The big question is which platform will attract more data scientists and programmers to scale the ecosystem.
And when it comes to attracting users, the Signals Network ICO roadmap becomes foggy. While the whitepaper mentions strategies such as developer competitions for rewards, this is by no means a comprehensive method for scaling. The success of the project will only come from the team's ability to attract a serious number of both users and developers to the platform.
While it's clear from a technical standpoint the team are well-equipped for the road ahead, their credentials on the business side are not as strong. No matter how stellar the end product is, without an ample user base the long-term prospects are not good. We would like to see more details from the team regarding the full extent of their plan for mass adoption.
The Verdict on Signals Network ICO
If Signals Network succeeds at building and scaling their product, crypto traders may have a game-changing platform on their hands. Still, that success depends not only on the technical skills of the team, but their ability to attract enough developers and users to the platform. The more participants in the ecosystem to contribute data sets, trading strategies and indicators, the more valuable and sustainable the platform will become.
As a Top 10% rated ICO, we will be placing a small bet on Signals Network.
---
We have rated hundreds of projects to unearth ICOs in which members of our team intend to invest.
We won't often go into further depth on projects that we don't consider as candidates for our investments after the initial rating process, which is why you will usually see our stamp on our detailed ICO reviews – they are the best we have found. However, on occasion, we might also rate a well-hyped project that does not meet our personal investing criteria.
The Crypto Briefing Top 10 stamp is awarded to ICO projects that we rate in the top 10% of all projects.
SIGNALS NETWORK ICO REVIEW SCORES
SUMMARY
The Signals Network ICO promises crypto traders a set of tools that could – and should – help them to become more profitable without having to develop their own machine learning algorithms. The concept of exchanging trading strategies is interesting, and while the platform may seem a little daunting, it nonetheless represents another step toward the democratization of an area traditionally-reserved for massive Hedge Funds and investment banks. If adoption is strong, the product could be revolutionary.
Founding Team……………………….7.3
Product…………………………………..6.0
Token Utility…………………………..9.0
Market…………………………………..8.2
Competition…………………………..7.5
Timing……………………………………8.5
Progress To Date……………………2.5
Community Support & Hype…..8.2
Price & Token Distribution……..8.4
Communication……………………..9.0
FINAL SCORE……………………….7.5
UPSIDES
Technical credentials of team are good

Potential game-changer for crypto trading

Lots of hype and community support
DOWNSIDES
Team has limited business experience

Vague strategy for user adoption
Project Name: Signals Network
Token Symbol: SGN
Website: https://signals.network/
White Paper: https://cdn.signals.network/docs/signals-whitepaper-en.pdf
Crowdsale Hard Cap: $18.5 million
Total Supply: 185,000,000
Token Distribution: 50% to token sale, 20% to community rewards, 18% to company reserve, 10% to advisors and partners, 2% to bounty program
Price per Token: 1 SGN = $0.30 and will linearly increase to $0.36 until last token sold
Maximum Market Cap (at crowdsale price): $37 million
Accepted Payments: ETH
Countries Excluded: USA, China, Singapore
Bonus Structure: Price per token linearly increases from beginning of public sale
Presale Terms: N/A
Whitelist: http://signals.network/token-sale
Important Dates: Crowdsale- March 12
Expected Token Release: N/A
Additional Information: Signals Network Token Sale Info
---
ICO Review Disclaimer
The team at Crypto Briefing analyzes an initial coin offering (ICO) against ten criteria, as shown above. These criteria are not, however, weighted evenly – our proprietary rating system attributes different degrees of importance to each of the criteria, based on our experience of how directly they can lead to the success of the ICO in question, and its investors.
Crypto Briefing provides general information about cryptocurrency news, ICOs, and blockchain technology. The information on this website (including any websites or files that may be linked or otherwise accessed through this website) is provided solely as general information to the public. We do not give personalized investment advice or other financial advice.
Decentral Media LLC, the publisher of Crypto Briefing, is not an investment advisor and does not offer or provide investment advice or other financial advice. Accordingly, nothing on this website constitutes, or should be relied on as, investment advice or financial advice of any kind. Specifically, none of the information on this website constitutes, or should be relied on as, a suggestion, offer, or other solicitation to engage in, or refrain from engaging in, any purchase, sale, or any other any investment-related activity with respect to any ICO or other transaction.
The information on or accessed through this website is obtained from independent sources we believe to be accurate and reliable, but Decentral Media LLC makes no representation or warranty as to the timeliness, completeness, or accuracy of any information on or accessed through this website. Decentral Media LLC expressly disclaims any and all responsibility from any loss or damage of any kind whatsoever arising directly or indirectly from reliance on any information on or accessed through this website, any error, omission, or inaccuracy in any such information, or any action or inaction resulting therefrom.
Cryptocurrencies and blockchain are emerging technologies that carry inherent risks of high volatility, and ICOs can be highly speculative and offer few – if any – guarantees. You should never make an investment decision on an ICO or other investment based solely on the information on this website, and you should never interpret or otherwise rely on any of the information on this website as investment advice. We strongly recommend that you consult a licensed investment advisor or other qualified financial professional of your choosing if you are seeking investment advice on an ICO or other investment.
See full terms and conditions for more.
Founding Team
This category accounts for the leaders, developers, and advisors.
Poor quality, weak, or inexperienced leadership can doom a project from the outset. Advisors who serve only to pad their own resumes and who have ill-defined roles can be concerning. But great leadership, with relevant industry experience and contacts, can make the difference between a successful and profitable ICO, and a flub.
If you don't have a team willing and able to build the thing, it won't matter who is at the helm. Good talent is hard to find. Developer profiles should be scrutinized to ensure that they have a proven history of working in a field where they should be able to succeed.
Product
What is the technology behind this ICO, what product are they creating, and is it new, innovative, different – and needed?
The IOTA project is a spectacular example of engineers run amok. The technology described or in use must be maintainable, achievable, and realistic, otherwise the risk of it never coming into existence is incredibly high.
Token Utility
Tokens which have no actual use case are probably the worst off, although speculation can still make them have some form of value.
The best tokens we review are the ones that have a forced use case – you must have this token to play in some game that you will probably desire to play in. The very best utility tokens are the ones which put the token holder in the position of supplying tokens to businesses who would be able to effectively make use of the platforms in question.
Market
There doesn't have to be a market in order for an ICO to score well in this category – but if it intends to create one, the argument has to be extremely compelling.
If there is an existing market, questions here involve whether it is ripe for disruption, whether the technology enables something better, cheaper, or faster (for example) than existing solutions, and whether the market is historically amenable to new ideas.
Competition
Most ideas have several implementations. If there are others in the same field, the analyst needs to ensure that the others don't have obvious advantages over the company in question.
Moreover, this is the place where the analyst should identify any potential weaknesses in the company's position moving forward. For instance, a fundamental weakness in the STORJ system is that the token is not required for purchasing storage.
Timing
With many ICO ideas, the timing may be too late or too early. It's important for the analyst to consider how much demand there is for the product in question. While the IPO boom funded a lot of great ideas that eventually did come to fruition, a good analyst would recognize when an idea is too early, too late, or just right.
Progress To Date
Some of the least compelling ICO propositions are those that claim their founders will achieve some far-off goal, sometime in the future, just so long as they have your cash with which to do it.
More interesting (usually) is the ICO that seeks to further some progress along the path to success, and which has a clearly-identified roadmap with achievable and reasonable milestones along the way. Founders who are already partially-invested in their products are generally more invested in their futures.
Community Support & Hype
Having a strong community is one of the fundamental building blocks of any strong blockchain project. It is important that the project demonstrates early on that it is able to generate and build a strong and empowered support base.
The ICO marketplace is becoming more crowded and more competitive. While in the past it was enough to merely announce an offering, today's successful ICO's work hard to build awareness and excitement around their offering.
Price & Token Distribution
One of the biggest factors weighing any analysis is price. The lower the price the more there is to gain. But too low of a price may result in an under capitalized project. It is therefore important to evaluate price relative to the individual project, its maturity and the market it is going after.
The total supply of tokens should also be justified by the needs of the project. Issuing a billion tokens for no reason will do nobody any good.
Communication
Communication is key. The success of a project is strongly tied to the project leaders' ability to communicate their goals and achievements.
Things don't always go as planned but addressing issues and keeping the community and investors in the loop can make or break a project.