Solana ICO Review and Token Analysis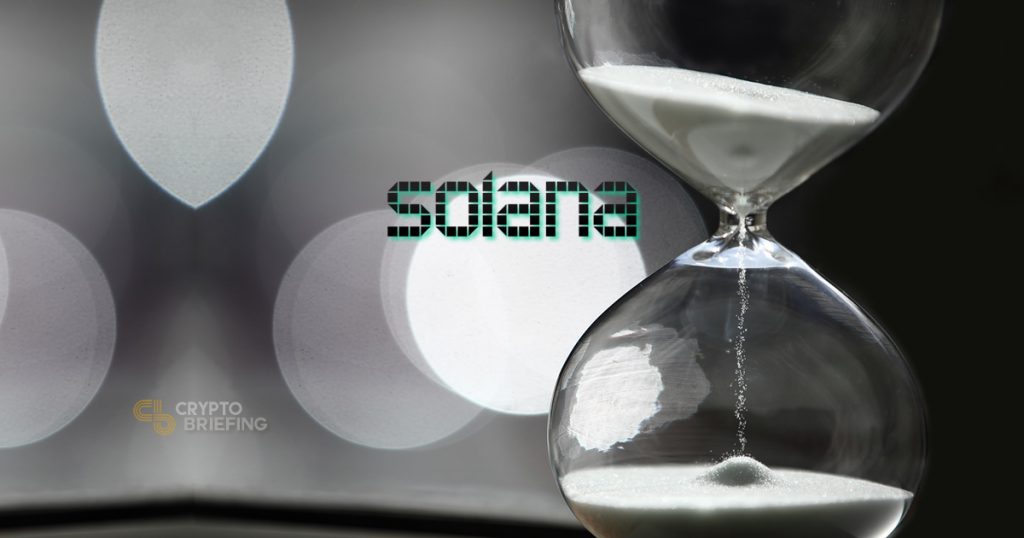 Solana ICO Overview
The Solana ICO is another addition to the race of high-throughput blockchains, with a target of 710k transactions per second (tps) at sub-second finality. Solana intend to build their high-throughput blockchain without leveraging sharding or data partitioning. Instead, the project employs a novel approach to consensus through Proof of History (PoH) and Proof of Stake (PoS), to support horizontal scaling.
Solana ICO Value Proposition
Solana utilizes Proof of History as the first component to scaling. PoH is a proof for verifying the order and passage of time between events. The role of PoH in the system is to encode the trustless passage of time into the ledger.
With PoH, any node in the system can be designated as the "Leader" to generate a PoH sequence. The Leader sequences user messages and places them in order for efficient processing by other nodes in the system. Transactions are then executed and published, and a signature of the final state is delivered to replication nodes, known as Verifiers. Verifiers execute the same transactions on their copies of the state, and publish their computed signatures of the state as confirmations. The published confirmations serve as votes for the consensus algorithm.
A Proof of Stake consensus mechanism is leveraged for confirmation of the current sequence produced by the PoH generator. PoS is also used for voting and selecting the next PoH generator node as well as punishing any validators that act against the interest of the network.
As an additional layer of security, the network will intentionally generate an invalid hash at random intervals and penalize any verifiers that validate it.
Solana will integrate smart contract capabilities into the system. Developers can write smart contracts in a myriad of programming languages supported by LLVM, including Rust and Cuda. The ultimate goal is to provide support for smart contract development in any language, providing a massive improvement in accessibility for developers.
Solana ICO Team
Anatoly Yakovenko is the Founder and CEO of Solana. Anatoly rose the ranks from Engineer to Senior Staff Engineer Manager over a 12 year period at Qualcomm, a leading multinational telecommunications equipment company producing wireless telecom products. After leaving Qualcomm, he began engineering distributed systems for Mesosphere and later, Dropbox. Anatoly holds 4 patents in his name, including one for the invention of a lossless data compression system that leverages recurrent neural networks.
Greg Fitzgerald is Co-founder and CTO of Solana. Greg spent 11 years at Qualcomm, where he contributed to the development of their LLVM toolchain. Before leaving Qualcomm to found Solana, he rose to the position of Senior Staff Software Engineer, leading the web and messaging infrastructure team.
Raj Gokal is COO of Solana. He has 10 years of experience in product management and finance. Raj served as Director of Project Management at Omada Health, during which time the company grew tenfold. He is also the Co-founder and former CEO/CPO of Sano, a consumer medical device company, for which he continues to serve as an advisor.
Stephen Akridge is a former Senior Engineer at Salesforce. He has 10 years of experience with GPU optimization working at Qualcomm and Intel.
Eric Williams is in charge of Data Science and Tokenomics. He spent 3 years working at Omada Health, where he rose to the position of Vice President of Data and Analytics before leaving to found his own startup. Eric holds a PhD in Particle Physics from Columbia University.
Alan Yu is responsible for business development and partnerships. He has a decade of experience at Google, where he held positions including Display Product Specialist, Senior Account Manager and Account Executive.
Solana ICO Strengths and Opportunities
Solana has taken an "execution first" approach to their project, which has resulted in significant progress on the tech development front, especially for an early stage ICO. On June 1st, Solana released their testnet, with full details available on their GitHub.
According to CTO Greg Fitzgerald, the testnet produces consistent transaction processing rates between 140 and 170k tps with or without a validator node in place. While the overall speed has reduced from 250k tps since last month, adding validators has not slowed down the network. The multi-node testnet has validated the technical proposition originally proposed by Solana, making this an important milestone for the project. (NOTE: July 2nd, 2018: Solana's team contacted us to explain that since the review was written, they are now back at 250k tps. We consider this claim to be credible.)
With a mainnet launch scheduled for Q4 2018, the team appear well on track to reaching their target.
Solana have made it clear that decentralized exchanges (DEXs), payments and distributed web services are all ripe areas for disruption once the team has optimized performance of the blockchain. The application of Solana to DEXs is particularly intriguing.
With a high-throughput capability of such scale, Solana would improve the slow and expensive transactions which face existing DEXs. Moreover, Solana offers the possibility of radically scaling transaction volume while ameliorating issues like price-time priority and front-running, which are major concerns for financial regulatory authorities as crypto trading volume grows.
The ability to support scaling as volume increases also paves a pathway to bringing higher liquidity to the DEX space. As DEXs are currently among the most prominent use case scenarios for blockchain technology, we view this avenue as particularly lucrative for the project.
Solana ICO Weaknesses and Threats
The adoption of Solana will depend on how the team positions their product within the increasingly saturated space of high-throughput blockchain solutions. While the team has made clear which use cases they are targeting first, information on major partnerships that pertain specifically to these scenarios has yet to be released.
So far though, two partnerships for integration with Solana have been announced; one with GlobalID, a universal decentralized identity application, and the second with Helium, a decentralized machine network solution targeting the IoT sector. As a protocol, these partnerships are certainly a step in the right direction for ecosystem building.
Still, with the potential Solana holds as a high-throughput frontrunner, we're anticipating more developments to this end, as the true potential Solana will only be realized through partnerships at scale.
The Verdict on the Solana ICO
The Solana ICO holds serious prospects as a novel approach to achieving high-throughput and scalability. The domain experience of the team and advanced level of product development show positive indications of a strong project. While roadmap to scaling and adoption is not yet clear, as an early stage project, this does not present a particularly concerning issue.
Additional Information
We have been in discussions with the Solana ICO team and our ratings are based on conversations and information that they have asked us to keep confidential. While it may seem premature to rate their ICO highly, we have been made privy to insights that suggest a strong project, and we will update this review when the Solana ICO team is ready to share further data.
The Solana ICO team has a Telegram Group at https://t.me/solanaio for more immediate updates.
As a Top 5% rated project, we are making a medium bet on the Solana ICO.
Learn more about the Solana ICO in our 5300+ member Telegram Group.
---
We have rated hundreds of projects to unearth ICOs in which members of our team intend to invest.
We won't often go into further depth on projects that we don't consider as candidates for our investments after the initial rating process, which is why you will usually see our stamp on our detailed ICO reviews – they are the best we have found. However, on occasion, we might also rate a well-hyped project that does not meet our personal investing criteria.
The Crypto Briefing Top 5 stamp is awarded to ICO projects that we rate in the top 5% of all projects.
SOLANA ICO REVIEW SCORES
SUMMARY
The Solana ICO is attempting to use a new consensus protocol to achieve the kind of blockchain transaction speeds necessary to support its initial use cases, which include decentralized exchanges and distributed web services. Their tech's fit with DEXs is particularly strong, and could rapidly overhaul the profitable sector. The allusion to scaling with Moore's Law suggests that this could be a solution with longevity even within the rapid development environment of blockchain technology.
Founding Team……………………….8.8
Product…………………………………..7.8
Token Utility…………………………..9.4
Market…………………………………..9.2
Competition…………………………..5.2
Timing……………………………………8.6
Progress To Date……………………8.1
Community Support & Hype…..9.8
Price & Token Distribution……..7.6
Communication……………………..10.0
FINAL SCORE……………………….8.3
UPSIDES
Team possess solid technical experience

Significant community support for project

Testnet is already live
DOWNSIDES
High-throughput development space is saturated

No major partnership announcements
Today's Date: 7/1/18
Project Name: Solana
Token Symbol: TBA
Website: https://solana.com/
White Paper: https://solana.com/solana-whitepaper.pdf
Additional Information: https://t.me/solanaio
---
ICO Review Disclaimer
The team at Crypto Briefing analyzes an initial coin offering (ICO) against ten criteria, as shown above. These criteria are not, however, weighted evenly – our proprietary rating system attributes different degrees of importance to each of the criteria, based on our experience of how directly they can lead to the success of the ICO in question, and its investors.
Crypto Briefing provides general information about cryptocurrency news, ICOs, and blockchain technology. The information on this website (including any websites or files that may be linked or otherwise accessed through this website) is provided solely as general information to the public. We do not give personalized investment advice or other financial advice.
Decentral Media LLC, the publisher of Crypto Briefing, is not an investment advisor and does not offer or provide investment advice or other financial advice. Accordingly, nothing on this website constitutes, or should be relied on as, investment advice or financial advice of any kind. Specifically, none of the information on this website constitutes, or should be relied on as, a suggestion, offer, or other solicitation to engage in, or refrain from engaging in, any purchase, sale, or any other any investment-related activity with respect to any ICO or other transaction.
The information on or accessed through this website is obtained from independent sources we believe to be accurate and reliable, but Decentral Media LLC makes no representation or warranty as to the timeliness, completeness, or accuracy of any information on or accessed through this website. Decentral Media LLC expressly disclaims any and all responsibility from any loss or damage of any kind whatsoever arising directly or indirectly from reliance on any information on or accessed through this website, any error, omission, or inaccuracy in any such information, or any action or inaction resulting therefrom.
Cryptocurrencies and blockchain are emerging technologies that carry inherent risks of high volatility, and ICOs can be highly speculative and offer few – if any – guarantees. You should never make an investment decision on an ICO or other investment based solely on the information on this website, and you should never interpret or otherwise rely on any of the information on this website as investment advice. We strongly recommend that you consult a licensed investment advisor or other qualified financial professional of your choosing if you are seeking investment advice on an ICO or other investment.
See full terms and conditions for more.
Founding Team
This category accounts for the leaders, developers, and advisors.
Poor quality, weak, or inexperienced leadership can doom a project from the outset. Advisors who serve only to pad their own resumes and who have ill-defined roles can be concerning. But great leadership, with relevant industry experience and contacts, can make the difference between a successful and profitable ICO, and a flub.
If you don't have a team willing and able to build the thing, it won't matter who is at the helm. Good talent is hard to find. Developer profiles should be scrutinized to ensure that they have a proven history of working in a field where they should be able to succeed.
Product
What is the technology behind this ICO, what product are they creating, and is it new, innovative, different – and needed?
The IOTA project is a spectacular example of engineers run amok. The technology described or in use must be maintainable, achievable, and realistic, otherwise the risk of it never coming into existence is incredibly high.
Token Utility
Tokens which have no actual use case are probably the worst off, although speculation can still make them have some form of value.
The best tokens we review are the ones that have a forced use case – you must have this token to play in some game that you will probably desire to play in. The very best utility tokens are the ones which put the token holder in the position of supplying tokens to businesses who would be able to effectively make use of the platforms in question.
Market
There doesn't have to be a market in order for an ICO to score well in this category – but if it intends to create one, the argument has to be extremely compelling.
If there is an existing market, questions here involve whether it is ripe for disruption, whether the technology enables something better, cheaper, or faster (for example) than existing solutions, and whether the market is historically amenable to new ideas.
Competition
Most ideas have several implementations. If there are others in the same field, the analyst needs to ensure that the others don't have obvious advantages over the company in question.
Moreover, this is the place where the analyst should identify any potential weaknesses in the company's position moving forward. For instance, a fundamental weakness in the STORJ system is that the token is not required for purchasing storage.
Timing
With many ICO ideas, the timing may be too late or too early. It's important for the analyst to consider how much demand there is for the product in question. While the IPO boom funded a lot of great ideas that eventually did come to fruition, a good analyst would recognize when an idea is too early, too late, or just right.
Progress To Date
Some of the least compelling ICO propositions are those that claim their founders will achieve some far-off goal, sometime in the future, just so long as they have your cash with which to do it.
More interesting (usually) is the ICO that seeks to further some progress along the path to success, and which has a clearly-identified roadmap with achievable and reasonable milestones along the way. Founders who are already partially-invested in their products are generally more invested in their futures.
Community Support & Hype
Having a strong community is one of the fundamental building blocks of any strong blockchain project. It is important that the project demonstrates early on that it is able to generate and build a strong and empowered support base.
The ICO marketplace is becoming more crowded and more competitive. While in the past it was enough to merely announce an offering, today's successful ICO's work hard to build awareness and excitement around their offering.
Price & Token Distribution
One of the biggest factors weighing any analysis is price. The lower the price the more there is to gain. But too low of a price may result in an under capitalized project. It is therefore important to evaluate price relative to the individual project, its maturity and the market it is going after.
The total supply of tokens should also be justified by the needs of the project. Issuing a billion tokens for no reason will do nobody any good.
Communication
Communication is key. The success of a project is strongly tied to the project leaders' ability to communicate their goals and achievements.
Things don't always go as planned but addressing issues and keeping the community and investors in the loop can make or break a project.