Sotheby's Scraps CryptoPunks Lot Minutes Before Auction
The owner of the 104 CryptoPunks said that they "decided to hodl" the NFTs and abandoned the multi-million dollar auction.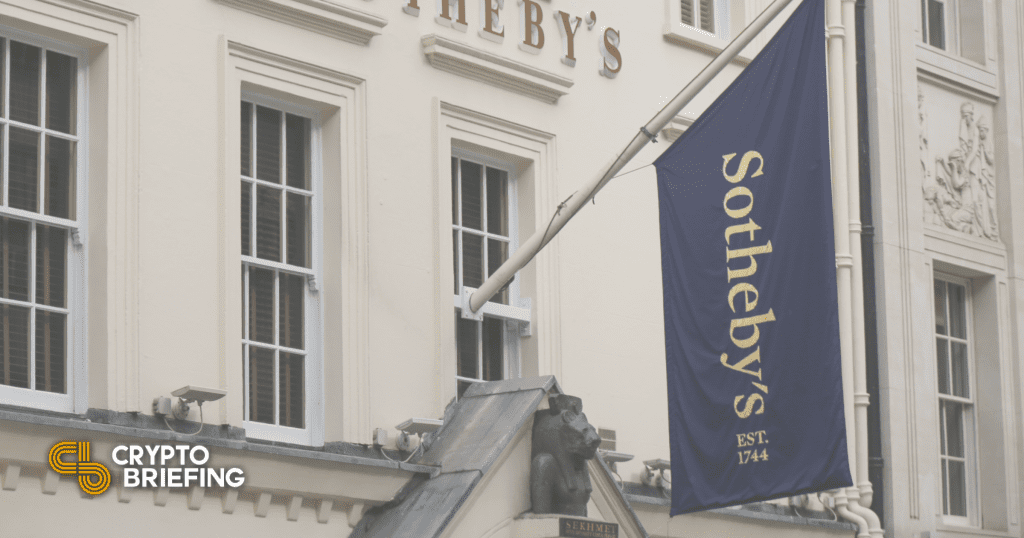 Key Takeaways
A Sotheby's auction planned to sell lot of 104 CryptoPunks was cancelled on Wednesday.
The owner of the 104 NFTs said that they "decided to hodl" the items.
Sotheby's had estimated the auction would fetch at least $20 million, yet the current floor price for 104 Punks is closer to $16.1 million.
Sotheby's called off its auction for a lot of 104 CryptoPunks Wednesday after the pseudonymous owner decided against selling the NFTs.
Sotheby's Cancels CryptoPunks Auction
Sotheby's called off its auction for 104 CryptoPunks minutes before it was scheduled to launch last night.
The New York-based auction house said it was cancelling its "Punk It!" event Wednesday. The 104 NFTs make up more than 1% of the total supply of LarvaLabs' CryptoPunks. As the collection is highly sought after, the lot was expected to fetch between $20 million and $30 million per Sotheby's estimates.
Sotheby's had heavily promoted the sale in the lead-up to the auction. Through its Sotheby's Metaverse platform, it described it as "one of the most historic NFT sales yet." As NFTs have started to find a place in the mainstream, Sotheby's has helped showcase the technology to the fine art world. It has previously sold CryptoPunks NFTs, including a rare Alien Punk that fetched $11.75 million last June. It also auctioned auctioned 101 Bored Ape Yacht Club NFTs for $24 million in September.
The pseudonymous owner of the 104 NFTs, who goes by 0x650d on Twitter, said that the auction had been pulled because they changed their decision. "nvm, decided to hodl," they tweeted early Thursday. The collector later posted a meme hinting that they were "taking punks mainstream by rugging Sothebys." When crypto enthusiasts say that they are "rugging" someone or something, it means that they are cheating them in some way. The term derives from "rug pull," which is typically used to describe a situation where a crypto project vanishes with its investors' funds.
Sotheby's deleted the landing page for the auction shortly before it was due to go live. Meanwhile, rumors over why the auction was dropped have circulated across the NFT community. It was speculated that the auction received a lukewarm reception, and the highest pre-bid offer was $14 million, which was far short of the $20 million reserve price. The cheapest Punks on the secondary market trade for about $155,000 today, which would equate to about $16.1 million before factoring for any rarer items in the lot. Based on Sotheby's estimate, the lot may have been overpriced for the current market demand.
Disclosure: At the time of writing this feature, the author owned ETH and other cryptocurrencies.